Omika, Rishika and Aashika are a sister trio from NYC, who share content through their shared TikTok account @jikariasisters. From dance and music, to fashion, beauty, culture, and promoting social causes, the Jikaria Sisters aim to break barriers and create inspiring content that blends their South Asian and American identities.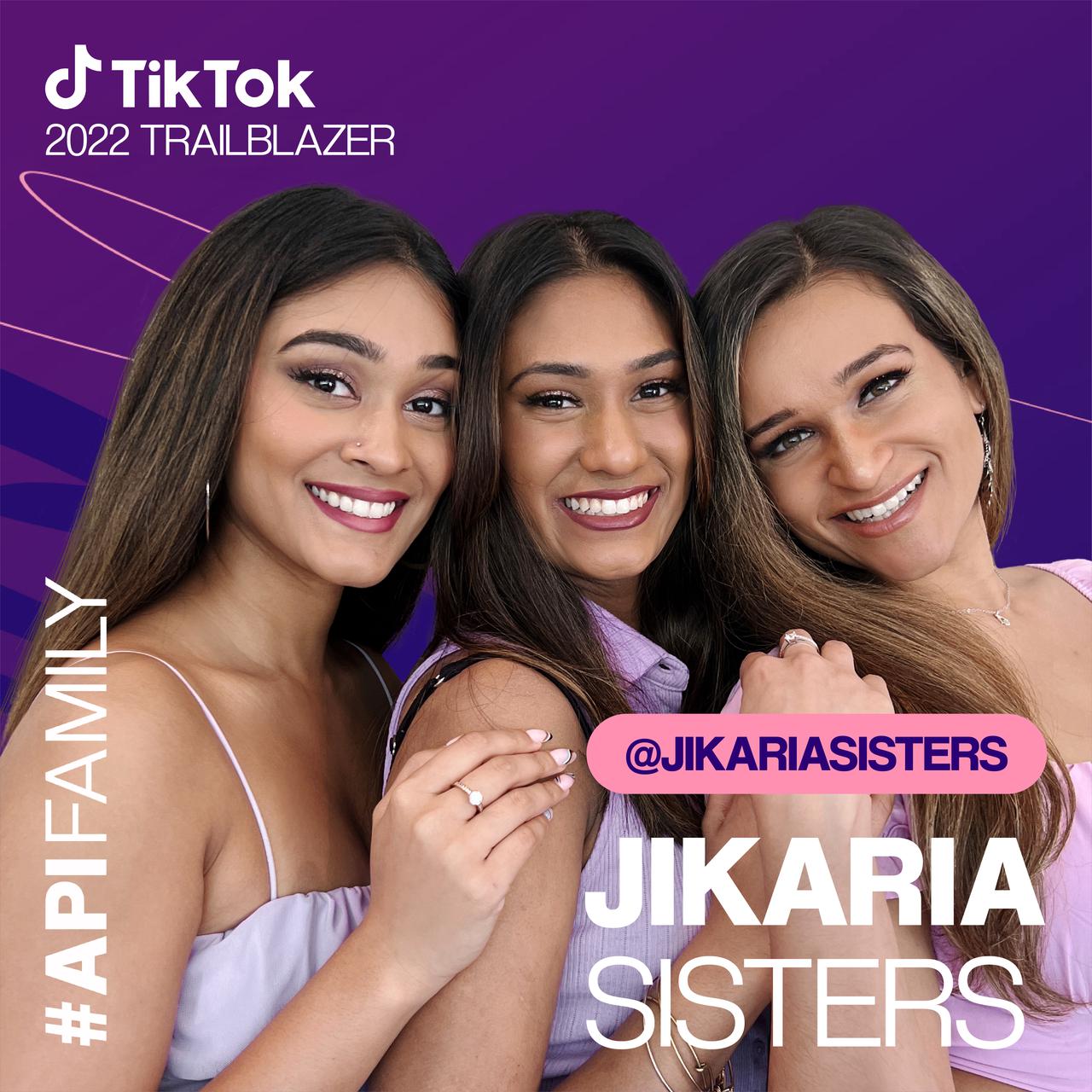 What does it mean to you to be part of the API community?
We bridge our Indian and American culture through engagement with the API community. In this space, we can show up without hiding parts of ourselves. It's the community we wish we had had when we were younger. Our mission is to show others in the community that it is possible to pursue dance and art, while also pursuing our more "traditional" careers (i.e., law, engineering, business). Growing up, we were told we would have to choose between art vs. traditional careers. As adults, we are now showing the world that it's possible to honor every part of your upbringing and pursue multiple passions. We are glad people resonate with our story, inside and outside of the community.
How has the TikTok community inspired you?
The TikTok community has inspired us in three main ways. First, we feel inspired by other creators who embrace their varying identities and background. It's empowering to see creators who we relate to culturally – we have become friends with so many others, both on and offline. Second, we have developed relationships with our community across five continents, and created dialogues to have important culturally and socially driven conversations. Third, we are inspired by the equity TikTok represents. Anyone with a camera can make content and we love that the barrier for creating and sharing art has been lowered.
What is your favorite TikTok video that you've created and why?
Our favorite TikTok video we created was a dance to a mashup of Aaja Nachle (a Bollywood song) and Low (an American song). We combined Bollywood and Hip Hop, two different dance styles we grew up learning. In this video, we showed that it's possible to embrace both sides of our culture. From then on, we created many more mashup dances, and people tell us that our Aaja Nachle x Low video was the start of South Asian fusion dance on TikTok.
What are some other communities you each identify with?
We identify with the mental health community. We believe in the power of dance for promoting self-care and wellness, and encourage our community to find ways to incorporate self-care into their lives through the arts. We also identify with the women in law, women in STEM, and women in business communities, as we pursue multiple different careers. We are passionate about increasing South Asian and female representation in each of these spaces.
What has been your favorite campaign so far and why?
We really loved working with Toyota. We partnered with the brand for a campaign centered around Diwali. We participated in both a photoshoot and dance to celebrate the holiday and to promote one of their 2022 vehicles. It was such an honor to spread awareness about our culture and celebrate a day centered around light, while working with such a familiar brand. Our entire family, parents included, drive Toyota cars!
What advice would you give to dance creators on the platform looking to build a brand?
Be authentic to your identiy and interests. Our followers gravitate toward authenticity, in addition to the joy and happiness we spread. You should also remain consistent. There might be times that you feel unmotivated, but we promise that consistent creativity, experimentation, and learning will help you grow as a person and as a creator. Use TikTok to explore yourself and your identity.