Soy Nguyen (known on TikTok as @foodwithsoy) empowers her audience by exploring the intersectionality between food, culture, and mental health. She embraces food from different cultures, recommends her favorite spots to grab a bite, and shares educational content revolving around her Vietnamese-American identity through her mom's recipes.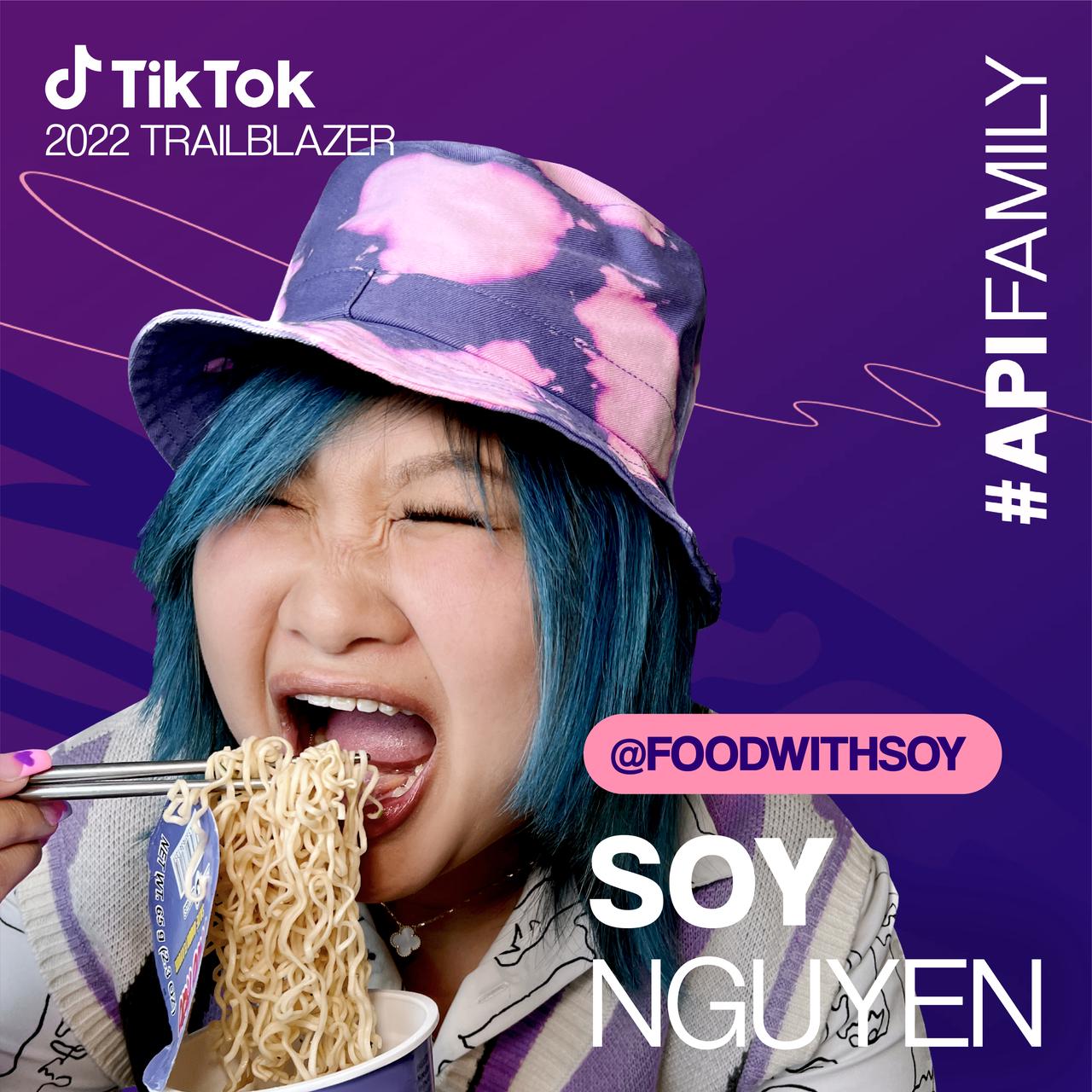 What does it mean to you to be part of the API community?
Being a part of the API community has been such an empowering experience for me. Growing up in Florida, with a lack of API friends, I grew up with internalized racism. I didn't want to be Vietnamese because I just wanted to fit in. With a lot of time, kindness and understanding for myself, I started embracing all of the wonderful things the API community had for me. I realized that I am the representation that I didn't have growing up. That's why it's so important that my content highlights the diverse facets of the API cultures, including my own Vietnamese American experience.
How has the TikTok community inspired you?
The TikTok community has helped me find my purpose. I'm so thankful of the community and space I've been able to cultivate through TikTok. I have always felt like it's a community-first platform and I'm so proud to be a part of it. I've had people come up to me, sharing that my videos helped them eat again. I've had small mom and pop shops tell me their sales increased because I highlighted them. I've had comments about how lovely it felt to be seen through me embracing their culture. I'm truly inspired by everyone on the platform and the stories I've been able to see.
What is your favorite TikTok video that you've created and why?
In this TikTok, I remember my eyes were so puffy because I had just hopped off a plane after leaving my mom, but I was hungry and wanted to share these raw thoughts and emotions. It was such a powerful energy exchange, much like most of my "eat with me series" videos. I started this series during the pandemic because I realized that I had a hard time being alone in my thoughts to the point where I wasn't even eating. I thought if I was having this issue maybe someone else was too. This series lets me eat and share vulnerable life lessons about everything from self love, social anxiety, friendships, breakups and more. In API cultures, many look at mental health as a weakness. I feel that, with true emotional capacity, awareness, and understanding, it's a beautiful thing to care, and I want to showcase that.
What is your dream opportunity?
Having my own TV show would be a dream!
What is your favorite restaurant you've ever visited? Why?
It's hard to decide what my favorite restaurant ever is, because I connect with food in so many different ways and I'm constantly trying new things. My favorite spot lately, though, is Merkato, an incredible Ethiopian restaurant in the Little Ethiopia neighborhood in LA. I had somewhat sworn off Ethiopian food, because I didn't love my first experience with it. After several strong recommendations, I had to give it a second chance, and it's safe to say I don't regret it. From the service to the ambience and the food, of course, I'm still thinking about that meal and the overall experience; 10/10!
What advice would you give to someone starting a TikTok account who wants to mix heartfelt content and food?
Food is so universal -- it can be a vehicle for making connections, cultural education, sharing recipes and more. If you can use that vehicle to create an authentic, purposeful foundation, you should. Don't think about followers or views. If you have purpose, people will come for the food, but stay for your stories.