Dylan Mulvaney (she/they), known as @dylanmulvaney on TikTok, is a trans actress/comedian/content creator living in Los Angeles, CA. She was touring with Broadway's Book of Mormon as "Elder White" until the pandemic hit, when she turned to social media to find creativity. She now has over 3 million followers on TikTok, where she highlights her transgender journey in a series titled "Days of Girlhood," which has received over 200 million views. Dylan is currently writing and developing scripted content, and her greatest hope is to bring trans and non-binary stories to the stage, screen, and beyond.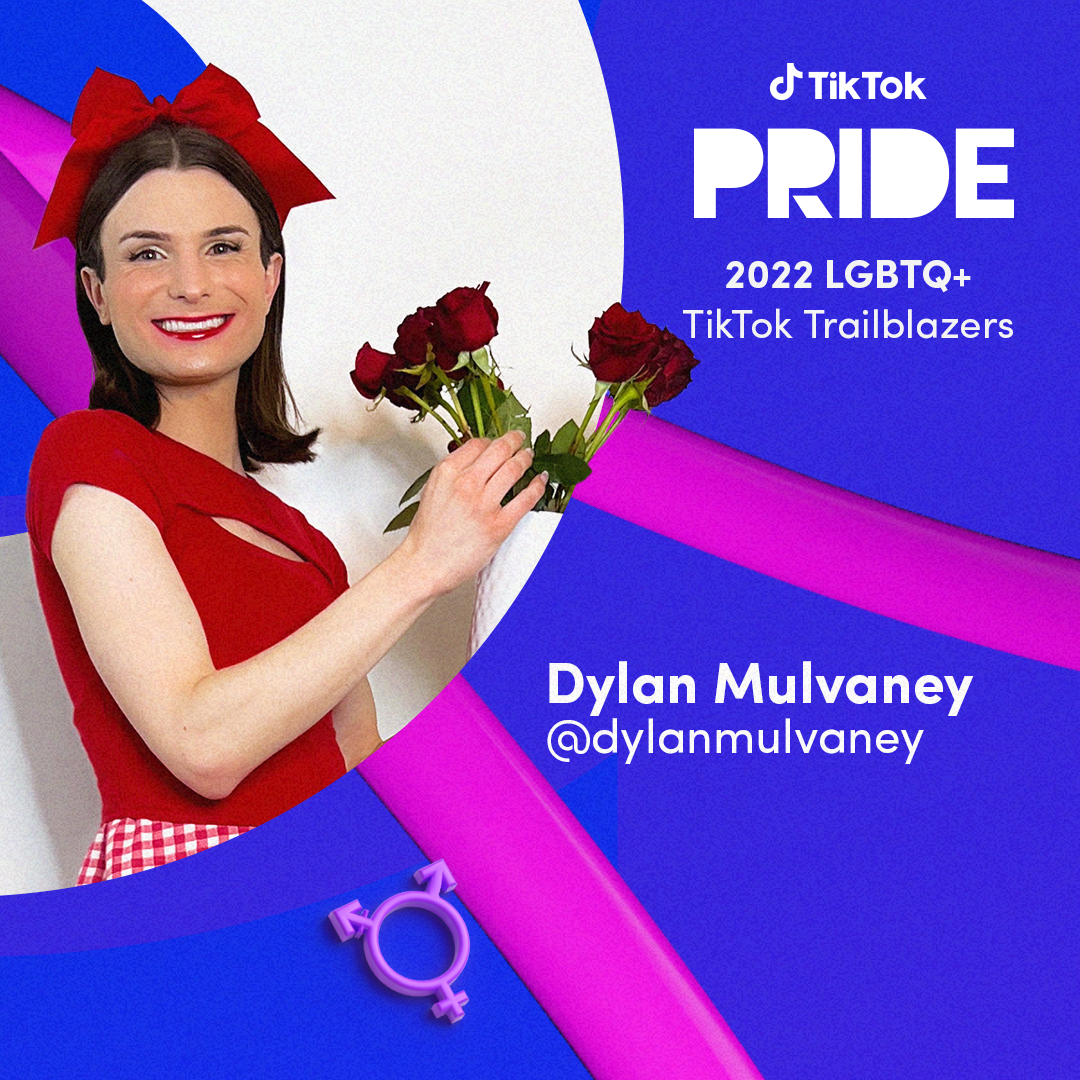 What does it mean to you to be part of the LGBTQ+ community?
It means walking proudly in the clothing I wear, the pronouns I use, and the people I surround myself with. I love my queerness!
How has the TikTok community inspired you?
Every day, my followers continue to cheer me on in my transition journey, and I love that I can reach so many people in such a short amount of time.
What is your favorite TikTok you've created and why?
I love the video where I keep tampons in my purse for anyone who needs one, because I think it shows my heart and empathy for all kinds of humans!
What's the best advice you ever received?
When I started transitioning, my aunt – the "cool aunt" of the family – said, "Dylan, be patient with yourself." I think that advice applies to transitioning, accepting opportunities and relationships. It's important to take your time and acknowledge what you're going through. When it comes to a transition, time is of the essence. The person transitioning had to work through the experience personally before sharing it with the world. To anyone dealing with gender identity or sexuality questions, I encourage you to do a deep dive on yourself and take your time.
What advice do you have for someone who wants to share their authentic self on TikTok?
Throw spaghetti at the wall. Try anything and everything – and if something doesn't stick, move on to the next thing. I tried so many things on TikTok before something finally stuck, so don't be afraid to get vulnerable and messy – and just try to have fun! That's what we're making videos for: our enjoyment and the enjoyment of others.
What are you excited about for the future?
I'm excited to show that trans people can have healthy, happy relationships and families. On TikTok, I shared my Day 1 as a girl, and maybe the world will still be watching me on Day 10,000. No matter what, I'm honored to be a person who can share the trans experience with everyone.