Dani Klaric is a Mexican interior decorator known for her whimsical and eclectic decor style. She specializes in residential and commercial spaces and documents her love for design and cinematography on TikTok.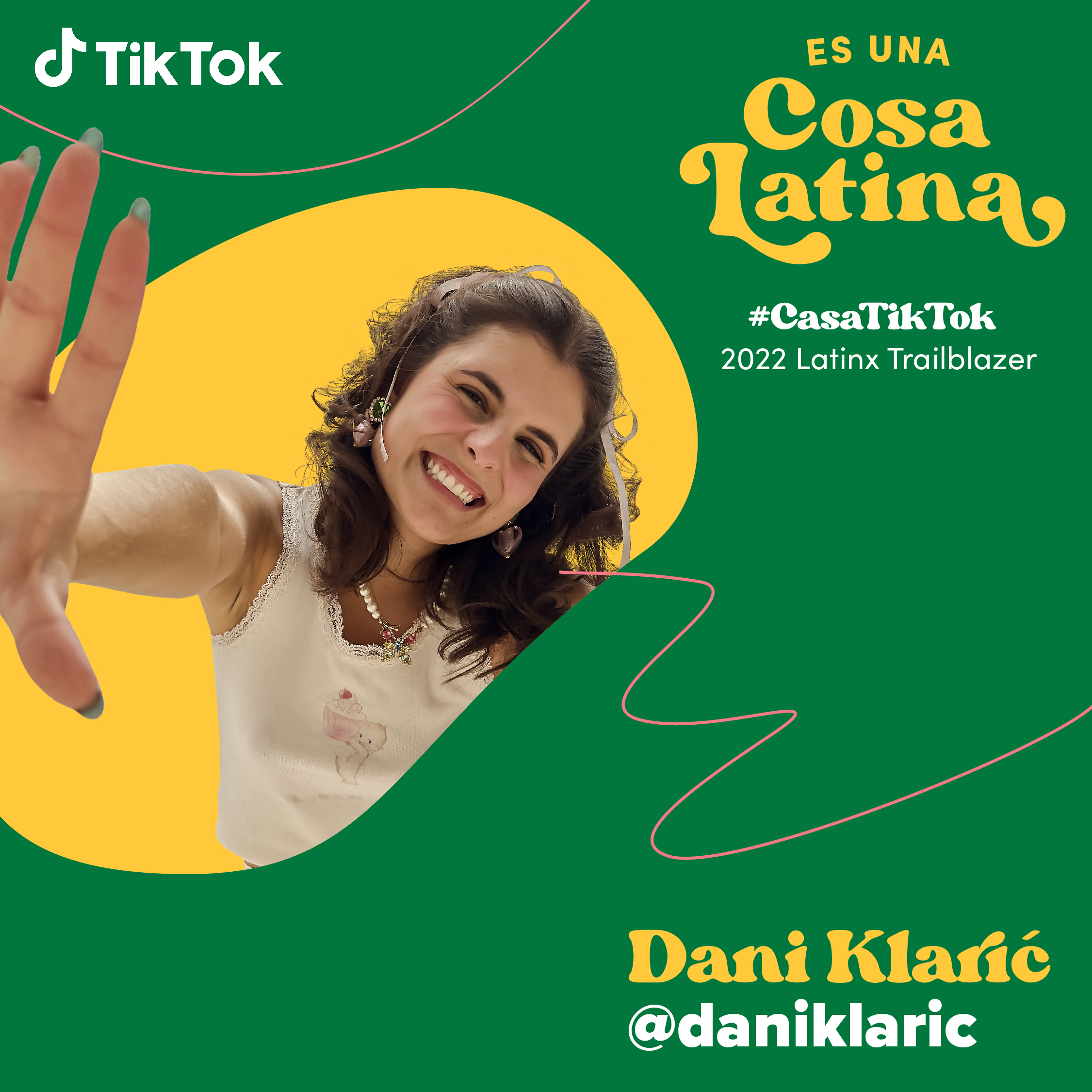 What does it mean to you to be part of the Latinx community?
I've always been proud of growing up in the Latinx community. I'm incredibly grateful to have been raised in such a beautiful and rich culture. When I think about Mexico, I think about the beautiful people, the delicious food, the colorful traditions, and most importantly, the architecture and design. I'm a color lover, with a huge appreciation for art and design, from growing up in a vibrant place like Mexico. I love incorporating my culture into my style and design. There is truly no other place like it.
How has the TikTok community inspired you?
TikTok has taught me that anyone can achieve the impossible. Because of the TikTok community, my entire life changed. I was able to open up my own decor company and be financially independent and stable. The community gave me my career, reminded me of my love for art and design, and inspired me to keep going and follow my dreams.
How do you share your culture on TikTok?
I'm always thinking of ways to entertain and educate my audience. I love sharing my personal journey as a designer and artist with the community. I've discovered a lot about myself since I started creating on TikTok, and through it all, I have always tried to stay true to myself and my culture. I'm always sharing my passion for colors and design, which are inspired by my culture and where I come from.
What inspired you to join TikTok?
I didn't go to college. A lot of people in the art community experience trying to determine if college is right for them or the right path to pursuing a creative career. On TikTok, I love that I can share my life and process with others. I try to to show that going school isn't the only path. I want to inspire others and help them see that they're not alone. TikTok can open a lot of doors creatively, as it did for me and my designs.
What has been your favorite project you shared on TikTok?
My first professional project ever was my favorite project to date. I have a really big attachment to it. It was the first time I was ever able to create someone's home, and I kept their style in mind but I also had complete creative freedom. It was a huge milestone for me! I'm even still close with my client today.
Has TikTok influenced interior design?
Yes, so many trends start on TikTok. There are countless creators in the art community where you can find inspiration. I get a lot of my personal inspiration on TikTok, and I think the trends we're seeing now are timeless.