Chrissy Chlapecka, aka @chrissychlapecka, is a creator from Chicago, IL who combines comedy, authenticity and sincerity into her videos on TikTok. Chrissy uses her platform to create funny, relatable and honest content without fear of judgement from those who may view them as a bit theatrical. Authenticity is her superpower, and it has allowed her to connect with her fanbase on a real, emotional and beautiful level. She's the big sister you'd come out to, and the best friend who will always encourage you to do what's best for YOU.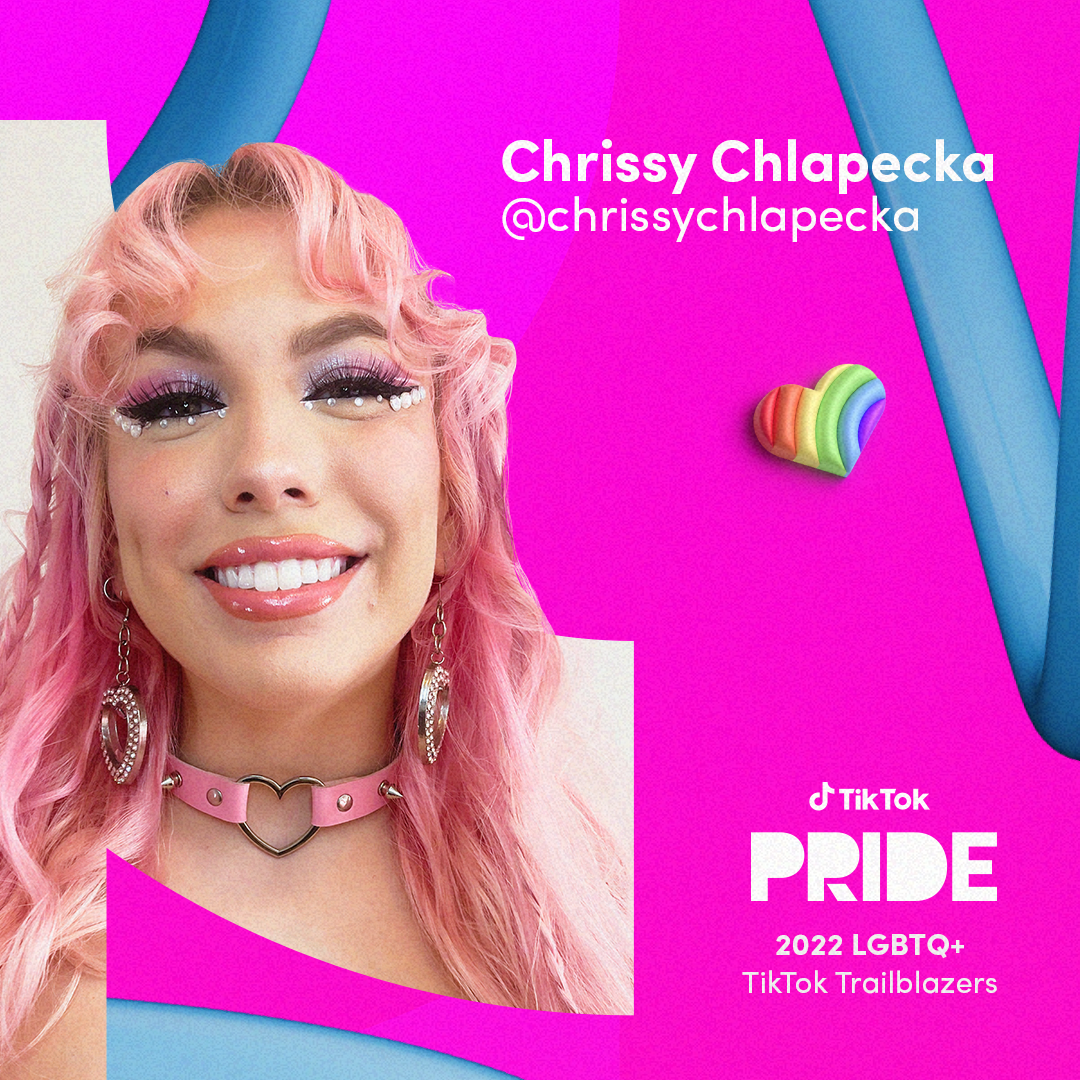 What does it mean to you to be part of the LGBTQ+ community?
My identity in the LGBTQ+ community means everything to me. When I reflect on the fear I had as a young girl — terrified of ever being true to myself, I wish I could go back and assure her that I would be okay. More than okay, safe. Being a part of this community has given me the feeling of safety I had never fully experienced until now. It's given me the friendships, the chosen family, the love that I didn't know existed. Choosing myself and accepting my identity has created a beautiful relationship between me, myself and I. I could string together beautiful words, but not as beautiful as the smiles, the passion, the drive, the goal to love freely and the self-love I see throughout my community. My community is my everything, it's given me a purpose — one I didn't know I had.
How has the TikTok community inspired you?
TikTok is the reason I felt comfortable to come out. When I started my journey, I was coming from a very abusive, difficult situation - one that didn't allow me to accept myself and love myself the way I deserved, but TikTok changed everything for me. Scrolling through the app, seeing people share their lives, their struggles, their laughter, and their full selves encouraged me to do the same. From my first video, I slowly became comfortable coming out, and when I did I was showered with nothing but love. I created a community with my fans, with my new friends online and with myself. A place to go to feel safe, to feel heard, to feel wanted and to just be free to be me. If I hadn't started on TikTok and seen the amazing people who fully embraced themselves, I doubt I'd be where I'm at today.
What are some of your passions on and off of TikTok?
My biggest passion, on TikTok and beyond, is music. Although I focus on comedy, I have been known to sing in a couple of my viral videos, always with an added twist of comedy.
What has your music journey been like so far? How has that impacted your TikTok journey?
I'm at the very beginning of my music journey. I am currently working on my first album, where my LGBTQ+ identity will be the main focus. I want those in my community to have positive, upbeat music they can relate to and understand. I want people to jump up and down and sing songs about loving ourselves and each other, regardless of what others have put in our heads. Our lives don't need to be centered solely around the struggles we have been through, our lives are also the joys we have experienced. LGBTQ+ joy should always be shared. TikTok has provided me with the chance to fulfill this passion and showcase my talent to a big audience.
What is the best piece of advice you've ever received?
I think the best advice I've ever received has actually come from within. Sometimes others weigh in on your life and your choices, but it doesn't resonate until you're affirming it yourself. That advice is that no matter how I dress or act, someone will always judge me. It sounds negative, but it's a helpful reminder to be myself, regardless of who is paying attention. It doesn't hurt to surround yourself with a community built on love, either!
What is your favorite TikTok video that you've created and why?
This video may be simple, but it's something that brought the LGBTQ+ community together. I always love when sounds go viral and people in my community can make silly, lighthearted content around our identities. Those simple things can mean a lot, especially when some of our worlds are clouded in hatred and homophobia. Scrolling through thousands of videos and seeing those in my community just laugh, smile and create content that's fulfilling to them will always be fulfilling to me, too. That's why I'm a content creator: providing people with a moment to pause, take a breath and smile, even if it's their only smile of the day — at least I made some sort of impact.