As we continue our Native American Heritage month celebration, meet our next group of creators — @ashkiijosh, @desertndn, @nightelf44, and @recycldstardust — and hear their stories below!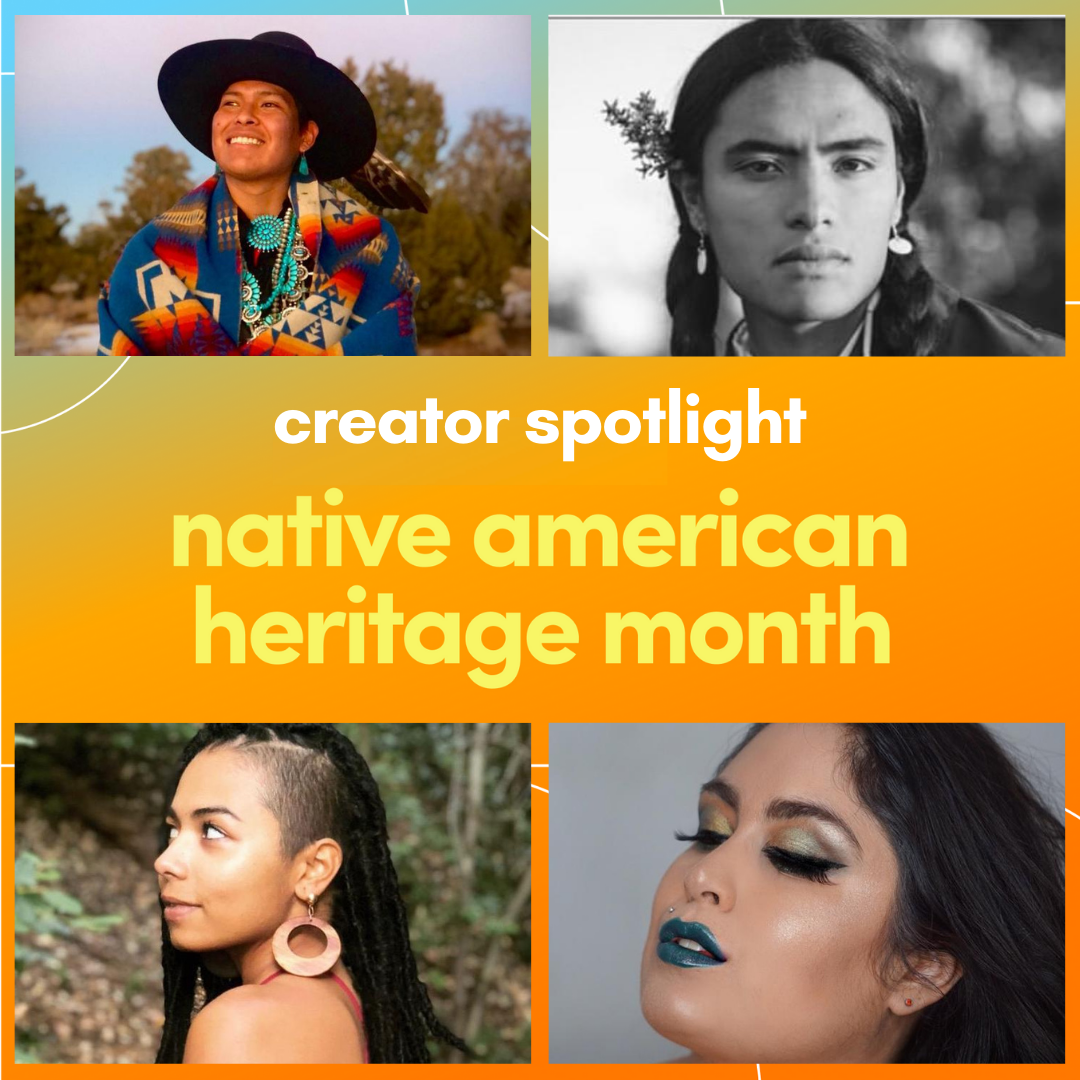 Meet the Creators
@ashkiijosh Chad Lorenzo [he/him] is a member of the Navajo tribe in the Southwest, and a TikTok creator. He makes videos displaying dance, culture, language and art, and focuses on teaching and educating through music and art.
@desertndn Coyotl [he/him], is a professional model, influencer and activist. His content centers on raising awareness about his culture and about modern Native and Indigenous issues.
@nightelf44 Sterlingsilver [she/her] is a Black, Native and Filipina preschool teacher and TikTok creator who aspires to spread her political passion through sharing the unfiltered history, love, and knowledge of her cultures.
@recycldstardust Nikki [she/her] is a First Nations, Mohawk content creator, plus size body positivity advocate, beauty and skincare blogger and a mom of two. She celebrates and shares Indigenous culture, history, heritage, fashion, and beauty on TikToK to bring awareness to important issues that face Indigenous peoples.
Creators on What Community Means to Them
What does it mean to you to be part of the Indigenous community?
@ashkiijosh: Being a part of the indigenous community means I'm able to share and express myself through an app that is very popular with today's youth. I get to showcase my art and meet others across social media, helping and encouraging others with anything related to cultural practices and teachings.
@desertndn: It's powerful knowing you come from a community that's been here since time immemorial. I'm proud to be a part of a community that is so resilient in so many ways.
@nightelf44: It's an honor. It's an honor to be a part of a community that's filled with light and resilient, and it's an honor to have my indigenous ancestors in my lineage. It fills me with pride and strength.
@recycldstardust: Being a part of the indigenous community means coming together and standing strong. We are resilient, we are here and we are all actively banding together. Our community is one that has faced unbelievable struggles and and divides but yet we are unbreakable.
How has your culture influenced or shaped you?
@ashkiijosh: My culture allows me to be able to express myself and how I present myself, to be able to have the knowledge and mindset of what culture means and how I can help others. I'm able to live a traditional lifestyle within a modern world.
@desertndn: It has shaped my entire childhood and adulthood. It has definitely defined my career and platform as an Indigenous Advocate.
@nightelf44: The greatest influence my native cultures has gifted me is empathy and compassion.
@recycldstardust: My culture has always made me feel like I was the odd one out and like I didn't belong or have a place. It shaped me and taught me I had to make my own space and stand strong in it, embrace being what's different and use that to make changes.
How do you share your culture both on and off of TikTok?
@ashkiijosh: The videos I make are in all categories relating to culture. Some are based off of what I actually do off TikTok where traditional practices and values are applied to my daily life.
@desertndn: I share my culture through modeling and activism, the clothes I wear, the music I make, and through the relationships I build.
@nightelf44: I am my culture. Just like Tony Stark is Iron Man. I teach it in my class, I teach it to my peers. It's a part of who I am. It shows in my art and in my appearance.
@recycldstardust: On TikTok, I am able to share history, culture, heritage and much more through educational/historical content, recipe videos for traditional foods, and even beauty tutorials! I've also used trending sounds and fashions with a native twist. Off of TikTok, I am passing the culture down to my children, I donate to active causes, and try to educate those I work with in the content creator field on why native representation and inclusivity matter.
How has the TikTok community inspired you?
@ashkiijosh: TikTok has helped me with what I have today – from my art, to letting me share my passion through dancing, and keeping culture alive within our youths – helping so many across the United States and among other tribes.
@desertndn: So many content creators have influenced me to be more active in my community. I'm happy to learn and give back.
@nightelf44: TikTok has introduced me to other indigenous creators that have so much wisdom and beauty to them from around the world! To listen and watch them is complete inspiration! Everyone has such mesmerizing talents and fearless confidence. It's hard not to be inspired by this community.
@recycldstardust: The TikTok community inspires me to keep sharing, keep learning, keep pushing. I always felt so defeated and alone on other platforms but on TikTok I feel at home. I feel supported.
What are some content creation tips you would offer to other creators?
@ashkiijosh: Just make whatever video makes you happy. Keeping it entertaining and try to at least help one person.
@desertndn: Be patient and consistent. Sometimes it doesn't matter if the video goes viral, but instead if you are making content you know will make others happy.
@nightelf44: Be yourself! It's such a cliche tip but it's valid. Besides being authentic, it's important to be light hearted. Take it easy on yourself and shrug off the negatives.
@recycldstardust: Stay consistent. Be true to yourself and speak your truth. Be honest when creating content. Something you may be embarrassed about, someone else may be able to relate to. Have fun with what you share, it shines through.
Who are some Indigenous TikTok creators that everyone should be following/watching?
@ashkiijosh: @Cerebrul, @indigenousmagic, @segina_cyn, and @stevestrr.
@desertndn: All of them!
@nightelf44: @ugrunna, @dineaesthetics, @geronimo.warrior, @quiiroi, @indigenousicon, @the_land, @__clearbear__, @giiwedinindizhinikaaz, @faithcampos, @chrisyellowbird, @dallasgoldtooth, @michaelshonie3, @quannah.rose, and @hellinalariaq.
@recycldstardust: @indigenousnotinvisible, @Ataksak, and @fox.in.mocs.