Bryan Hernandez is a first-generation Dominican-American from Brooklyn, New York who is known as @bry.hm on TikTok. He is passionate about his Dominican roots and loves teaching others about his culture and making people smile. With funny skits, crazy characters and dance, Bryan uses his talents to spread laughter, joy y todo lo bello de ser domincano. Read below to find out more about how he finds inspiration through community.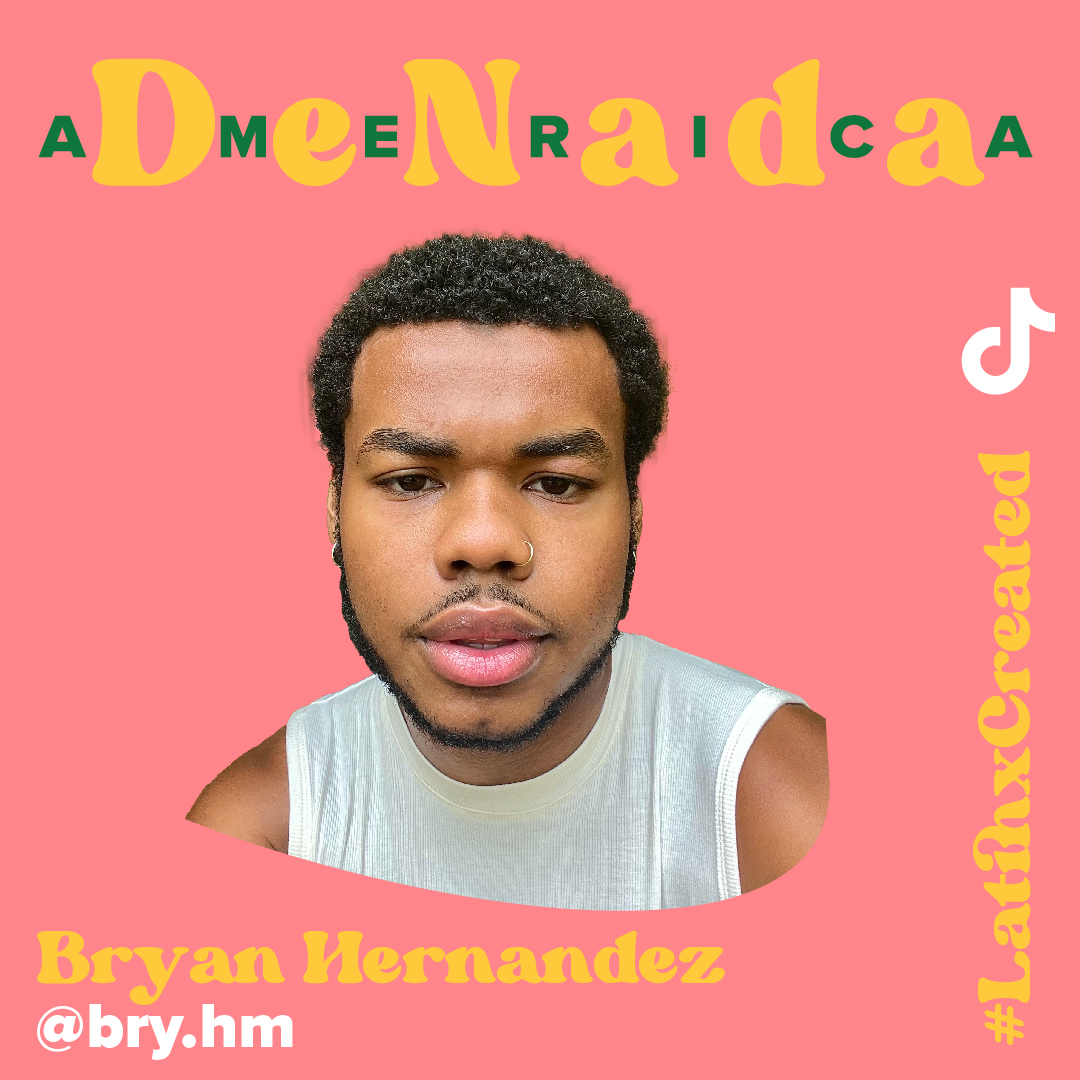 What does it mean to you to be part of the Latinx community?
Being a part of the Latinx community is a huge deal to me. Since I am Afro-Latino I've grown up not knowing where I belong. I've dealt with hardships such as prejudice and isolation and it has been tough. At home I only speak Spanish -- I was taught to love my rich complexion and embrace every curl and kink -- but there was always a disconnect with the outside world. I never saw myself or people like me on traditional media. However, the ignorance of others has never stopped me from embracing my roots.
I grew up waking up every Saturday to my mom blasting baladas romanticas, going over to my prima's sala for a holiday parties and listening to Thalia. Being Latinx is ALL ABOUT CULTURE. We are proud of who we are and wear it with pride. So no matter if others can't comprehend my Latinidad -- it doesn't take away from me.
How has your culture influenced or shaped you?
My culture has shaped my comedy which is something I use on the daily. From my comedic timing and the way that I speak to my mannerisms, it all comes from being Dominican. Dominicans are naturally very funny people so I draw from that when in my daily life and when content creating.
How do you share your culture & community on and off of TikTok?
My culture and community is highlighted in everything that I do. At school, I was the head choreographer and president of the only Latin dance team on campus. We performed all genres of music and would go around to different schools performing and competing. But our purpose went beyond the stage. Our goal was to showcase and educate others on the Latino culture. There was a small percentage of Latinx students on campus so with the help of the Latino Student Union (which I was also apart of) we held events, cooked food and had open conversations about the difficulties of being a minority in an attempt to make everyone feel welcomed.
When it comes to online, I vocally express my experience with being Dominican and everything that comes with that. The good, bad and ugly, I talk about it all!
How has the TikTok community inspired you?
TikTok to me is a safe haven. On other apps, no matter how genuine or transparent you are with your followers, it seems to me like people aren't their true authentic selves. However, on TikTok that's a different story. I feel comfortable getting on LIVE or making a video when I just wake up! I can see one video on my For You Page and feel connected to a person because we're all living our truths on the app. We talk about our struggles, successes, fears and hopes for the future. Not to mention, it has given me a platform that I could've never imagined. I've been making videos for fun on the internet for years and it wasn't until TikTok that I felt purpose. It inspires me to keep going and creating because you never know who's day you can change with one video. I've gained a community of friends especially from other Latinx creators that I am grateful for. No matter what part of Latin America we come from we all have shared experiences and I love seeing that on the app.
What video are you most proud of creating?
I love all my videos equally because it takes the same time and effort into creating all of them BUT if I had to choose one I would say my Dominicans in Bridgerton video. I remember binge watching the show with my friend and my mind was going YOU HAVE TO MAKE SOMETHING. I think what makes that video so special is that, I was staying at a friends house while I filmed that so I didn't have access to all my wigs and wardrobe but I think I still nailed the look. Even my friend was surprised when I told her I filmed it using things I found around her house. Not to mention, I got so much love from the community and other creators.
What are some content creation tips you would offer to other creators?
My number rule is to not force anything when recording. I understand the difficulties of recording and I too schedule shoot days but if your energy is low or you're not feeling whatever you're doing, it will translate on camera.
HOP ON EVERY TREND! No matter if its fashion, beauty or dance there is a way to adapt that trend and make it work for you and your content.
Don't be afraid to thinking outside the box. No idea is ever too grand or extreme.
Who are some Latinx creators that everyone should be following/watching?
@luisduvalnm, @badbrenden and @velvetcl0uds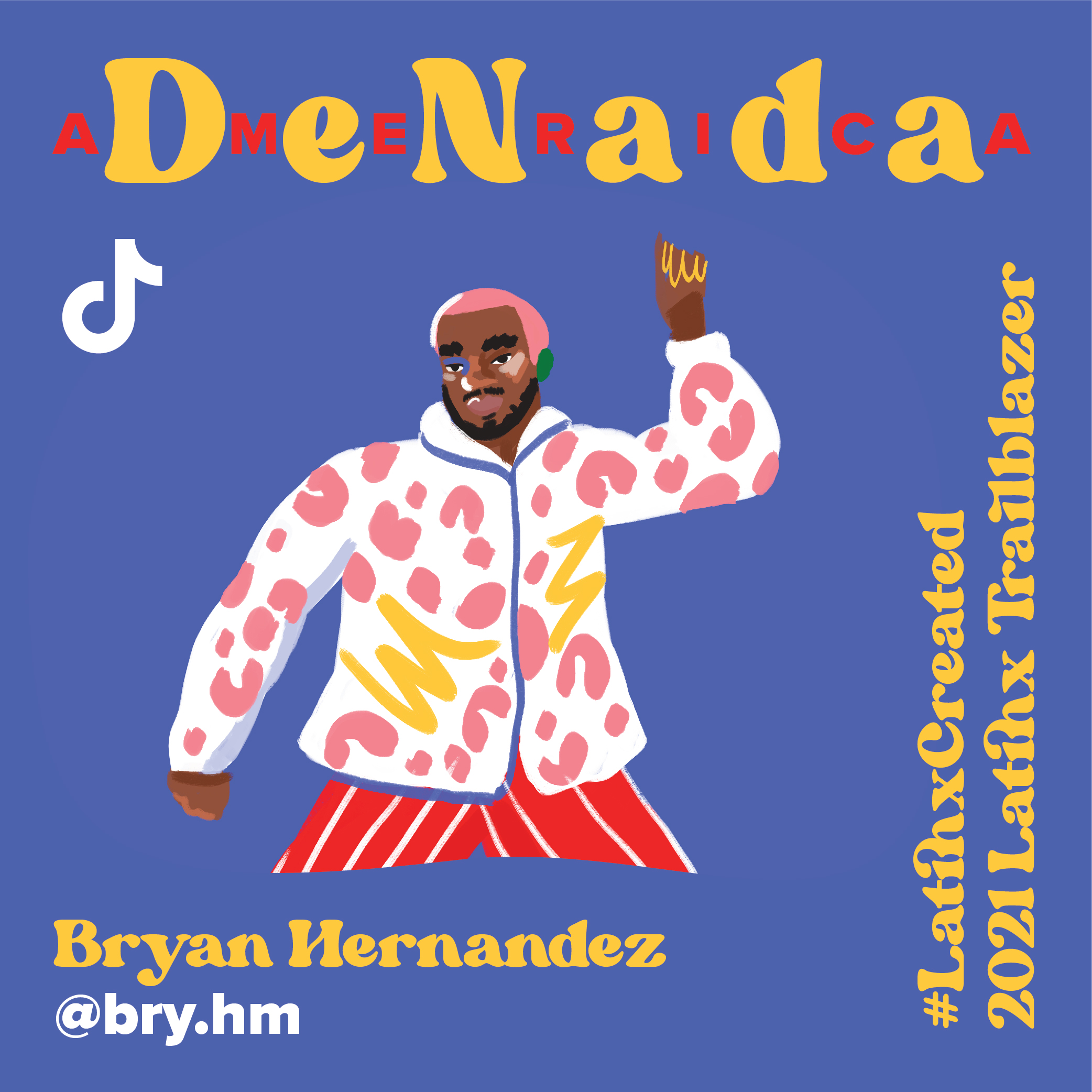 [Trailblazer illustrations created by Brazillian artist Niege Borges for TikTok's Latinx Heritage Month celebration]