Following our API Family Celebration announcement last week, we're excited to honor the #APIFamily by spotlighting creators across the TikTok community.
First up is Ashley Yi (@ashyizzle), a proud Korean American who believes the camera eats first. Whether it's sharing words of wisdom in her car or giving a boost of serotonin with her quirky facial expressions, you can always count on a tasty meal in front of her.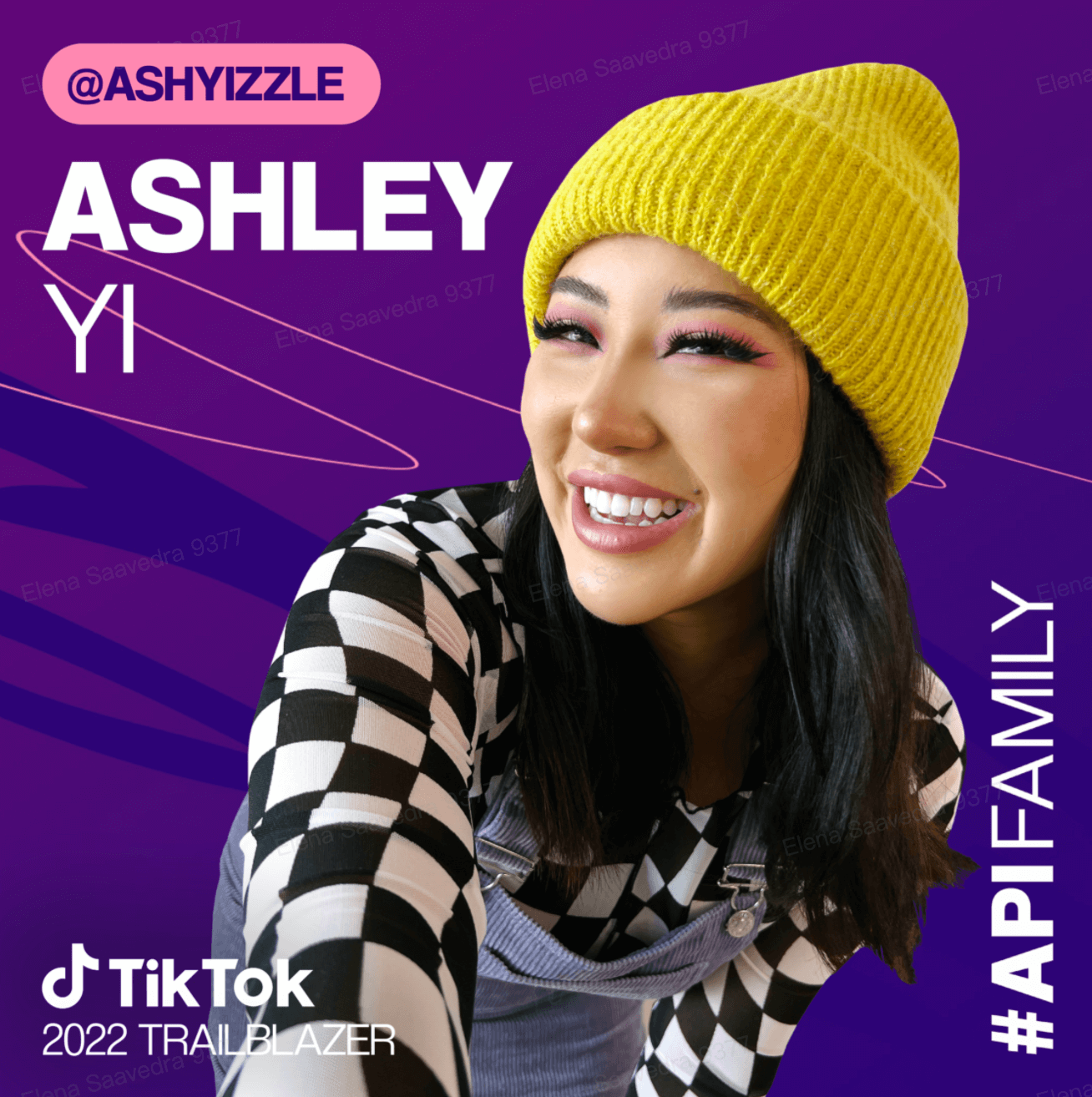 What does it mean to you to be part of the API community?
I didn't feel like I belonged in the API community until just recently. I struggled with my cultural identity and was ashamed of being Asian for most of my life. I grew up in a predominantly white community and I felt like I was a white girl trapped in a Korean girl's body. My cultural identity, balancing familial ties and cultural values, and the pressure to assimilate to mainstream American society, were a huge burden.
Even though I've grown into a person who loves their culture and has so much self love, I still struggled with giving back to API community in an authentic way. Sharing a link or another Asian hate crime on my social channels didn't feel personal, or like I was making an impact. So I started to post about Korean food — how I ate it, how it reminded me of my family — and it drew me closer to my culture. Eventually, my FYP became flooded with people trying Korean food. I started to share other Asian delicacies such as a Filipino Balut or Chinese century egg. Both foods were daunting to me, but sharing them in a lighthearted way allowed people around the world to discover and connect with these foods, too. I realized that my purpose was to bring a sense of humility, appreciation and comfort around Asian culture to others. That's when I felt like I belonged and represented the API community. Bringing awareness to this community is an absolute honor. I am finally proud to be Korean and bring light to something I truly love.
How has the TikTok community inspired you?
TikTok is the reason why I feel safe and empowered to be my authentic self. It has given me a platform to be my loud, over expressive true self, and rewards me with a beautiful community. This community continues to remind me that we are all humans who want to be loved, food is one thing that unites us all, and having fun has no age limit. Before TikTok, I always struggled with my body image. I was trying to put myself into the mold of a fashion and lifestyle influencer girl. All my friends were finding success that way, and I was giving it my best shot. I wasn't being authentic — I didn't eat the things I wanted, I stopped smiling in pictures, and didn't feel encouraged in that competitive space. I felt like my worth was solely dependent on how I looked in pictures and how many likes I got.
But then I found TikTok, which was filled with normal people doing every day things, all while being entertaining and captivating. I was inspired by the many creators putting themselves out there. I wanted to make something out of my love for storytelling and food. I went all in! On TikTok, I never have to pretend to be something I'm not, and it's the most liberating feeling. People regularly reach out letting me know I've helped them with their eating disorders. It's empowering to know I've impacted so many people — now all I want to do is radiate love and positivity in my videos.
What is your favorite TikTok video that you've created and why?
My favorite video(s) are my motivational car talks. I brought myself out of very dark places through books and podcasts and I think there is comfort in hearing people overcome similar struggles. I made myself a video with lessons I have learned over time and replay it every morning like an affirmation. It brings me a sense of comfort, confidence, and relief. After posting a few of them, I noticed they touched my followers too, and I felt a sense of peace knowing that I am not the only one that needs a little pick-me-up from time to time. Knowing these videos not only brighten my day, but also positively impact others, brings me so much joy.
What are some of your passions on and off of TikTok?
Some of my passions include trying new foods, traveling, live music, fashion/beauty, photography, and animals. I only share a fraction of what I love on TikTok, but I hope to show more in the coming months. One of my heroes is Anthony Bourdain. I feel like we are both driven by our curiosity to try everything and anything. My hope is to travel and dive into different cultures around the world and share these experiences through my perspective.
What's your favorite food?
My number one favorite food would be sushi. Period. I also cannot live without Korean cuisine!
What is your favorite restaurant?
I don't have a favorite restaurant, but I love the eating out experience. I love Korean BBQ.
What's the best advice you ever received?
Being authentic is much more important than being popular. Once I believed this and committed to it, everything in my life fell into place and I received a lot more opportunities.