Today, we're inviting the TikTok community to join us in celebrating Transgender Day Of Visibility (TDOV), alongside our inspiring trans creators who bring so much joy and pride to TikTok.
Every year on March 31, transgender communities and their allies pause to celebrate and reflect on how far the trans community has come. Today and every day, we are incredibly proud of the diverse trans and non-binary creators who come to TikTok to share their stories.
#TransVisibility TikTok LIVE - Join the Celebration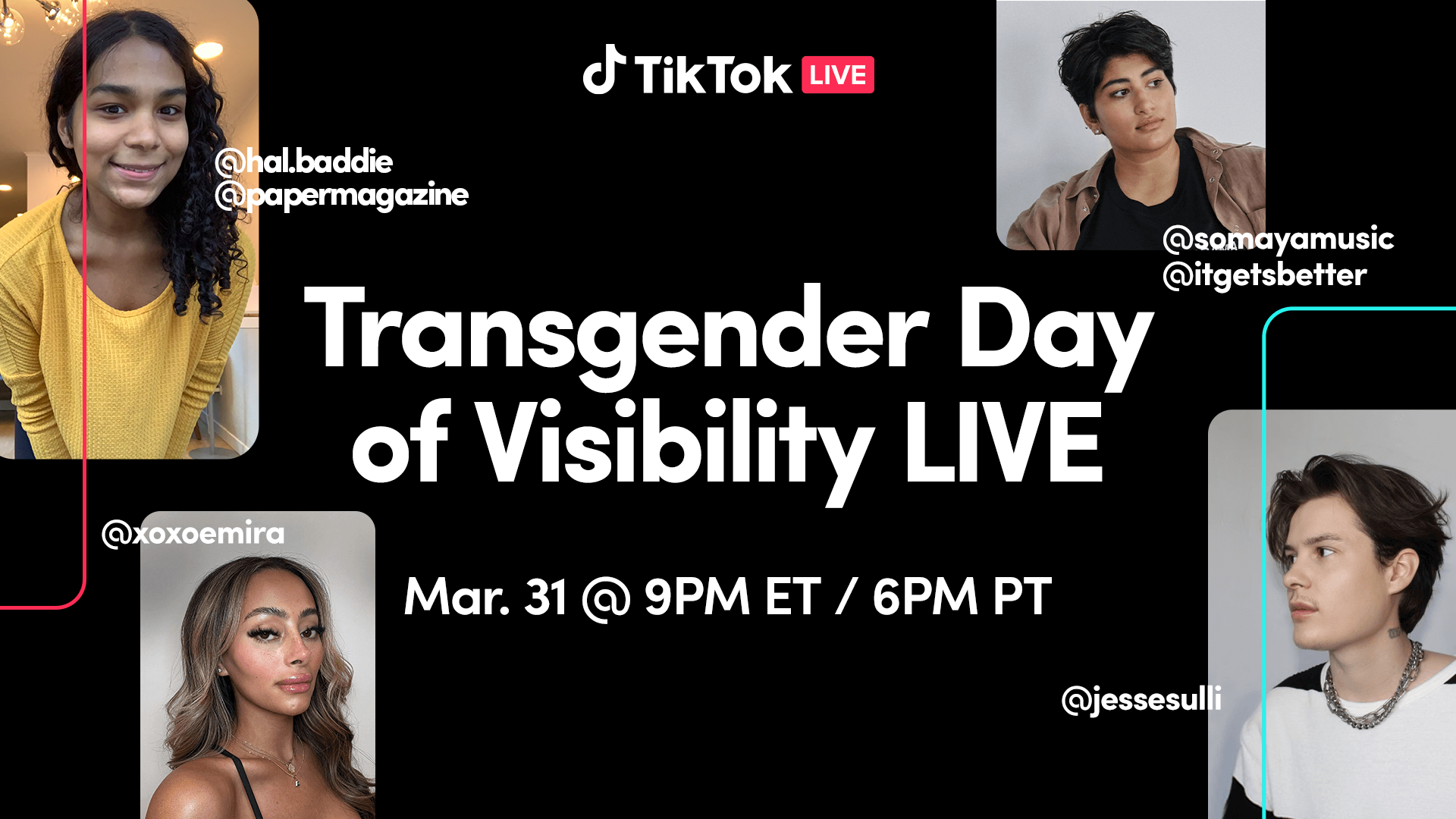 For TDOV, we're spotlighting trans changemakers and creators with a special TikTok LIVE series set to air at 6 PM PT on our @TikTok handle, featuring LIVE segments with creators Jesse Sullivan, Emira D'Spain, Devin Halbal and Somaya, along with PAPER Magazine and the LGBTQ+ nonprofit organization The It Gets Better Project. Tune in on @TikTok to watch our #TransVisibility LIVE series and celebrate trans joy.
Inspiring Trans and Non-Binary Creators to Watch
From musicians representing the trans community in music, to creators spotlighting their experiences and personal breakthroughs as trans parents, the TikTok community is full of trans and non-binary creators to look up to and learn from. Below are a few creators to know and follow all year long.
@xoxoemira (She/Her) - Emira D'spain is a beauty and style creator who offers tips and insights on the best glam secrets from her authentic point of view. From relatable GRWMs to helpful beauty tutorials, Emira's content speaks to unlocking some of the greatest kept secrets of the industry.
@hal.baddie (She/Her) - Devin Halbal takes to TikTok to share lifestyle content, her travel journey and mantras, all with a positive and humorous flair. She hopes to inspire other transgender women to have adventures and live their lives to the fullest.
@jessesulli (He/Him) - Jesse Sulli is a transgender father who shares his journey of raising his daughter Arlo with the TikTok community. His mission is to highlight that not all families look the same, and to be a role model to young transgender people all over the world. Jesse wants LGBTQ+ people to feel not only heard, but celebrated and empowered.
@somayamusic (He/She/They) - Somaya is an an Indian-American music artist making a name for themselves on and off TikTok. They started off creating TikToks for fun, and have built a huge following sharing powerful music and humorous content on the app. Their goal is to create more representation as a Queer Desi person across social media and music.
Organizations that Give Back
In celebration of TDOV, we're taking a moment to recognize the non-profit and advocacy groups on TikTok who fearlessly champion and support trans and non-binary communities. Be sure to follow them on TikTok for educational resources and info on ways to give back to trans and non-binary communities year-round!
@translifeline: Trans Lifeline is a grassroots hotline and microgrants 501(c)(3) non-profit organization offering direct emotional and financial support to trans people in crisis – for the trans community, by the trans community. This can include tips on how to safely bind, the importance of using the correct pronouns for your friends & family and how they are helping trans individuals legally change their name via microgrants.