Spider-Man may have No Way Home, but fans have found one with our global community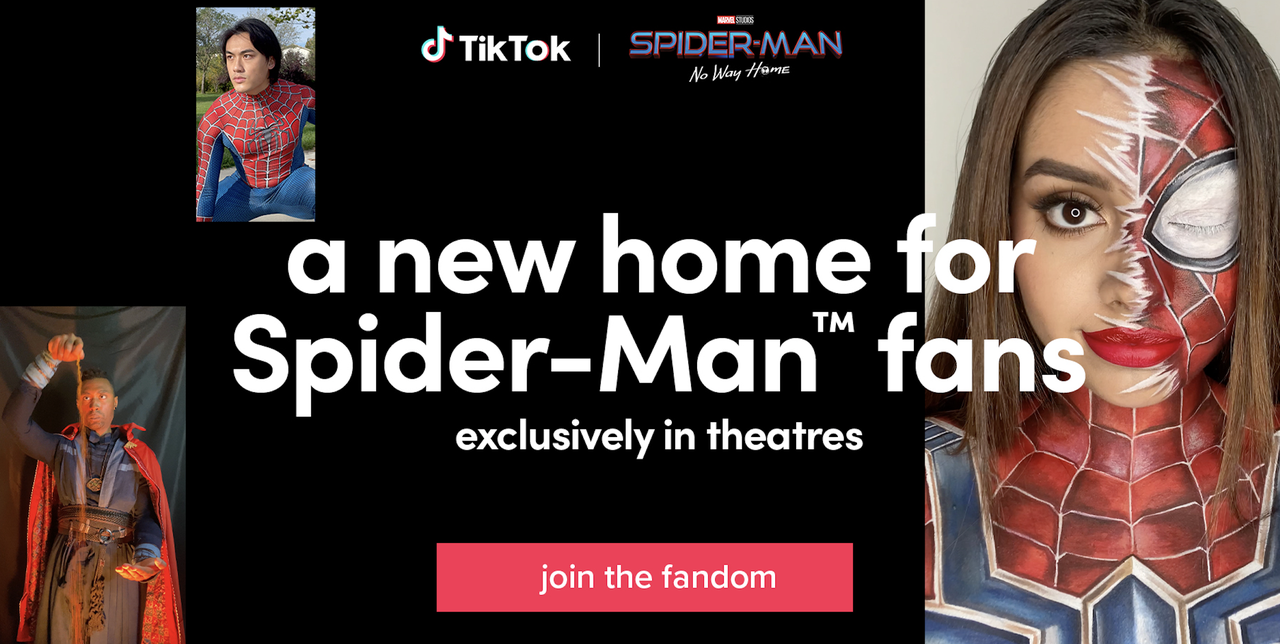 As Sony Pictures' Spider-Man: No Way Home swings into theaters on December 17, 2021, the franchise is spinning webs of excitement on TikTok, where over 1 billion people come to be entertained in so many ways.
With almost 50 billion views of #spiderman, the Spider-Man fandom is among the most active fan communities on TikTok. Whether it's going deeper into fan theories, discussing new trailers and franchise easter eggs, sharing cosplay costumes and makeup tutorials, or simply finding more information about their favorite hero, the passion and enthusiasm of the Spider-Man fandom, paired with TikTok's features and effects, open up new opportunities for fans to connect with a bigger community.
To celebrate the fandom in time for Spider-Man: No Way Home, we're sharing new ways for the community to create, engage and entertain on TikTok.
Follow the official Daily Bugle TikTok account. Want to join Betty Brant and The Daily Bugle team by becoming an honorary intern? Help bring balanced, fair, and hard-hitting news from the award-winning journalistic juggernaut to the TikTok community.
Step into the Multiverse with the Spider-Man: No Way Home portal effect. Become Doctor Strange with this new effect that allows you to open new portals and new dimensions via a green screen portal simply by showing the palm of your hand. The TikTok effect is coming soon.
Soundtrack your videos with the Spider-Man: No Way Home film score. Later this month, the full musical score from the film will be available on TikTok. Use the film's music to create your own Spider-Man fandom videos timed to the launch of No Way Home.
Tune in for the Red Carpet World Premiere. Hosted by creators @straw_hat_goofy and @hellotefi, watch The Spider-Man: No Way Home cast on the red carpet on Monday, December 13 starting at 5:50 p.m. PST. Watch the LIVE Event on TikTok.
Swing in, spin some webs and join the global fan community on TikTok as we get ready for Spider-Man: No Way Home, premiering exclusively at cinemas around the world this December.