The Black creators, artists, entrepreneurs, and brand partners on TikTok have touched people around the world, and they have helped make TikTok the joyful and creative community we aspire to be. We continue to work every day to create a supportive environment for the Black community on TikTok and are committed to elevating and supporting Black voices, businesses, and causes both on the platform and in the communities around us.
Today we're proud to launch Support Black Businesses, an online hub where Black entrepreneurs can learn about TikTok's ongoing partnerships and initiatives that drive awareness, support and patronage of their businesses. This hub builds upon our broader efforts to promote inclusivity in entrepreneurship, including committing $500K to the Accion Opportunity Fund this summer to provide relief to Black small business owners impacted by COVID-19. However, with nearly 121,500 Black-owned businesses in the US we know there's more work needed to address the economic disparities Black entrepreneurs face today.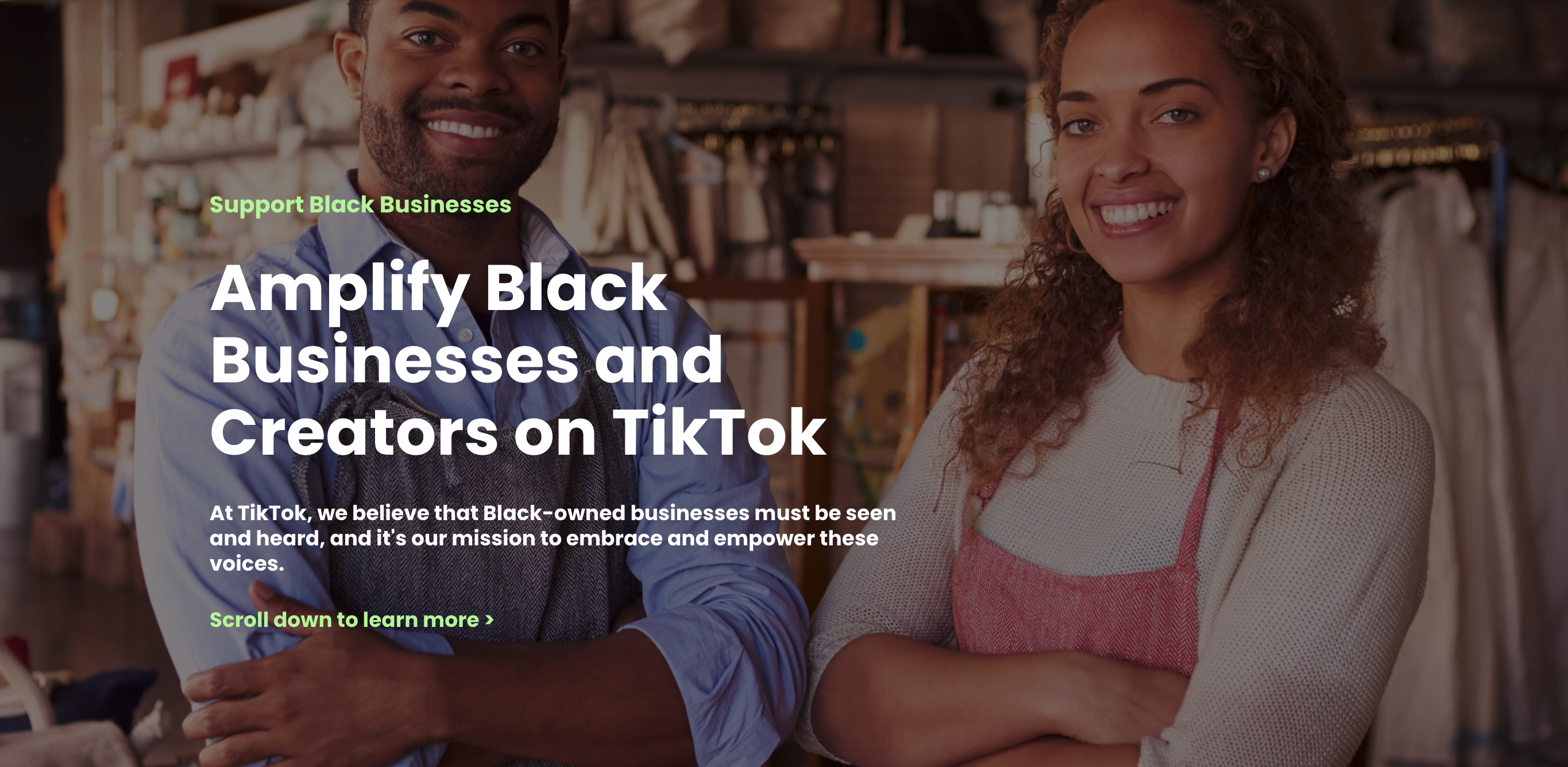 "We're excited to support and empower Black-owned businesses, especially during a time when COVID-19 has heavily impacted the economy and widened the opportunity gap for Black entrepreneurs. This is just the beginning, and we're committed to finding new and creative ways to provide continued support to the Black community." - Gabriel Nicolau, North America Product Marketing at TikTok
#ShopBlack
We're also introducing #ShopBlack, an in-app campaign that amplifies and celebrates Black-owned businesses. Starting on November 10th, the TikTok community will be invited to participate in the #ShopBlack hashtag challenge by creating videos that spotlight their favorite Black-owned businesses, or by sharing their own story as a Black entrepreneur.
More than 40 Black Shopify merchants across the US and Canada will be featured on the Support Black Businesses website, and from November 10-15 the TikTok community will be able to explore their businesses and products through the #ShopBlack hashtag and branded effect. D Smoke, a Black musician, educator, and community advocate with his own Shopify store, is also the voice behind the official #ShopBlack campaign music.
"I am beyond excited to be part of the #ShopBlack campaign. The hashtag challenge is an incredible opportunity to share our brand story with the TikTok community, and I'm so happy that Black business owners like me are being given a platform to amplify our voices." - Christina Funke Tegbe, Founder of 54 Thrones, a premium skincare brand that celebrates and elevates traditional African beauty rituals
"More than ever before, 2020 has highlighted the disproportionate burden on Black-owned businesses. When we thought about how we could best support them we listened to feedback from TikTok creators, who asked us to highlight more Black-owned businesses. As a descendant of Black small business owners, I know the value of giving this community a voice and promoting a #ShopBlack mindset on and off our platform." - Yinka Taiwo-Peters, co-founder of the Support Black Businesses initiative at TikTok
We're excited to introduce #ShopBlack and continue working with our Black community as a part of our commitment to enable Black-owned businesses to thrive. To explore more Black-owned businesses and learn how TikTok is supporting Black entrepreneurs, visit our Support Black Businesses website here.