TikTok partnered with market research firm YouGov to better understand global attitudes towards mental health to shape new support initiatives
The platform has unveiled a series of educational videos on mental health and spotlighting mental health advocates via its Digital Wellness Hub to drive more conversations about the topic
TikTok's Wellness Community Celebration will be commemorating the platform's wellness community in Singapore, spotlighting the recent graduates from its Youth for Good programme

Singapore, 28 October 2022 – TikTok, a leading short-form mobile video platform, today announced that it is reinforcing its commitment to fostering a safer space for mental health conversations, with new educational and inspiring content added to its Digital Wellness Hub. This was shaped in consultation with experts and mental health advocates as well as with results from a joint survey with market research firm YouGov.
The survey, which was geared towards further understanding local and cross-generational attitudes towards mental well-being, underscored the need for greater mental wellness support ecosystems amongst adults above 18. In particular, it uncovered people's comfort levels in talking about their own mental health. The findings spotlighted several key challenges that have hindered mental health conversations within the community, including:
59% of respondents in Singapore expressed fear that their loved ones would not be able to help if they talked to them about this topic.
64% of respondents in Singapore are afraid that being open about their mental well-being will negatively affect their future prospects at work.
"While significant strides have been made to build and reinforce mental health support systems in Singapore, more needs to be done to help our local community feel less afraid of judgment and more empowered to actively seek help. These safeguards span across all areas, from people in the community, policies, and platforms like ours," said Teresa Tan, Director of Public Policy, Singapore and Southeast Asia, TikTok. "Everyone has their own unique and personal journeys when it comes to their mental health and, more than ever, safe spaces need to be created to allow open conversations about our well-being to thrive, comfort, and inspire positive action. This is why we have worked hard to drive initiatives and constantly update our features and tools, such as our in-app Digital Wellness Hub, to provide users with the most current and relevant support networks, resources, and direct helplines."
The TikTok-YouGov survey also cited that half the respondents in Singapore felt comfortable about sharing their mental health struggles if they had close loved ones who were open with theirs. Additionally, more than a third of respondents shared that they would be more open to sharing on these issues if they had greater access to free mental well-being resources on digital platforms. Taking this into account, TikTok has introduced new content to its in-app Digital Wellness Hub – a one-stop portal that anchors all of its educational initiatives around well-being and cyber wellness – to further bolster its mental health offerings to the local community.
The Hub also includes a new 'Creator Spotlight' series, featuring local mental health advocates like Adeline Tay (@adelimey), Samantha Ng (@samantha_ng_official), Jeannette Qhek (@chillbynette), Nava Neetha (@lifewithnava), Yanni Ruth Chin (@pootpootyan), and Wong Wei Lung (@weilung_wong), to inspire others in the community with their personal journeys. Local users will also be encouraged to continue sharing their own stories with the hashtag #mentalhealthawareness.
These initiatives are set to further expand the wellness community on the platform, including non-profit organisation (NPO) partners, such as CARE Singapore, Fei Yue Community Services, Samaritans of Singapore, and TOUCH Community Services, as well as the participants and alumnus across TikTok-driven programmes like ELEVATE and Youth for Good. To commemorate this milestone, TikTok held a local Wellness Community Celebration on Thursday, 27 October to not only bring these creators and partners closer together but to also outline the ways the group can continue to address social issues and drive greater impact. The event also celebrated the newest batch of Youth for Good graduates, who have successfully gone through an 8-week bespoke programme to become mental and cyber wellness educational content creators.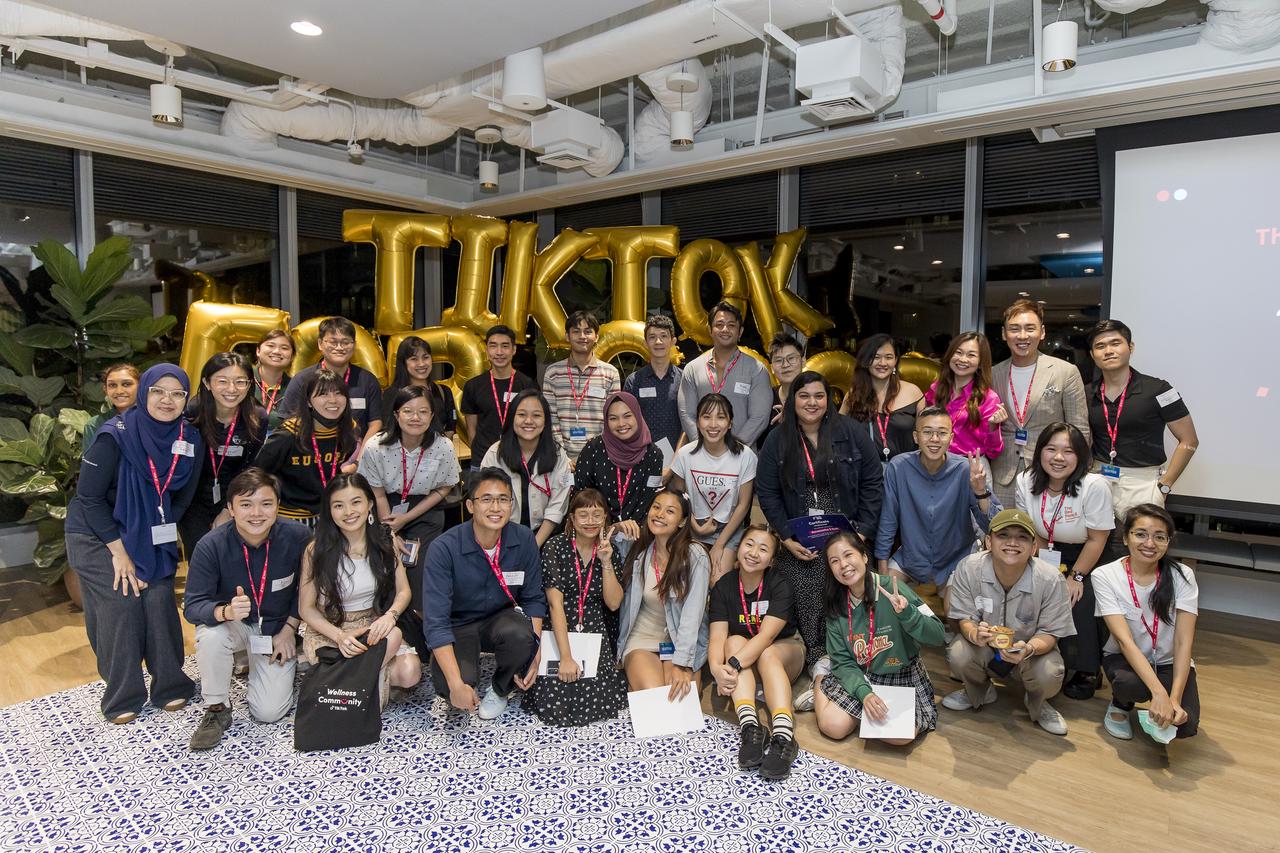 Youth for Good Graduates, Alumni, and NPO partners at the TikTok Singapore Wellness Community Celebration
"We are proud to see our second batch of Youth for Good creators use their unique voices to become beacons of light for others, said Tan. "At TikTok, we firmly believe in the power that an inclusive community wields in breaking down stigmas and driving important conversations around mental health. With the continued support of our non-profit partners, we endeavour to keep growing our peer support ecosystem on the platform, providing our wellness creators with safe spaces and resources to express themselves authentically, seek help, and support others."
As part of its ongoing efforts to support users' mental health, these newly-added initiatives will complement existing safeguards, including in-app well-being guides that have been developed in consultation with experts, to provide a holistic support ecosystem for all. The platform will also continue to take a two-pronged approach to address potentially harmful content on the platform including measures to remove videos that go against the platform's Community Guidelines as well as in-app tools that empower all users to block and report inappropriate content.




*Methodology of YouGov Study
Global Consumer Attitudes on Mental Well-being is a survey conducted by YouGov among 16,000 adult consumers across 13 markets (United Kingdom, United States, Singapore, Germany, South Africa, Indonesia, Vietnam, Canada, Brazil, UAE, Saudi Arabia, Australia, and Egypt), commissioned by TikTok in September 2022.