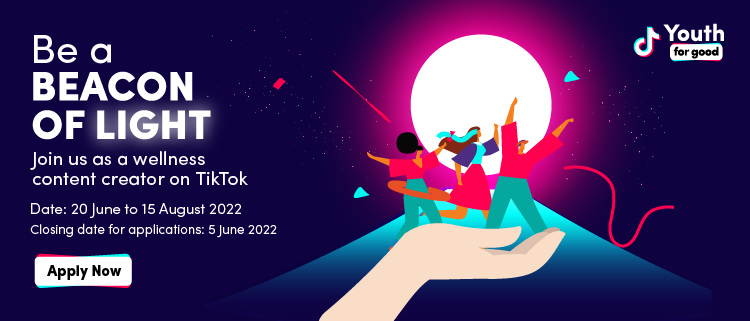 Singapore, 20 May 2022 - TikTok, a leading destination for short-form mobile video, has unveiled the second edition of Youth for Good, its flagship educational programme that seeks to raise awareness of mental well-being and cyber wellness issues amongst Singaporean youths, with the support of the Ministry of Culture, Community and Youth (MCCY), Ministry of Education (MOE), National Youth Council (NYC), and the Infocomm Media Development Authority (IMDA).
This year's edition of Youth for Good will be launched in conjunction with IMDA's Digital for Life Festival, where there will be several in-person workshops led by TikTok Youth for Good creators and non-profit partners on 21 May, 28 May and 29 May at 11:30 am SGT. They will drive open and empathetic conversations on balancing work, play and mental well-being; how online platforms can be used to encourage help-seeking behaviour and provide help; as well as educate on alternative mental wellness boosting therapies.
From now to 5 June 2022, Singaporean youths aged between 19 and 34 years can apply via the TikTok app HERE to join Youth for Good and become wellness educational content creators on TikTok. Participating youths will undergo a specialised training programe from 20 June to 15 August 2022. For any enquiries regarding the programme, youths can email youthforgood@tiktok.com.
The second edition will be officially announced on 22 May at 11:30 am SGT at a live, youth-led panel during IMDA's Digital for Life Festival, moderated by TikTok wellness creator and Youth for Good alumni Nur Hidayah Binte Azman (@nurhdyhaz), featuring Mr Tan Kiat How, Minister of State, Ministry of Communications and Information and Ministry of National Development; Ms Bettina Yeap, Principal Counsellor, INSIGHT Care Corner Counselling Centre; and fellow TikTok wellness creator and Youth for Good alumni Alistair Yeap (@truthfortheheart). As part of its efforts to empower youths to speak on issues close to their hearts, the panel will discuss how best to navigate the good and the bad in the online world as well as ways Singaporeans can pitch in to build a better and safer digital space for all.
"At TikTok, we are committed to building a safe online space, where our users feel empowered to express themselves authentically, learn from others, and speak frankly about important issues facing youths today, such as digital wellbeing and mental health," said Teresa Tan, Head of Public Policy Southeast Asia and Singapore, TikTok. "With the support of our partners such as IMDA and our non-profit partners, we hope to continue the momentum from our success last year - where our first batch of Youth for Good have gone on beyond the initial eight-week programme to use their voices for good and support even more young Singaporeans to share their stories, break down stigma, and be an inspiring beacon of light for others."
The second iteration of the programme builds on the success of the inaugural Youth for Good initiative launched in 2021 and comes at a crucial time when mental health and cyber wellness continue to be national topics of conversation. Over 225 unique educational short-form videos were created by the first batch of Youth for Good creators, reaching a total of 2.8 million local video views and garnering significant engagement (108k likes, comments, and shares) from the wider local community.
"We thank TikTok and all partners for joining us in building a digitally inclusive society by organising the workshops at the inaugural Digital for Life Festival, enabling our youths to learn how to use online platforms to amplify the importance of mental well-being specifically in the areas of digital wellness education." Said, Ms Dawn Low, Cluster Director for Digital Readiness and Digital for Life programme office.