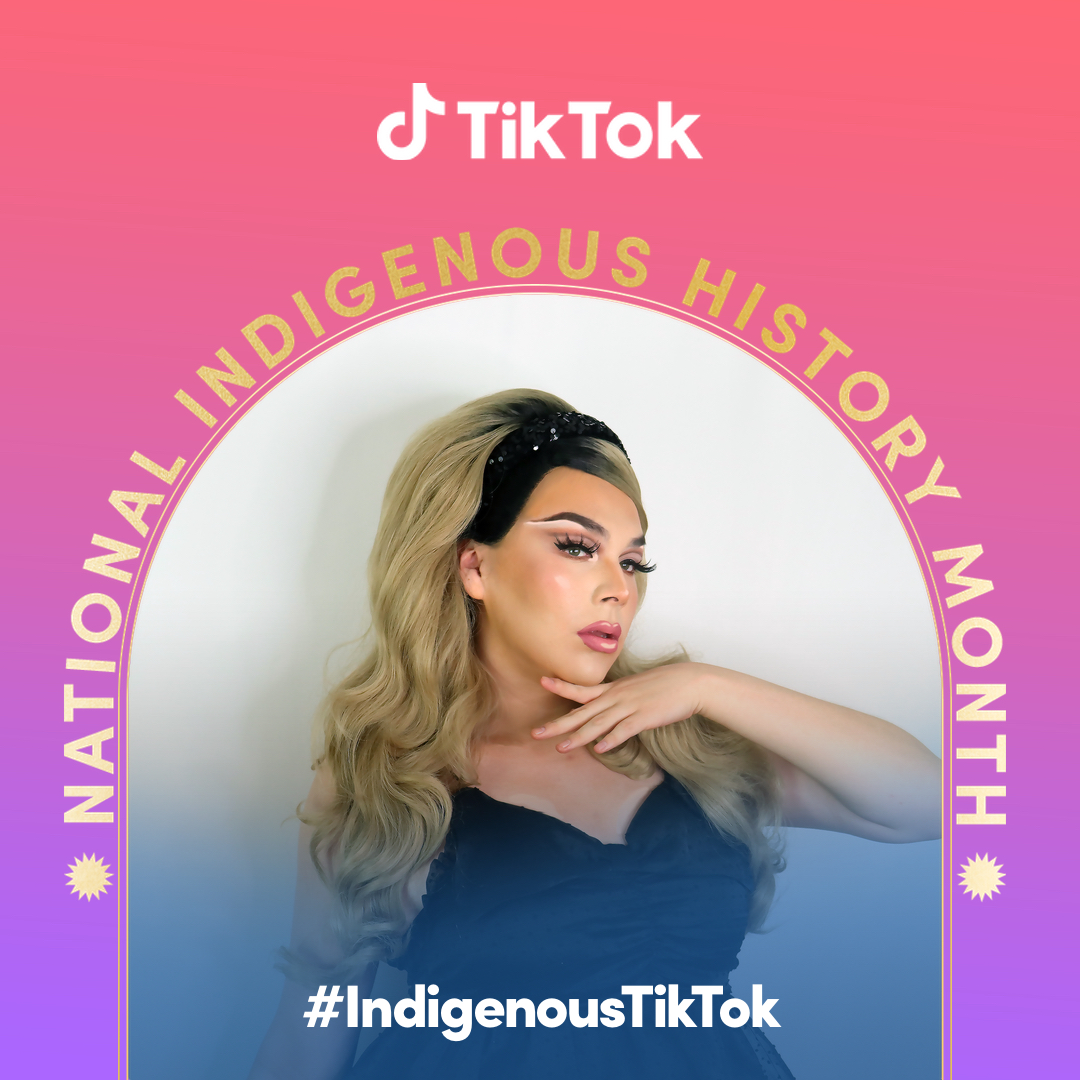 Next in our Creator Spotlight Series: #TikTokCanadaCreates is Layten Byhette aka @chelazonleroux (he/she/they) is a Two-Spirit Dene First Nations Artist, drag performer, stand-up comedian and social media influencer. Layten uses his Indigenous background—Treaty 10 Territory, Buffalo River Dene Nation and Treaty 8, Fond Du Lac First Nation—as the foundation for his creative works. Best known for his Auntie persona, Layten uses his influence to educate and entertain audiences worldwide. Check out our previous NIHM Spotlights featuring @sherry.mckay and @jayroymakokis.
How did you get started creating on TikTok, and what was the first TikTok video you shared/published?
I started on January 28th, 2020 right before the pandemic hit. The first video I posted was myself wearing a pink fur coat, in full drag lip syncing to Nicki Minaj - Itty Bitty Piggy which was a trend at the time.
What do you love most about TikTok?
The ability to create and share beauty, art, and culture. Being Indigenous on this platform is not only welcome, but it is celebrated. That is what I love most about TikTok.
What is your favourite effect?
THE GREENSCREEN. Such a simple effect yet so impactful for storytelling. Being inside during this pandemic we don't have the freedom to shoot content everywhere, so that green screen really adds that final touch of storytelling.
What is on your For You Feed?
#NativeTikTok is EVERYWHERE, and I am so obsessed. But also drag queens, queer artists, and comedic content fill my For You Page, it really hits all my interests.
What is your favourite TikTok you have made to date and why?
Auntie's Snaggable Makeup Tutorial. It was my biggest hit and really put me on the map in terms of being recognized as a makeup artist as well as an Indigenous comedian.
How has your culture influenced or shaped you?
It directly influences my entire existence as an individual. My culture has taught me to respect, to have humility, to heal, and to always support your community. My culture has done everything in shaping who I am.
How has the TikTok community inspired you?
Specifically Native TikTok showed me that it was ok to be who I am. The community showed me that I could be unapologetically Indigenous and I would be celebrated for that. I have a lot to owe to this community, and I am forever grateful for it.
Who are some of your favourite TikTok accounts to follow and favourite Indigenous-owned businesses?
@sherry.mckay, @scottwabano, @ohkairyn, @helenorodesigns, @cheekbonebeauty, @jamiebillette, @lesley_hampton and so many others, just search #nativetiktok and you'll see a ton of amazing content creators.