By Simon Bates, Director of Content Programming, TikTok ANZ
Creators are the heart and soul of TikTok, with their creativity and diversity making our platform a place where everyone can be inspired or entertained, discover something new, connect with others around the world and so much more. To celebrate the incredible Australian creators who produce videos each and every day that leave us laughing, learning, crying or amazed, TikTok is thrilled to announce the inaugural Australian TikTok Creator of the Year initiative.
Shining a spotlight on our TikTok creator community right here in Australia, Creator of the Year is part of our commitment to showcasing and celebrating the incredible homegrown talent on our platform, as they make waves and amass fans around the world. This initiative aims to reflect the breadth and depth of content that is shared on TikTok, with our very special finalists all having found their 'niche' on TikTok and absolutely owning it.
For the first time, the TikTok community will have the chance to vote for their favourite Australian creator and help give back to the winning creator's charity partner. So without further ado, we're pleased to announce our finalists for Australia's first-ever TikTok Creator of the Year.
🥁 🥁 🥁
Millie Ford (@milligram96)
Millie has become one of the most-recognised and most-loved Australian creators on TikTok, clocking up more than 1 million followers and 45 million likes for her spot-on impressions of some archetypes we are all too familiar with. From the teacher who stares down students until they stop talking during a lesson, with the off-hand comment "they can wait all day, they've got nowhere to be", to how our mums would wander around the house while on the phone. Millie's original and hilarious content has people from all walks of life in stitches over nostalgic memories that bring back that smiles.
Check out one of Millie's classic 'teacher POV' TikToks.
Nathan Lyons (@kookingwithakoori)
Dad of six from Sydney, part-time train driver and now a published author, Nathan Lyons, aka @kookingwithakoori, has gone absolutely gangbusters on TikTok. Capturing the hearts of many around the world through his simple and smart recipes to feed his family for just $8, Nathan's videos have scored over 1.8 million likes for their no-fuss, relatable and light-hearted energy. His incredible success on TikTok has also seen him secure a book deal for a collection of his best recipes and Indigenous Australian soul food that won't break the bank. Pretty awesome!
Learn how to jazz up a store-bought cake that will leave your guests impressed, with Nathan's recipe TikTok.
Walt (@oneminmicro)
Walt's videos as @oneminmicro will leave you saying 'oooh' and 'aaah', as he treats his followers to an enchanting microscopic look at the world. From water bears to bees and bubbles, Walt's 'micro' content has fascinated many, scoring him 8 million likes and half a million followers from around the globe. Driven by his passion for science, Walt continues to share content that spurs you to ask questions and embrace the world around you - something we can all use a little more of!
Learn how you can find water bears in your own backyard and get up close and personal with these awe-inspiring creatures in this TikTok.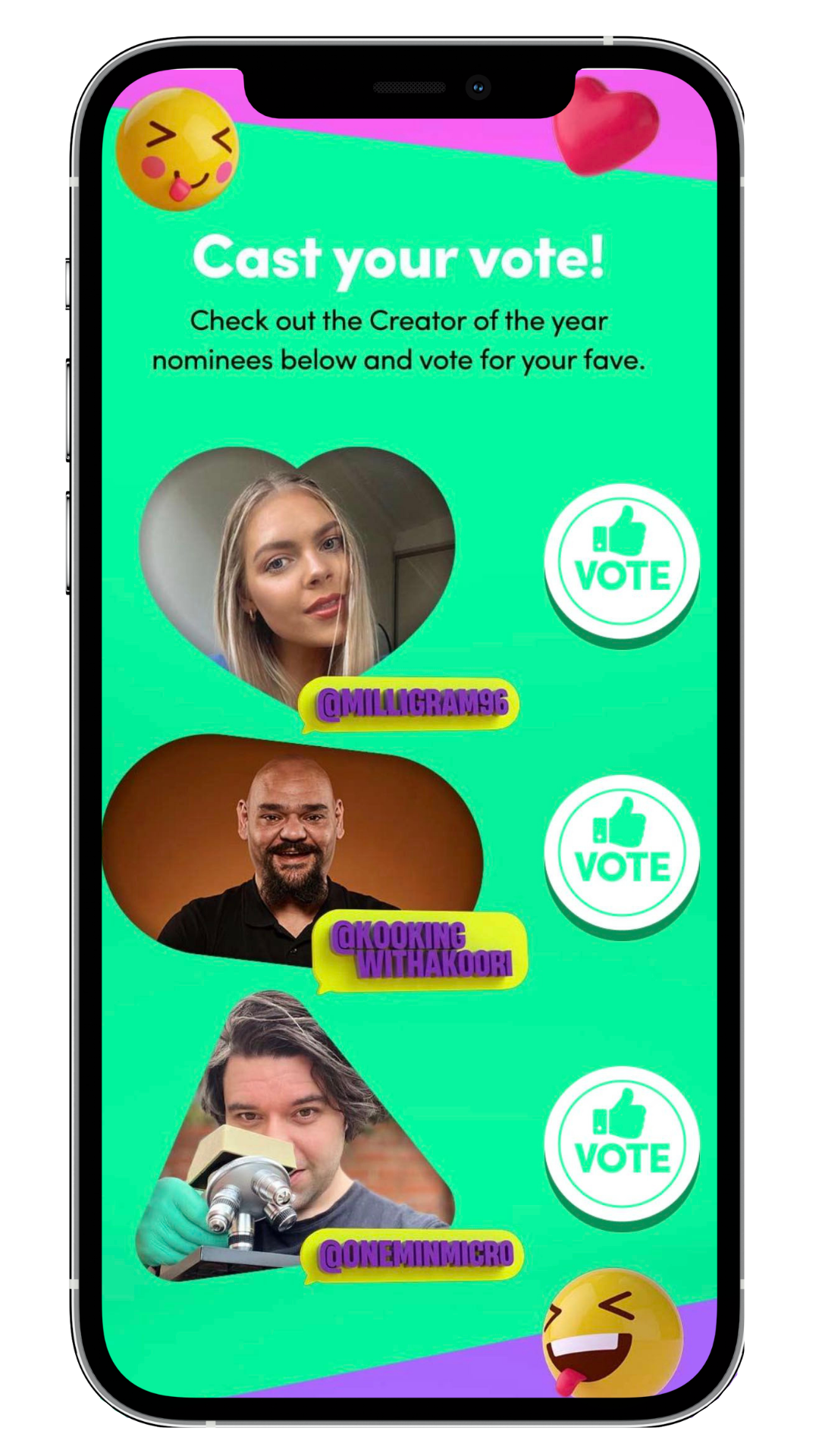 Our creator finalists have each aligned with a charity as part of TikTok's global #GivingSzn initiative, with $30,000 to be given to the community-voted winner to make a charitable donation to those in need. The charities involved in this initiative are:
@milligram96 has teamed up with Australian Red Cross (@redcrossau), the humanitarian aid and community services charity that helps people in the most vulnerable situations through tough times.
@oneminmicro is working with Australia for UNHCR, the UN Refugee Agency's national partner (@unrefugees), helping to protect and assist refugees, forcibly displaced communities and stateless people all across the globe.
@kookingwithakoori is supporting the Food Ladder (@foodladder), giving people the tools to stop hunger and malnourishment by providing remote and regional communities with hydroponic greenhouses and specialised training to grow their own fruit and vegetables.
Now it's time for you to vote!
We want your help to decide who the first-ever Australian TikTok Creator of the Year will be. Who has made you laugh, left you inspired or taught you a thing or two? To give you a helping hand on who to vote for, our creator finalists will each go LIVE on their TikTok accounts throughout November to share why they should be chosen Creator of the Year and to share some insights into the important work of their charity of choice. Tune into details:
Tuesday 16th November, 7.00pm AEDT - Walt | TikTok @oneminmicro
Saturday 27th November, 7.00pm AEDT - Nathan Lyons | TikTok @kookingwithakoori
Tuesday 30th November, 7.00pm AEDT - Millie Ford | TikTok @milligram96
The winner of Creator of the Year will be crowned at TikTok's For You Fest, a first-of-its-kind LIVE end of year show and broadcast to celebrate 2021 on TikTok. Jampacked with musical guests, creator performances and special guest appearances, this event will be hosted by the hilariously talented duo, The Inspired Unemployed. Full details of the For You Fest line-up will be revealed soon, so for now, mark your calendars for 8 December!
To place your vote, head to the For You Fest hub on the Discover page in the TikTok app. Voting closes 11.59pm AEDT 30 November.