TikTok, in partnership with Publicis Groupe and WARC, have released a new study exploring the role social communities play in influencing purchase decisions, outlining the huge potential for brands to engage with audiences and increase unplanned purchases by narrowing the funnel between product discovery and purchase through "community commerce."
The survey-led whitepaper, "From Discovery to Purchase: The Role of Community Commerce," reveals the potential of creator-driven marketing for brand growth and its impact on the purchasing funnel.
From discovery to purchase: Methodology & workflow
With the rising importance of a media ecosystem in which audiences can go from product discovery to purchase with little more than a click or tap, this report aims to specifically explore the role that social communities play in influencing purchase decisions, and the major implications it has for media planning.
The whitepaper was built on a three-step workflow process that began with a global survey of 2,230 consumers across 11 markets, including the UK, France, Germany, Italy, Spain, US, Canada, Indonesia, Saudi Arabia, UAE and Brazil. Survey participants were 18 to 45 years old and active on at least two social media platforms on a weekly basis. Researchers then conducted one-on-one interviews with 18 marketing leaders from across advertisers and agencies. Finally, all data, along with WARC best practices, passed through secondary expert review in conjunction with existing proprietary research.
What is community commerce?
Defined in this report as "entertaining creator-driven social content featuring brands," community commerce sits at the intersection of community, shopping and entertainment.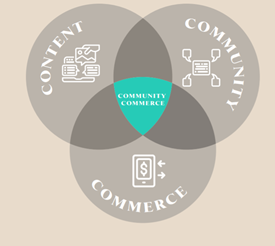 A subset of social commerce, community commerce provides a stronger opportunity for authenticity in advertising due to its relationship to creators and their communities.
"The intersection of community, shopping and entertainment is what's really different about TikTok. I can move from being entertained by my favourite creators into a shopping moment – or telling my friends about it or sharing it – pretty easily." - Amy Lanzi, EVP, North America practice lead at Publicis Groupe
TikTok's role as a connector makes it an ideal place for brands to reach their target audiences, and by collaborating with creators, businesses aren't just placing themselves in front of people anymore, they're actively engaged members of communities, and that drives action.
TikTok's unique sense of community means that 74% of its users agree that browsing content on the platform helps them feel close to the latest trends and challenges. This level of deep connection goes beyond person-to-person interactions and extends to brands and products as well, with 78% of consumers now accustomed to spending more time interacting with people and brands through virtual social channels.
With the right approach and authenticity, brands on TikTok have the opportunity to fit seamlessly into this experience and engage with audiences as they congregate around particular interests, hashtags or creative stories. Brands offering genuine value exchange and willingness to test and learn are already reaping the rewards.
The purchase funnel collapses: Discovery & inspiration converging on the path to purchase
Social media platforms have disrupted the purchase journey, which is now led by spontaneous discovery and inspiration. On average 85% of consumers have purchased a product or service after seeing it advertised or reviewed on social media.
All product categories are impacted by this collapse of the traditional funnel, with clothing, accessories, beauty and personal care being the most frequently bought categories following discovery on a social media platform.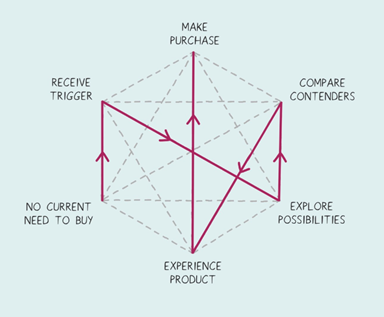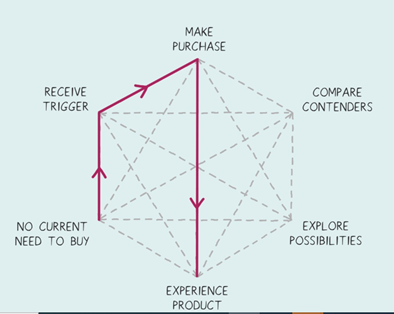 The convoluted path to purchase for automotive vs the collapsed path of CPG.
At the same time, the power of community clearly drives engagement and can stimulate decision-making for consumers. More than 70% agree that social media platforms have inspired them to make purchases, even when they weren't looking to shop.
Testing and learning in a fast-changing environment is critical due to these changes in shopper behavior. Success in community commerce requires a combination of experience, tech and the internal agility to iterate and respond rapidly.
"TikTok is a fun place to continually test and learn. Its algorithm is identifying the customer, and finding the right people to reach. But the same algorithm that helps a post to go viral can make it fall flat, so we are all learning." -Ryan Hartsfield, director, social media – Monster Energy
The new brand storytellers: Content creators evangelising for brands
Creators are invaluable for driving the engagement that facilitates community commerce. They boost product discovery (78%), educate and inform their audiences (76%), and inspire their audiences to try new products (73%).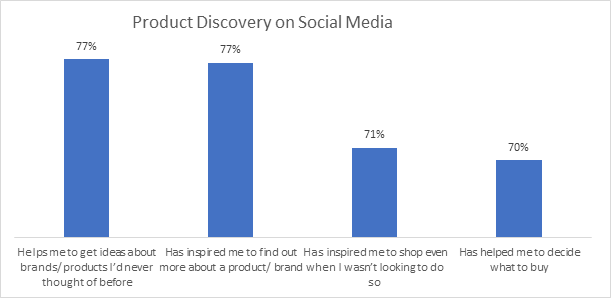 Community is the new version of word-of-mouth, making it a powerful force for all types of social commerce, and the opinions of followers can boost or block sales. It stimulates belonging, information-sharing, and ultimately demand for your product through the powerful influence it can wield.
"Influencers are really important because they each have their own reason for loving our brands. It's fun to discover why someone is using our products, and we like to elevate and share those voices of discovery because they are authentic and true." - Kevin Shapiro, Senior Vice President, US Marketing – Consumer Beauty, Coty
Key Takeaways for Brands on TikTok
From this study, we can draw some key takeaways, directly applicable to businesses and brands advertising, or considering advertising on TikTok:
Social platforms offer new ways to engage audiences. Platforms such as TikTok have led to a great conjunction of community, commerce and entertainment that has become "community commerce."
Social platforms bring together opportunities around content, marketing and commerce as well as customer service. Community commerce enables a new level of seamless experience and brands must make the most of the technologies that facilitate that experience, such as TikTok.
You need creativity in capturing your audience up front. The alignment of ad creative and the powerful force of community commerce can help brands open themselves up to a much wider and more committed audience than those on traditional platforms.
The path to purchase widens, all while the traditional funnel collapses. Increased investment in bespoke content increases the feeling of authenticity and plays into the condensed funnel from discovery to purchase.
Brands and businesses on TikTok can start taking advantage of these opportunities and executing on these takeaways today. Download "From Discovery to Purchase: The Role of Community Commerce" or start exploring the opportunities on TikTok and experience these trends for yourself.