Women continue to write - and rewrite - history making significant social, economic, cultural and political change around the world. Whether showing the world the ways they are creative, unbeatable, powerful and savvy, such as breaking down gender inequalities and speaking up in the name of their sisters i.e @drewafualo, TikTok has become the destination for women-led creativity and inspiration unlocking new opportunities for women to share their stories, opinions and experiences with the world.
This International Women's Day (IWD), March 8th, we celebrate these moments as well as some of the extraordinary women worldwide who use their creativity and passion to positively impact the global community on TikTok and beyond.
Celebrate her story
On TikTok, women find ways to navigate challenges by supporting one another and exchanging tips on #CareerTok for negotiating better benefits and higher wages, sharing self-care routines, and promoting their small businesses.
Here's how you can join in and follow along with the dialogue for #InternationalWomensDay 2022.
Tune in to a special LIVE to mark the day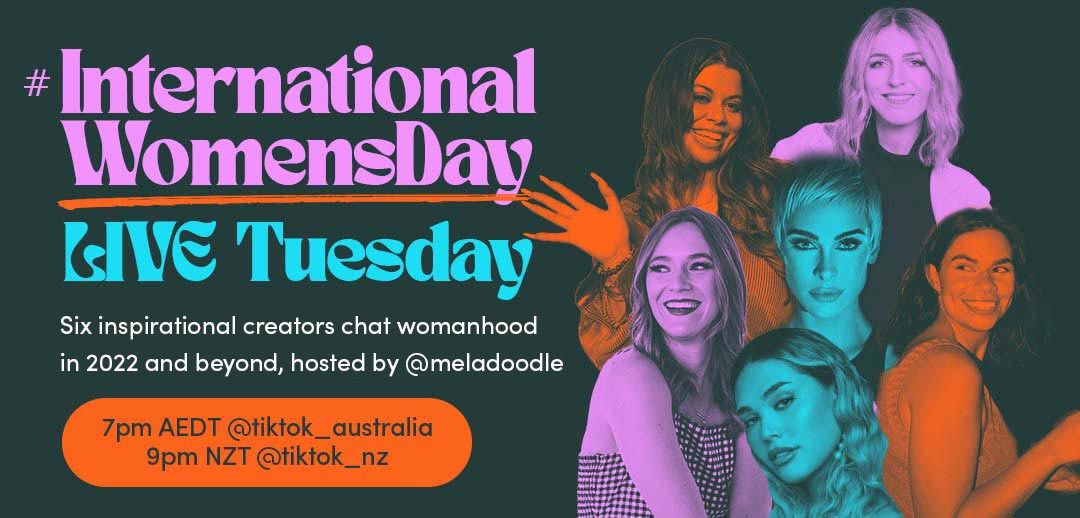 On International Women's Day 2022, we will be hosting a special 3-hour LIVE steamed event, bringing together trailblazing creators from Australia, New Zealand and around the world in an inspiring series of conversations to mark this important global moment. Hosted by the hilarious and talented Melanie Bracewell, these intimate, entertaining livestreams kick-off at 7pm AEDT / 9pm NZDT on March 8th via the @tiktok_Australia account. Here's who's joining us:
Host:
Speaking on the stellar line-up of creators joining her for this International Women's Day event LIVE on TikTok, Melanie said: "International Women's Day is such a unique time, it's so nice to hear women speaking about their own experiences. All of the women in this live event are so inspirational, for so many different reasons. Here I am, the comedian who makes silly jokes on TV somehow in amongst them! That feels very special."
Special guests:
Shop and discover local women-owned businesses on TikTok
From small business tutorials to order fulfillment videos, female entrepreneurs and small business owners around the world turn to TikTok to share a window into their workshops, shopfronts or boardrooms, and in turn reach an engaged and passionate community. While we celebrate their achievements, we continue to recognise that there is so much more we can do to lift them up and eliminate the gender disparities that persist. We invite our TikTok community to be inspired by small businesses proudly owned by local women including:
Sarah's first video on TikTok reached over 68K people, an incredible response when "no one had seen the product before". Here videos have gone on to amass millions of views, including this one which currently has more than 2.2M views.
To further mark #InternationalWomensDay, throughout March we'll also be programming content for the TikTok Discover Page including #WomenInMusic. Be it an iconic, historic performance or a new artist heard for the first time, share your discoveries and find new favourites with #WomenInMusic.
Join us for #InternationalWomensDay to recognise the diverse, strong, and creative women of TikTok who show us what happens when women win.