By Lee Hunter, General Manager, TikTok Australia and New Zealand
TikTok is home to an incredibly diverse and vibrant community of creators who share their passions with the world, and we want our platform to continue to be a place where people feel empowered to be themselves. Inclusivity is really important to us because when people feel included, they're more comfortable expressing themselves and engaging with their community.
At TikTok, we're fully committed to fostering an inclusive app environment, and that means building products and tools that support our diverse community. As we continue working to make TikTok even more accessible, we're introducing auto captions, a new feature to help people who are Deaf, Deafblind or hard of hearing better use and enjoy TikTok.
How auto captions work
Auto captions automatically generate subtitles, allowing viewers to read content. Any creator can add auto captions to their videos - and we encourage you to do so! It makes a huge difference in providing a better experience for our Deaf, Deafblind and hard of hearing community.
As creators make content, they can select auto captions on the editing page after they've uploaded or recorded a video so that text is automatically transcribed and displayed on their videos. With this feature, creators have the power to edit the text of their captions once they're generated.
Captions added by creators are part of the video content, and in the event a viewer wants to turn them off they can do so by opening the share panel, tapping the captions button, and setting captions to off.
The feature is now available in Australia and New Zealand, with additional language support in the coming months. We are working with our community to spread the word and encourage all creators to use auto captions and other features that make content more accessible.
Investing in accessibility
Auto captions build on a number of features we've developed to make TikTok more accessible to everyone. Given the visual nature of our platform, we've designed some improvements, starting with features that help those with visual impairments. To date, our work on accessibility includes:
An animated thumbnail toggle which provides people with the option to chose from animated or static video images, helping those who may be sensitive to flashing images.
A creator warning that notifies creators when they produce videos with effects that could trigger photosensitive epilepsy.
A photosensitivity feature allows users to skip photosensitive content, which can be harmful for people with epilepsy.
A text-to-speech feature that converts text to voice.
Our goal at TikTok is to be accessible to all people, and we're committed to doing the work long-term. We're currently undertaking an accessibility assessment to identify additional areas for improvement, and we're increasing our outreach to organisations and communities with disabilities on TikTok to uplift their voices and make changes that better serve us all. By consulting with organisations like Deaf Australia and local TikTok creators like @deaffrasier and @signwithchaz, we aim to raise awareness of the diversity and talent within the Deaf, Deafblind and hard of hearing communities in Australia and New Zealand and encourage the use of auto captions widely.
Frasier (@deaffrasier) from Perth, Western Australia is a popular comedy creator on TikTok, with 409.9K followers who love his entertaining videos. Frasier, who is hard of hearing, is advocating for the TikTok community to utilise the auto captions feature on their videos, to ensure an inclusive in-app experience for all.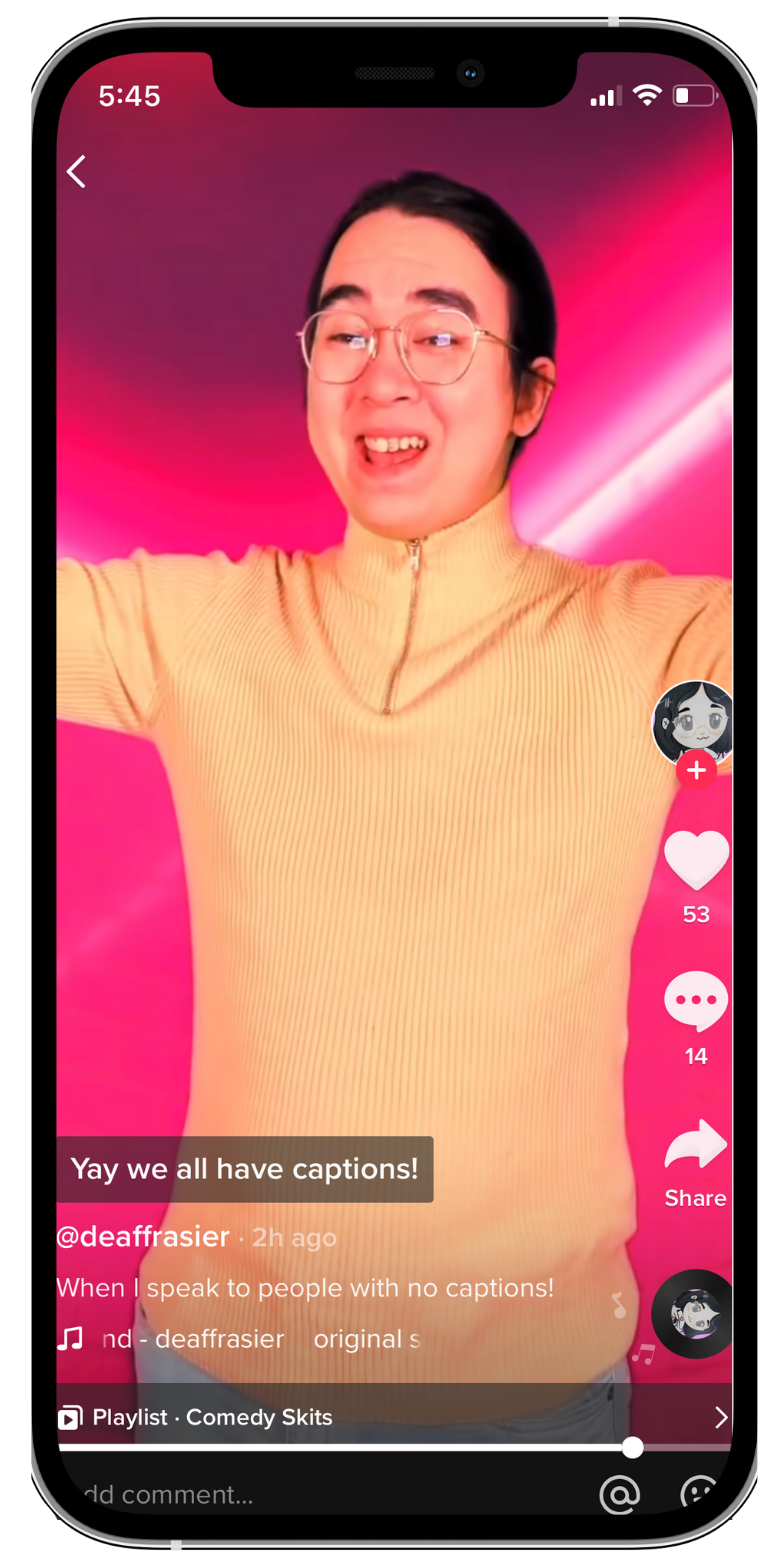 Creating accessible TikTok videos
Beyond using auto-captions, Deaf Australia has developed some additional tips on how all creators can make their TikTok videos more accessible to Deaf, Deafblind and hard of hearing people:
If there are two or more people talking and it is not clear who is talking in your video - please indicate through your auto captions. This can be done by adding initials or names when editing the auto captions.
Ensure that your stickers, polls, text boxes or emojis are not blocking any auto captions.
When editing your auto captions, please check that your grammar is accurate, so that people reading the auto captions understand the meaning of your content. What you want to avoid is one long roll-on sentence with no start or end!
When content is more accessible, it helps reach a larger audience because more people are able to enjoy these videos. And we believe that an inclusive environment empowers people to freely express themselves and engage with their community. At TikTok, we're working hard to better serve everyone in our community, and will continue to share news and updates around our accessibility improvements.
Here is what Deaf Australia and our creators from the Deaf and hard of hearing communities, had to say.
@deaffrasier - Frasier Cheng-Binns, TikTok creator, Australia:
"I'm loving the new auto captions feature because it cuts down on the time I spend on editing and writing up my captions for my videos. I'm all for auto captions because as a person who is hard of hearing, I sometimes struggle with hearing words in a video which has an impact on my experience when browsing TikTok. Whenever I see captions, I can rest easy knowing that I'll understand the video without problems and I would love for everyone to use the auto captions feature as it only takes a few seconds to do. I reckon that this will bring the community closer to each other as we make our videos more accessible to everyone."
@signwithchaz - Chanelle Waite, TikTok creator, New Zealand:
"Auto captions are very important for the Deaf community to understand the content on TikTok and enjoy it. The community wants to be involved and this feature gives us an opportunity to join in on the action even more. I am passionate about advocating for the Deaf community in New Zealand and teaching New Zealand Sign Language to people around the world through my TikTok videos, so they can learn more about our experience."
Jen Blyth, Chief Executive, Deaf Australia:
"Social media is an important way of staying connected to other people whether they be friends, families or strangers who have things in common with you. We know that everyone uses social media to learn new things, share experiences and feel seen and understood by others - Deaf, Deafblind and hard of hearing people are no different. We want to see what you have to say! Please do give us the opportunity to."