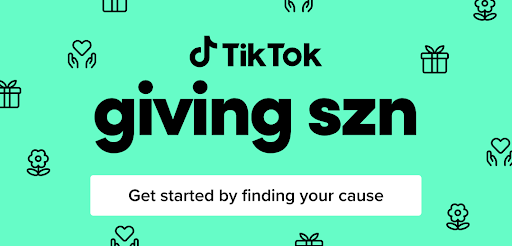 From #CreateKindness and #HeapsGood to #LearnOnTikTok, TikTok is home to a global community of 1 billion people who inspire us with their ability to make positive impact and inspire meaningful change through creativity.
Celebrating the creativity and generosity of our community
The TikTok community is not just committed to doing good, but also giving back, as creators, non-profit organisations, and changemakers have turned to TikTok to raise funds and awareness around the causes they care about the most.
In 2021, almost 75,000 donations were made on TikTok in support of various organisations and causes globally, such as fighting hunger, supporting humanitarian relief efforts as well as promoting health and wellbeing. TikTok creators such as @stickyaustralia, @deltagoodrem, @djtigerlily, @nat.alise, @jazzthornton_ and @genevievemora2 have also been at the forefront of raising awareness around some of the world's most important issues.
Sharing the spirit of #GivingSzn globally
Starting on GivingTuesday (November 30), known as the world's biggest day of generosity, we're delighted to join hands with our global TikTok community and introduce #GivingSzn, a celebration of generosity and goodwill featuring LIVE programming from creators and non-profit organisations, including fundraisers and community-rallying moments around the world.
Through #GivingSzn, TikTok will be donating $7M to various mission-driven organisations around the world to support the causes our community cares about the most. Part of the donation will be made in the name of TikTok creators globally to non-profits of their choice. We'll also be donating $1M in ad credits to support global non-profit organisations in their end-of-year fundraising efforts.
Tune in and give back LIVE
To further inspire our community to celebrate the season of giving with us, we'll be hosting a series of LIVE streams all throughout December, in celebration of the many ways you can give back and spread kindness.
The first TikTok LIVE Global Give Back, taking place December 1 at 6.00 am AEDT, hosted on the @tiktokforgood account, TikTok's global social impact hub, will be a three hour livestream event you don't want to miss.
For this first LIVE event, five creators from around the world will use their time and talents to share how they give back. Highlights include:
At home in Australia, TikTok is marking the #GivingSzn initiative with $30,000 to be given to the chosen charity of the winner of the community-voted Creator of the Year initiative. A first here in Australia, this accolade is about shining a spotlight on our TikTok creator community and celebrating the incredible homegrown talent on our platform, as they make waves and amass fans around the world. The charities involved in this initiative, as part of TikTok's commitment to giving back to those in need, are:
The much loved and hilarious @milligram96, famous for her spot-on takes on familiar characters, has teamed up with Australian Red Cross (@redcrossau), the humanitarian aid and community services charity that helps people in the most vulnerable situations through tough times.
Master of awe-inspiring microscopic videos, @oneminmicro is working with Australia for UNHCR, the UN Refugee Agency's national partner (@unrefugees), helping to protect and assist refugees, forcibly displaced communities and stateless people all across the globe.
@kookingwithakoori, who has gone gangbusters for his simple and budget-friendly recipes to feed the whole family, is supporting the Food Ladder (@foodladder), giving people the tools to stop hunger and malnourishment by providing remote and regional communities with hydroponic greenhouses and specialised training to grow their own fruit and vegetables.
Whether you're donating your time or support, TikTok offers many ways to give back and spread joy. Find your causes and charities you care about, make a difference in your community, or just use this opportunity to spread goodwill and do good. 'Tis the #GivingSzn, after all.