When we introduced TikTok Fashion Month last September, we set out to create an immersive, virtual celebration of all things style. Luxury fashion brands embraced what makes TikTok unique and made real connections with the community by showcasing their creativity and personalities. We were constantly inspired not only by the designers debuting their collections, but also by the TikTok community who participated in runway-inspired hashtags, served us their best looks, and even started trends of their own.
We're so excited to share that TikTok Fashion Month is back, and our muse is the TikTok community who continue to inspire us through their authenticity and creativity. From now through March 18th, we're inviting fashion houses, creators, celebrities, and our community to bring the excitement of the runway to TikTok. From LIVE streams, to hashtags, to partnerships with global industry leaders including IMG, the official editorial partner of TikTok Fashion Month, we'll be providing the access our community craves while amplifying diverse voices in fashion.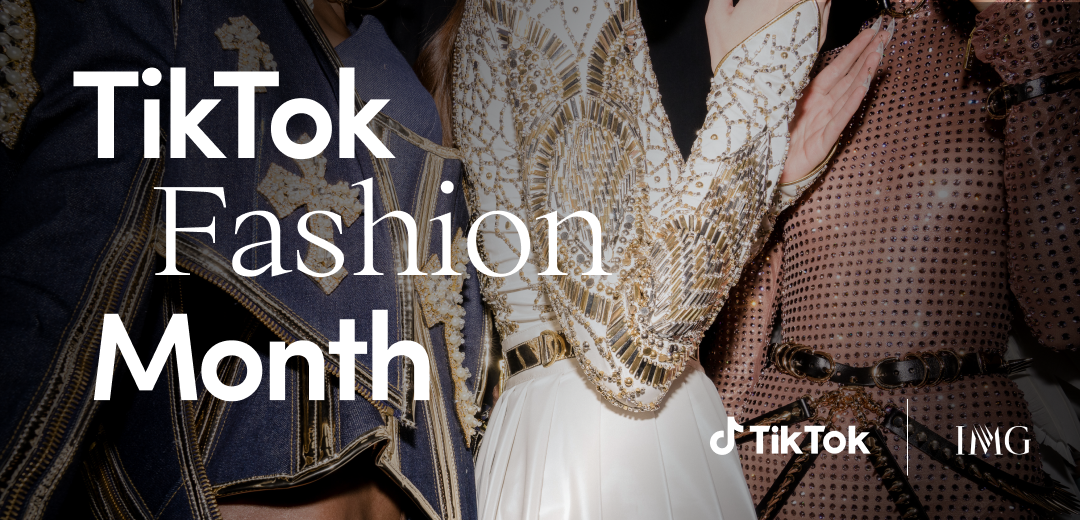 "Our first-ever TikTok Fashion Month gave the TikTok community a front row seat to runway shows and luxury fashion while at home. This year we'll be providing that same access while creating an even more inclusive experience that puts our community and creators first. This TikTok Fashion Month will not only be a celebration of fashion, but of diverse designers, models, and creators, and we're excited to use this special moment in time to promote a more inclusive mindset within the fashion industry." - CeCe Vu, lead, fashion & beauty partnerships, TikTok
Runway & LIVE Schedule
Now through March 18th, we'll host a series of LIVE streams featuring runway shows and moments with the TikTok community's favorite fashion icons and creators. Check out the schedule here and stay tuned for more updates:
Next-Level Collabs with Global Leaders in Fashion
We've partnered with some of the biggest names in fashion to give the TikTok community premiere access to the creativity and excitement of fashion weeks around the globe:
IMG: We're excited to name IMG the official editorial partner of TikTok Fashion Month. Through this partnership we'll feature premium editorial content across the IMG network throughout Fall/Winter 2021 global fashion weeks from New York to London, Milan and Paris. Check out their TikTok channels @FashionWeek, @NYFW and @MADE for exclusive access to runway shows, LIVE streams and more.
Fédération de la Haute Couture et de la Mode: TikTok is extremely proud to be partnering with the ultimate iconic fashion institution La Fédération de la Haute Couture et de la Mode (FHCM), coordinator of Paris Fashion Week®. FHCM brings together fashion brands that foster creation and international development, and numbers some one hundred members amongst whom feature the most emblematic brands on the global stage. On TikTok, FHCM will show off the creative and innovative vision of the emblematic Maisons as well as shine a light on emerging designers and brands, opening the doors of the events registered on the Paris Fashion Week® Official Calendar and bringing the unrivaled, rich content of the global capital of fashion to the TikTok community.
British Fashion Council: We're delighted to be working with the British Fashion Council as the Principal Partner for NEWGEN. Through this new partnership we'll be working with the British Fashion Council to create a bespoke program of activity for all NEWGEN recipients, including streaming support of designer shows, mentoring, masterclasses and digital support for the NEWGEN cohort. TikTok will also host a NEWGEN venue during London Fashion Week September 2021, with designer shows, hospitality and content creation opportunities.
The Grand Finale
On March 18th the TikTok Runway Finale will close out TikTok Fashion Month in style, spotlighting an incredible and diverse range of designers, models, and creators. Hosted by Frankie Jonas, the virtual runway LIVE stream will feature the latest collections from renowned Black designers Victor Glemaud and Carrots By Anwar Carrots, and TikTok creator Joe Ando.
We've brought together an all-star group of creators and athletes to model the designers' latest collections. Creators Leenda Dong aka @yoleendadong, Kristine Thompson (@trendycurvy), Xavier Martin, Zahra Hashimee (@muslimthicc), Illumitati aka Tati Bruening, Sarah Lugor, Niamh Adkins, Riley Hubatka, and Batsheva Haart; and WNBA players Te'a Cooper (Los Angeles Sparks), A'ja Wilson (Las Vegas Aces), Lexie Brown (Minnesota Lynx), and Kahleah Copper (Chicago Sky) will be modeling the looks on the runway. Throughout the LIVE stream the TikTok community will be able to shop the looks, which have each been styled by TikTok creator and stylist Tabitha Sanchez.
"It is inspiring to see TikTok use their platform to celebrate diversity and body positivity in fashion, which I have always been passionate about. I am very much looking forward to seeing some of my favorite looks modelled by such extraordinary talent Te'a Cooper, A'ja Wilson, Zahra Hashimee, Kristine Thompson, and Tati Bruening!" - Victor Glemaud, CEO + Creative Director
Representation matters, and we can't wait to throw an epic party that celebrates size inclusivity, diversity, and female athletes in fashion. Tune in LIVE on March 18th and get ready for an unforgettable finale.
Try These #Hashtags On For Size
All Fashion Month long, the TikTok community is invited to share their best runway looks, style tips, and more by using these hashtags:
#TikTokFashionMonth: Fashion Month is finally here, and we're putting the spotlight on all things fashion on TikTok. So whether you're walking the runway, showing us your best looks, or finding your own aesthetic, join us for #TikTokFashionMonth.
#Upcycling: Give old things new life and show us how you upcycle!
#OnTheRunway: Whether you're hitting your poses for Fashion Month, or just strutting at home, show us what happens when you're #OnTheRunway. Try our creative effect to see yourself on the catwalk.
#StyleHacks: From fashion tips to wardrobe recommendations, show us the #StyleHacks we need to know. Tan France will duet his favorite videos so come ready with your best tips and tricks.
"I'm so excited to be sharing my favorite #StyleHacks with the TikTok community this Fashion Month. Fashion is for everyone, and I love that TikTok has created a month-long event that's accessible and inclusive." - Tan France, Fashion Designer / Television Personality
The meaning and perception of luxury fashion is changing, and it's inspiring to see fashion houses, creators, and the TikTok community leading the way. We're excited to see the TikTok community come together again this Fashion Month and continue to drive creativity, inclusion, and authenticity in fashion.