People go to TikTok to be entertained and discover new things. And it's not just the For You feed; TikTok also offers a powerful search experience, where users can find all kinds of information, from fashion tips and recipes to unboxing videos and product reviews.
The rise of TikTok as a top search destination represents a great opportunity for brands to reach and connect with new customers. According to a study, 58% of TikTok users discover new brands and products on the platform, 1.5x more than other platform users. [1]
That's why we're excited to announce the launch of the Search Ads Toggle, a new feature on TikTok Ads Manager that allows brands to serve ads in TikTok search results. The Search Ads Toggle leverages advertisers' existing In-Feed Ad creative to serve ads alongside organic search results from relevant user queries.
"Search, among many other functions on TikTok, empowers users to discover diverse content, communities, brands and products on TikTok. The Search Ads Toggle gives advertisers a new ad placement where qualified, high-intent users are searching for content relevant to their business, allowing advertisers to further connect with the TikTok community in authentic and engaging ways." - Ray (Jiayi) Cao, Global Head of Monetization Product Solution & Operation
With the Search Ads Toggle, brands can extend the reach of their campaigns to high-intent users who are seeking information relevant to their business, driving incremental engagement and revenue potential.
Enhance user journey
The Search Ads Toggle provides advertisers a new way to assist and enhance this user journey. When the Search Ad Toggle is engaged, ads are automatically created using the advertiser's existing ad content and served against relevant user queries alongside organic search results. The ads are labeled as "Sponsored" content and appear in varying positions on the results page based on relevancy, user intent.
The Search Ads Toggle also provides a unique opportunity to offer rich, relevant information and experiences to our users. Users may search on TikTok to find new content, resurface older content, or look for the latest trending items or ideas.
It also drives results. TikTok internal research shows that 70% of ad groups with the Search Ads Toggle "on" see more efficient performance when compared to not, as a result of more efficient conversions coming from search ads.[2]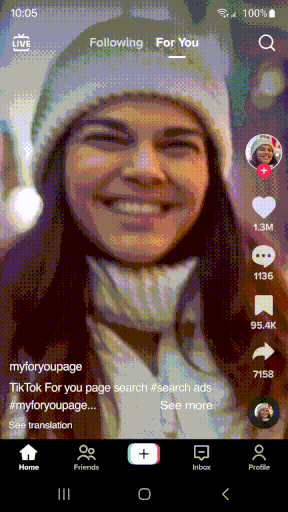 Further power brand discovery
We are excited to continuously innovate the TikTok search experience and deliver more ways for brands to connect and engage with the TikTok community through search. With the Search Ads Toggle, brands can now show up next to content relevant to their business, product or service while providing users with a more personalized ad experience.
"We were pleased to partner with TikTok on this search industry-evolution journey. It has provided us with new insights on how contextual relevancy provides brands with new opportunities and increased chances to convert to support traditional placements. As always, TikTok allows us to adapt to the ever changing consumer online behaviour, which ever since lockdown have been changing in the fastest pace we have experienced." - Karolina Orgal, Social and Digital Media Manager, Clinique UK

[1] TikTok Marketing Science Global Retail Path to Purchase Study 2021 conducted by Material.
[2] TikTok Internal Data [NA, US] [July, 2023]