At TikTok, we're proud that our platform has become a place where our community can use their creativity and passion to raise money and awareness for worthy causes. Earlier this year, we partnered with Comic Relief, and saw hundreds of thousands of pounds raised through our LIVE gifting campaign for Red Nose Day 2023.
Now, ahead of this summer's festival season, we're teaming up with one of the world's biggest and most iconic festivals, Glastonbury, to raise funds for the Festival's amazing charity partners: Oxfam and WaterAid.
Embodying TikTok and Glastonbury Festival's shared ambition of encouraging creative expression, we've created four brand new gifts to celebrate Glastonbury Festival 2023, available through TikTok LIVE. Festival themed Ribbon Tower, hats, crowds and flags are all available for our community to send from the LIVE gift panel, with a donation made from TikTok to Oxfam and WaterAid for every gift sent.
We're honoured to be working with Glastonbury Festival and using TikTok LIVE to support the important work of Oxfam and WaterAid. Oxfam is dedicated to overcoming poverty by fighting injustices and inequalities across the world, and WaterAid fights to make clean water, decent toilets and good hygiene normal for everyone, everywhere.
How to get involved with TikTok LIVE gifting for Glastonbury Festival's charity partners
TikTok LIVE allows users to send and receive these specifically created virtual gifts during a LIVE video. It's an exciting way for our community to come together and raise awareness in real-time.
The brand new, limited edition, gifts can be found by opening the Gift Panel on TikTok LIVE. The more gifts that are sent during a creator's LIVE, the more money TikTok will donate. The top three creators will also win two tickets each to Glastonbury Festival, joining thousands of others at the legendary Worthy Farm.
The campaign will run across TikTok LIVE from Monday, 12 June to Thursday, 15 June 2023 - you can get involved in-app here.
You can learn more about these partnerships by visiting Glastonbury Festival's website, and you can also follow the team on TikTok, alongside Oxfam and WaterAid.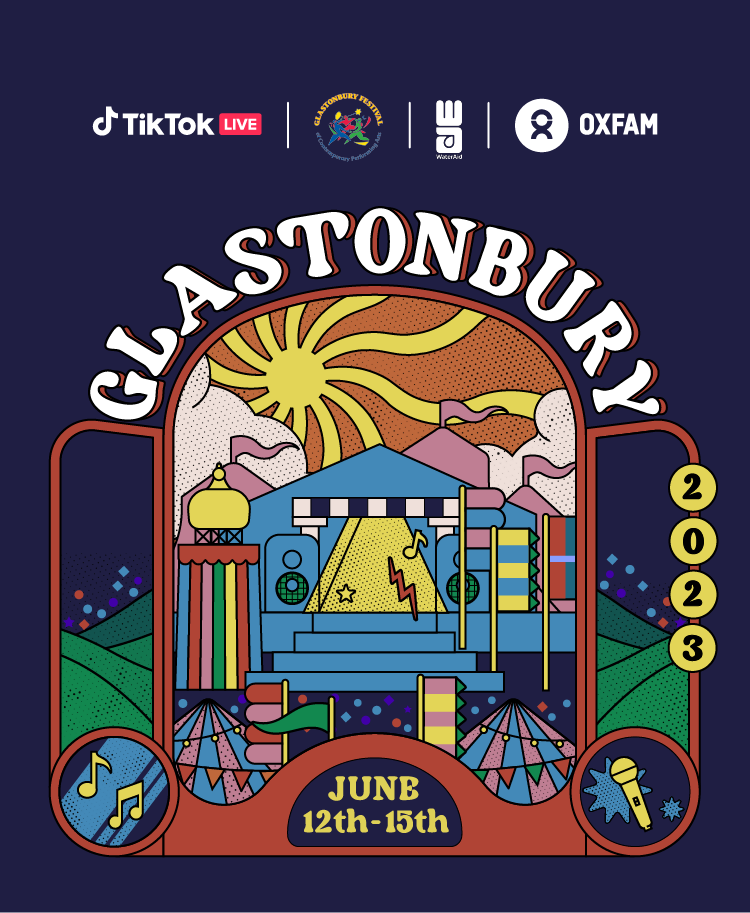 Elior Doani, Social Media Manager at WaterAid UK: "We're thrilled to be partnering with TikTok LIVE as a recipient charity for this inspiring campaign in the run up to one of the world's most iconic music events. Glastonbury Festival is an absolute highlight of the year for us to raise awareness of our mission to make clean water and decent toilets a normal part of life for everyone everywhere. The climate crisis is a water crisis and this year we will be back onsite at the Festival with our incredible team of volunteers inviting the public to join Our Climate Fight campaign.
We're grateful to the TikTok community who already engage with our content and support our cause and are excited to see how creators get involved in sharing these unique new gifts."
Harrison Foster, LIVE UK & Ireland Lead, TikTok: "We're honoured to work with Glastonbury Festival and their charity partners to provide a new and exciting way for our creators and community to come together and raise money and awareness for important causes. Like Glastonbury Festival, LIVE is a place where artists can engage with their community in a unique setting.
We hope that this campaign can help inspire the creativity of the many talented musicians on TikTok whose dream it is to one day play on the stages of the UK's most iconic music festival. Whether you're preparing for your trip to Somerset, or bummed out you didn't win the ticket lottery, we look forward to seeing you bring staples such as the iconic Glastonbury' festival's flags to life digitally to raise money for two outstanding charities."
New to TikTok and want to raise money for a worthy cause, with the chance to win a ticket to Glastonbury Festival? Getting involved couldn't be easier, simply download the app for free via the Apple App Store, Google Play or Amazon.