Since we launched #LearnOnTikTok last year, we've seen an array of educational and informative content being shared by our community. From lessons in Black history, to the physics behind aeronautics and important health and wellbeing tips, our community has shared what they know and enjoyed discovering more on TikTok.
Today, there's over 60 billion views of #LearnOnTikTok - proof that TikTokkers are lapping up TikTok learning!
That's why we're launching #LearnOnTikTok LIVE 🎓 a week of LIVE events featuring experts from the fields of music, food, sport and history.
We're talking Grammy Award-winning artists, Knights of the Realm, classical musicians and Hollywood actors teaching you how to make music, get fit, look after your mental health, cook healthy lunches and more....
As we enter another week working and learning from home, we've been thinking about how we can elevate the educational ecosystem that is thriving on TikTok to help complement at home school and college learning with TikTok's diverse range of content creators and experts.
Starting on 1st February, you can tune in LIVE to lessons from some of Britain's best and brightest just look for the banner in-app.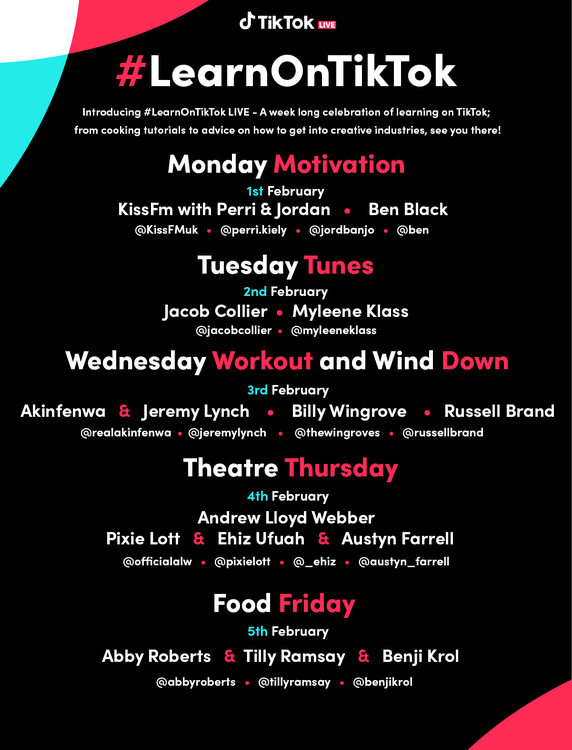 Monday Motivation
5pm - Ben will be hosting an interactive quiz fans can register online to compete for a place on the leaderboard!
Tuesday Tunes
6pm - Grammy Award-winning Jacob Collier will lead a 'music masterclass' teaching the basics of Melody, Rhythm and Harmony
7pm - Piano maestro Myleene Klass will teach the TikTok community the secret to everyone's favourite pop songs, using 3 chords only
Wednesday Workout and Wind Down
10am - Time to learn some new skills with the F2's Billy Wingrove
6pm - It's been a tough year right - time to learn how to wind down properly with Russell Brand

Theatre Thursday
1pm - Singer-songwriter Pixie Lott is a serious triple threat. She'll be chatting career goals and the ins and outs of the theatre and TV industry - joined by some familiar TikTok faces, including Ehiz and Austyn Farrel

5pm - Musical genius Andrew Lloyd Webber leads a Q&A - answering questions about his career, the theatre industry and the music and theatre he loves the most.
Food Friday
Lockdown learning can be tough, but at TikTok we'll be bringing some fun, entertainment and creativity to your lockdown lessons. So sharpen those pencils ✏️ , give these creators a follow and get ready to enroll in the School of TikTok...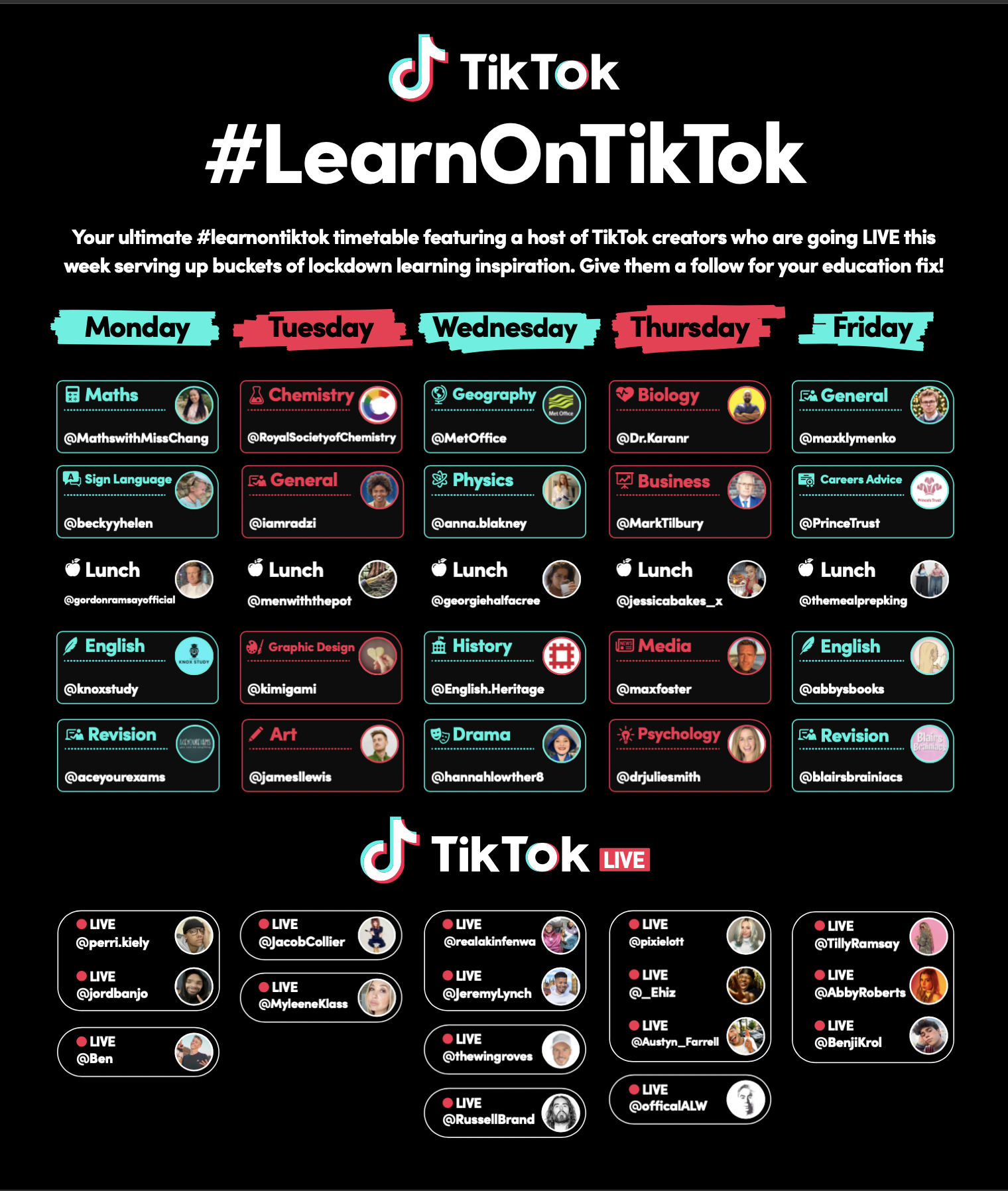 New to TikTok and can't wait to get stuck into some incredible lessons and TikTok tutorials? Getting involved couldn't be easier, simply download the app for free via the Apple App Store, Google Play or Amazon.