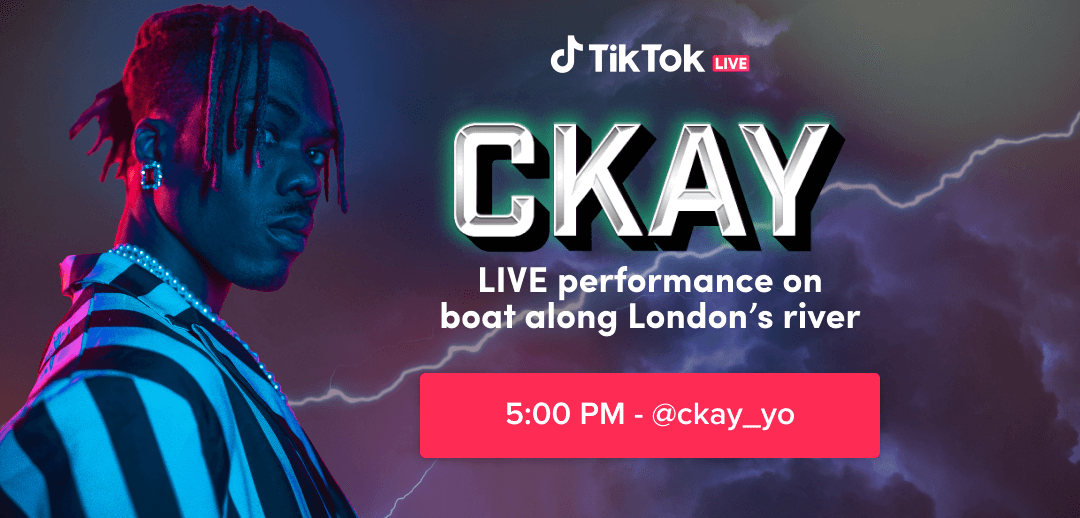 With the 2022 BRIT Awards just around the corner, we're excited to announce that international artist CKay will be performing LIVE on TikTok in an exclusive, one-off performance while sailing en route to The BRIT Awards on Tuesday 8 February!
The performance will be filmed on a specially-commissioned boat as it sails down the Thames, starting off in Embankment and docking at The O2. CKay will treat fans to a performance of his favourite tracks, including 'Love Nwantiti' and 'Emiliana'.
The Nigerian singer-songwriter and TikTok sensation is nominated for the International Song of the Year for his single 'Love Nwantiti (Ah Ah Ah)'. Other artists nominated in the category include The Weeknd, Olivia Rodrigo, Lil Nas X, Billie Eilish, Doja Cat, and Drake.
Discussing the livestream, CKay said: "Looking forward to performing some of my favourite songs with TikTok on my way to the Brits. It's quite a unique experience"
The performance will be livestreamed to TikTok users across the UK at 5pm GMT on Tuesday 8 February via CKay's official account @CKay_yo.
CKay's journey on TikTok
In 2021, we featured CKay in our It Starts On TikTok series after he was propelled to global stardom when his song 'Love Nwantiti (Ah Ah Ah)' went viral on TikTok in 2021. It became an international hit, charting in Europe, Africa, Australia, and New Zealand; took the #1 spot on Billboard's Emerging Artists chart and spent 9 weeks across the top 10 in the UK charts.
CKay now has over 2.1 million followers and 14 million likes on TikTok, and our creative community can't get enough!
TikTok and The Brit Awards
We recently announced that we will be powering the public vote for The BRIT Awards. As of 20 January, fans across the world have been voting for their favourite music artists through the app, in a first for both TikTok in the UK and the BRIT Awards.
The public vote will determine the winners of four new awards for the 2022 ceremony: Alternative/Rock Act, Dance Act, Hip Hop/Grime/Rap Act, and Pop/R&B Act. The categories have been introduced to spotlight the incredible British talent creating music within these genres.
Join the fun by spreading the love...
Keen to watch the LIVE and listen to the sweet sounds of CKay's 'Love Nwantiti (ah ah ah)'? Getting involved couldn't be easier, simply download TikTok for free via the Apple App Store, Google Play or Amazon.