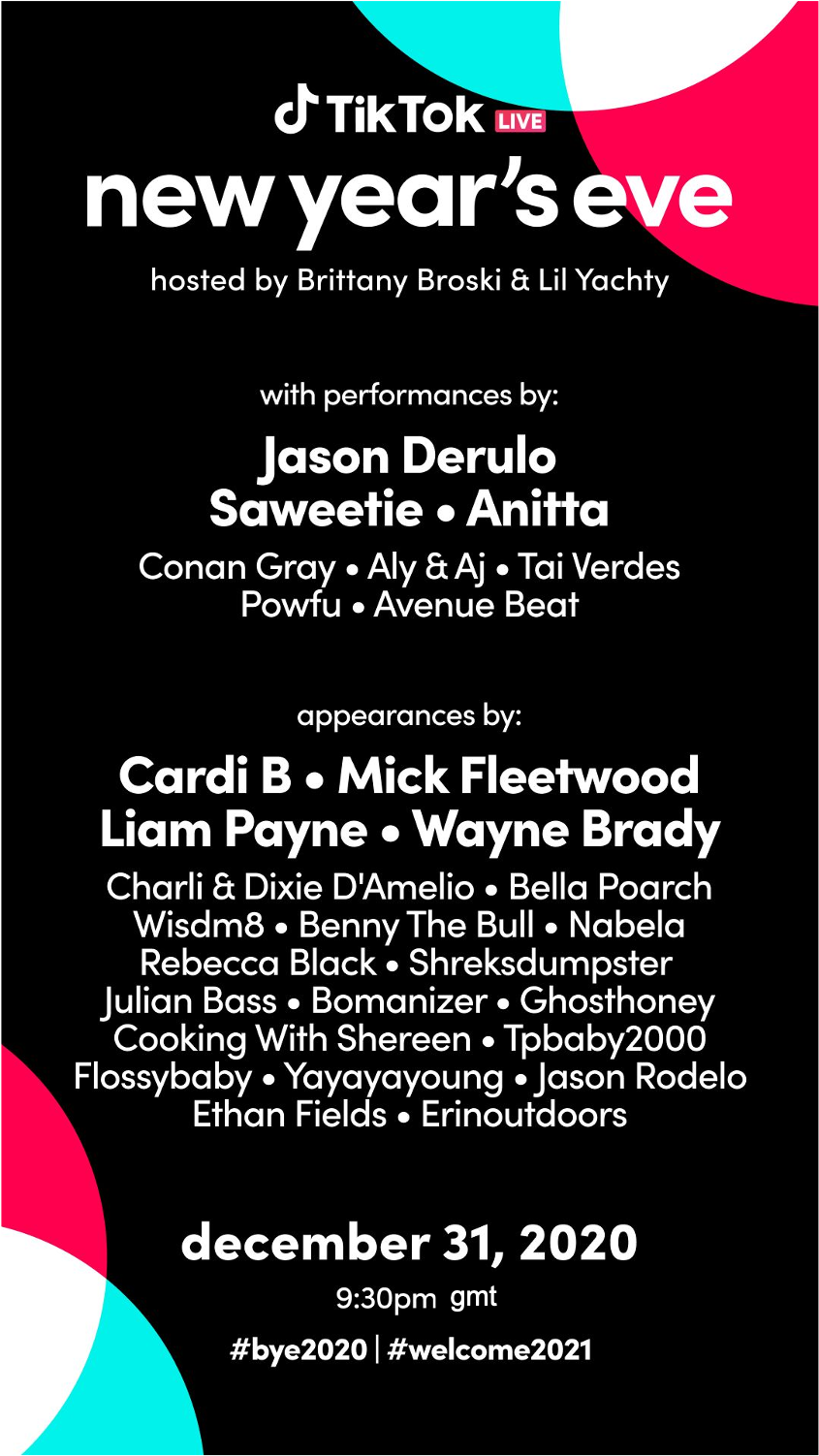 This year, TikTok brought some much needed light to a tough 2020. All year long, people turned to TikTok to laugh, share poignant moments from their lives, connect with others, and express themselves creatively. To celebrate the TikTok community, we launched The TikTok 100 - our 2020 Year in Review as a recap of the countless ways TikTok brought happiness across the UK in 2020.
But, despite how much joy we found through TikTok this year, 2021 can't come fast enough. As we say #bye2020 and #welcome2021, we're so excited to continue celebrating the countless communities thriving on TikTok, which is why we're linking up with our friends in the US to throw an epic New Year's Eve party - virtually, of course.
To ring in the New Year -- from our homes -- TikTok will host an unforgettable countdown lookback of the top TikTok moments of 2020 in the United States. On December 31st at 9:30pm on the TikTok account, TikTok US stars Brittany Broski and Lil Yachty will kick off the LIVE festivities, which will feature musical performances, creator sketches, Year on TikTok: Top 100 trend explainers, and special segments for social causes.
Throughout the night, you can expect LIVE performances by Jason Derulo, Saweetie, Aly & AJ, Tai Verdes, and more. For even more fun, there will be special appearances by Cardi B, Mick Fleetwood, Liam Payne, Charli & Dixie D'Amelio, plus others. Excited? Us, too.
Create NYE memories with these #Hashtags
Introducing the hashtags our community can engage with to join in on the fun through the new year and beyond.
#Bye2020: Take a look back and say #Bye2020.
#Welcome2021: Happy New Year! Here's to a fresh start in 2021.
We hope ringing in 2021 with some of our favourite TikTok creators, celebrities, artists and trends will help you keep New Year's traditions alive and kick start an incredible year. Don't forget to tune in to TikTok's account on December 31st at 9:30pm to join the party. We'd love to see you there!
Want to see what you can get out of TikTok in 2021? Thankfully, getting involved couldn't be easier! Simply down the TikTok app from the Apple App Store, Google Play or Amazon and sign-up!