This International Women's Day - and all throughout the month - we celebrate the incredible women who showcase their diverse voices, strength and creativity, making a lasting impact on the global TikTok community and beyond.
From music artists and comedians, to chefs and entrepreneurs, women are using TikTok every day to entertain, inspire, educate, motivate and be voices for change.
For International Women's Day this year, we'll be celebrating women on our platform the entire week leading up to March 8, 2021. Every day we're on a mission to promote equality and to acknowledge and celebrate the achievements of women throughout the world. Check out our Community Spotlight in-app featuring Canadian creators @livjudd, @nutrientmatters, @science.bae and @lalahijabs.
On March 5th, we're partnering with FASHION Magazine for #SheEarnedIt: An International Women's Day Conversation Presented by FASHION and TikTok. We will celebrate International Women's Day with a panel of inspiring TikTok creators and entrepreneurs Sana Saleh from Lala Hijabs, Monica Abramov and Anastassia Boguslavskaya from Lunata Beauty, Liz Bertorelli from Passionfruit and Eden Hagos from BLACK FOODIE. Make sure to RSVP to hear from this amazing group of women entrepreneurs!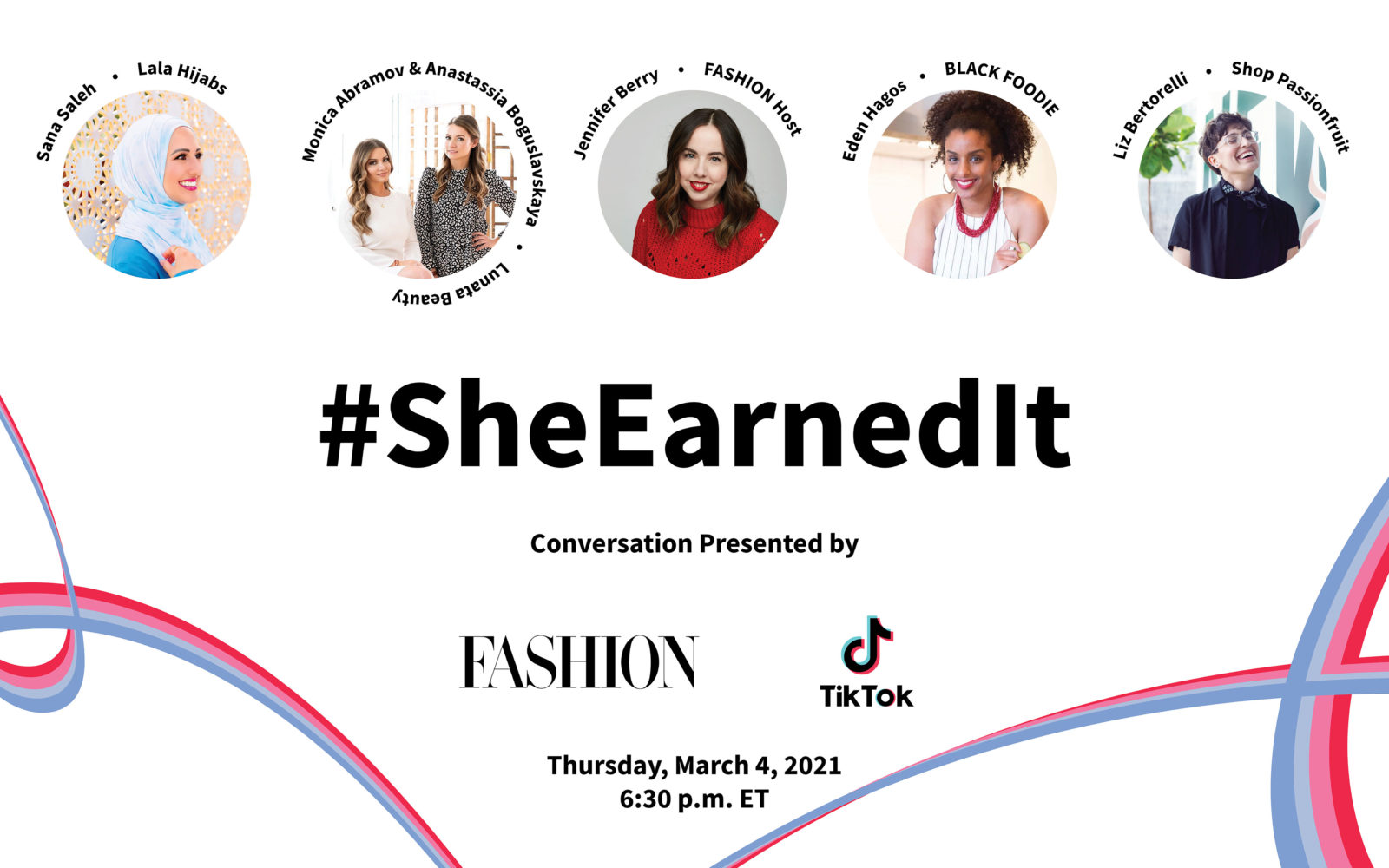 But we're not just stopping after this week, throughout the rest of the month, we're putting a spotlight on our diverse community who show us the incredible progress that happens #WhenWomenWin.
Join us as we unveil a variety of themed programming featuring popular creators, and beloved artists and celebrities who are inspiring powerhouse women. Each week, the programming will focus on a different theme around embracing and celebrating.
We'll also host a special six-hour TikTok LIVE telethon on International Women's Day, March 8, to raise money for organizations that are committed to providing support and resources to help women continue flourishing in their lives.
We invite the entire TikTok community to join us and tune in each week for a dose of inspiration. Here are the weekly themes and LIVE programs to mark your calendar.
Weekly Hashtag Themes
#WhenWomenWin (Week of 3/1): From change-makers to innovators, here's to the power and strength of women leading movements towards progress across the world. We all win #WhenWomenWin.
#ThankstoHer (Week of 3/8): We celebrate all the iconic rebels and role models in our own lives, and the women who make a difference each and every day by supporting other women. Give #ThanksToHer.
#HerStory (Week of 3/15): It's the story for us. From historical recaps to creators sharing their unique backgrounds, we'll hear stories that are authentic and inspiring.
#SheEarnedIt (Week of 3/22): The spotlight will be on the amazing community of entrepreneurs and women business owners who will share how they found success in their careers.
#GetThereTogether (Week of 3/29): Throughout the last week, we'll toast to sisterhood, uplifting and supporting one another, and to all the women who stand together.
Each of these themes will be a part of the LIVE programming that will begin each night at 8pm ET.
Some of the women in our incredible community, including creators, artists and celebrities, will share their stories and experiences on topics such as mental health, body confidence, careers, sports, and much more.
Join us this month to celebrate the strong, creative, and supportive women of TikTok who show us what happens #WhenWomenWin.