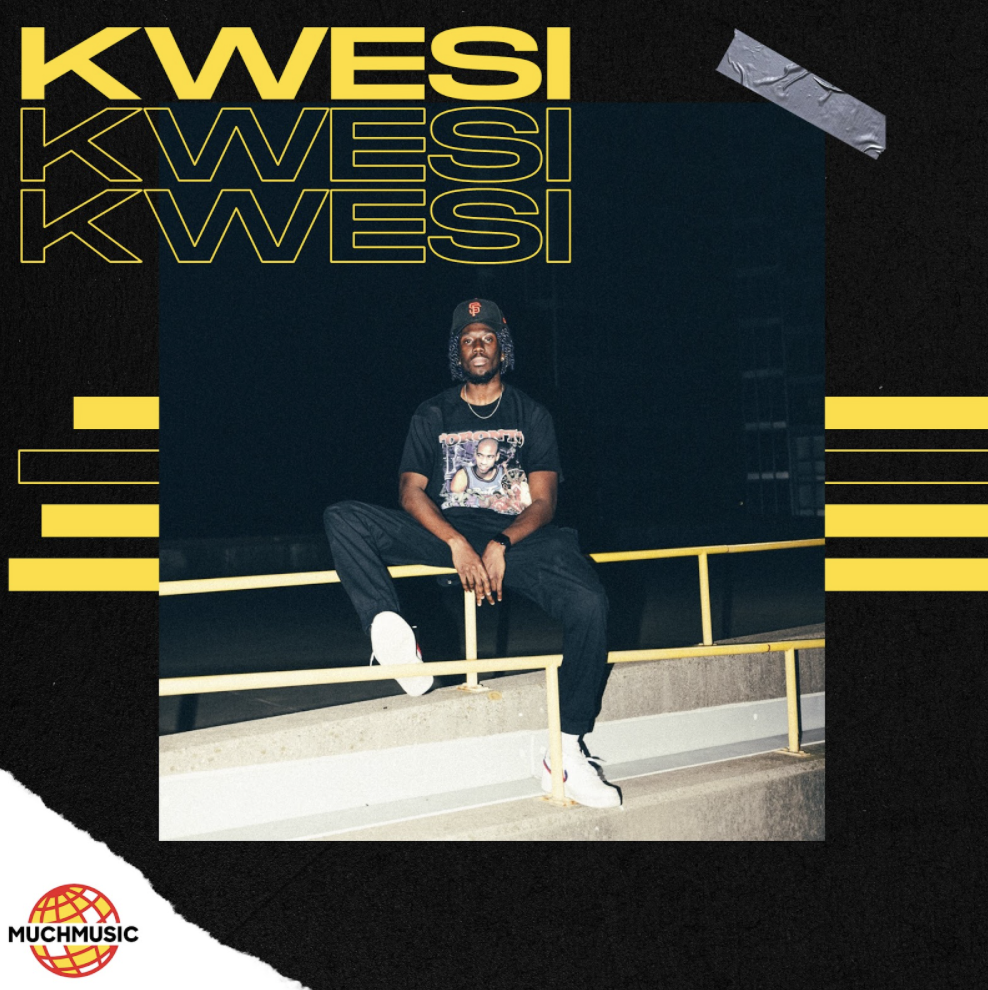 Since the relaunch of the @much account we've been featuring the newly minted VJs in our Creator Spotlight Series so you can get to know the creators behind the account. This week is our last profile with the one and only Kwesi Kwarko-Fosu aka @kwedawg. As someone who loves to see other people smile, it only made sense for Kwesi to start creating content. Between his love for sports and different genres of music (specifically hip hop and classical), he is a man of many talents. Fun fact: Kwes reached Level 8 at the Royal Conservatory of Music…on the clarinet. Check out our Newsroom to learn more about the other VJs!
How did you get started creating on TikTok, and what was the first TikTok video you shared/published?
I was working at my swimming job, and while I was explaining the practice to my swimmers, they're not paying attention to me doing TikTok dances. That got me a little angry, but curious. So when the first lockdown happened in March 2020, I made a dancing TikTok with my cousin and my best friend using his account. After I was like that was kinda fun, then I made a few more dancing TikToks with my cousin, and they were pretty creative. But then I was like, I am NOT a dancer. So then I made a video doing one of the trends using a 645AR song around May, sent it to Bleacherreport, they reposted my video on their page, and I guess it brought some organic traction because after that, I started creating more videos about Basketball, and those BLEW UP bruh. Then I realized I can easily make content about the city I've lived in my whole life, Toronto. After that, I have focused on creating content that I know the Youth of Toronto would enjoy, and personalize most of my content around that, or them making fun of me, calling me Kai Cenat hahaha.
What do you love most about TikTok?
I love how it can really give you an opportunity to jumpstart a career. If it wasn't for TikTok, I wouldn't have this job with Much forsure, I don't know what I would be doing to be completely honest. TikTok has gotten so many people careers in fields that they're good at. In addition, I love the For You Feed, because it's really catered towards stuff that I either like, want, or need. The For You Feed also gives me ideas on videos I can make for myself, I will see a video I like, and then create my own version out of it. I do make original videos too, but the twist that I add on videos sometimes do even better because they're relatable.
What's on your For You Feed?
Toronto, Basketball, Kai Cenat and Roblox LOL. Toronto makes sense because this is where I live, I also follow a bunch of Toronto creators, and I like to know what's going on in my city. Even though I love Swimming and Track and Field, my favourite sport is Basketball, and I get a lot of people analyzing the Raptors, or clips about Shawn Livingston being the greatest of all time (which is true). I also get the most random videos, that would make anyone question my humour. Lastly, I get Kai Cenat videos because there's an ongoing joke that he and I look alike, and I think the joke is very funny to be honest! I love my For You Feed, never change.


How has the TikTok community inspired you?
Whenever someone comments on my TikTok videos, it always makes me smile and motivates me to keep creating more videos for them. Not everyone is going to like you, or your videos, that's normal. People leave hate comments, rude comments, etc. If most people are enjoying the videos I make, then I do it for THEM and THEM only. I have also met a bunch of Toronto TikTok creators and have seen them grind, hustle, and collaborate with each other, and I love it so much that we all get along with each other, because you don't know how much it means to that person. One time someone commented on my video "Does the man himself reply" and I saw it so I replied saying "what's popppin" and he replied with something along the lines of "Yooo bro this acc made my day" well guess what man, your comment made my day too. :)

What is MuchMusic to you, and what does being a MuchMusic VJ mean to you?
MuchMusic is one of the most iconic brands in Canada. MuchMusic is a place where it doesn't matter what music you listen to, at MuchMusic there is a place for everything. I believe we can do that as well, and help give Canadians exposure to the world, because there are a lot of talented artists in Canada that are CARRYING TikTok right now. Quick S/O to RealestK, who's sound is taking over TikTok, and Teddy, one of the other VJs, told me that he's from TORONTO!! Gotta talk to him soon. Speaking of Teddy, and the other VJs, they are amazing, and they make working as a VJ not even feel like a job. Being a VJ hits me randomly at different times of the week, and everytime I think about it, it makes me wanna work harder. I honestly want to thank my friends, my family, and God, because they are the reasons that I am even able to become a VJ.
What kind of music do you like? Has TikTok introduced you to any new artists?
I listen to a lot of Rap, but last year I fell in love with R&B, but I also listen to a lot of classical music. I know a lot of rock songs as well, thanks to Guitar Hero. I would say Rap and R&B as my Top 2 genres, but Drum&Bass, Rock, are climbing their way up the ladder. Overall, as every shordy says: "I listen to everything". Hahaha. TikTok has introduced me to several artists. Off the top of my head, PinkPantheress, Yxngchris, BANDMANRILL, Yeat, Katozaii, No Guidnce. I can keep going, but let me stop there. TikTok also showed me several songs from artists that I already know and listen to, from Kali Uchis to Kay Flock.

What's the best concert/live performance you've been to?
All of the concerts I've been to have been super lit. My favourite concerts though, will have to be Meek Mill in 2019, OVOFest in 2019, OVOFest in 2016, Kendrick in 2017, and Travis in 2014. Kendrick in 2017 was iconic. He is not just an insane artist but he's also an insane performer, the artistry was incredible as well. Meek Mill in 2019 was so much fun, and that concert was in New York, so the New York energy, PLUS seeing my favourite artist, was insane. Lil Durk, King Von, and Dave East were also there. OVOFest 2016 was insane because Kanye came out, but OVOFest 2019 was so memorable because that was the year the Raptors won. It was such a good time. The reason that these concerts were also good, was because of the crowd. Everyone was turning up, even if they didn't know the song, they were still jumping, cheering, and supporting the artist. I LOVED that, and hope we can do the same with smaller artists, and showing them the same love.
If there is one thing you hope to accomplish as a MuchMusic VJ, what is it?
My main goal is to give smaller Canadian artists exposure and show the WORLD what Canada has to offer. I wanna see more Canadians on the Billboard Hot 100, I wanna see more Canadians winning Grammys, I just want to see Canada win.