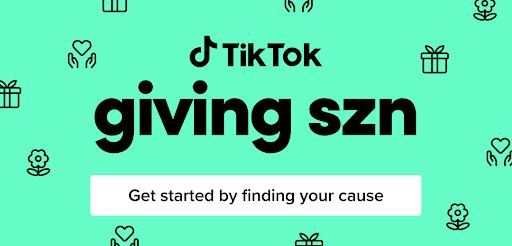 From campaigns like #LivingStories to #CreateKindness and #ThisIsOurShot, TikTok is home to a global community of 1 billion people who inspire us with their ability to make positive impact and spark meaningful change through creativity.
Celebrating the creativity and generosity of our community
The TikTok community is not just committed to doing good, but also giving back, as creators, non-profit organizations, and changemakers have turned to TikTok to raise funds and awareness around the causes they care about the most.
In 2021, almost 75,000 donations were made on TikTok in support of various organizations and causes globally, including fighting hunger, supporting humanitarian relief efforts as well as promoting health and wellbeing. Canadian organizations, such as Made of Millions and MusiCounts, have also been at the forefront of raising awareness around some of the world's most important issues.
Sharing the spirit of #GivingSzn globally
On Giving Tuesday (November 30), known as the world's biggest day of generosity, we're delighted to join hands with our global TikTok community and introduce #GivingSzn, a celebration of generosity and goodwill featuring LIVE programming from creators and non-profit organizations, including fundraisers and community-rallying moments around the world.
Through #GivingSzn, TikTok will be donating $7M to various mission-driven organizations around the world to support the causes our community cares about the most. Part of the donation will be made in the name of TikTok creators globally to non-profits of their choice. We'll also be donating $1M in ad credits to support global non-profit organizations in their end-of-year fundraising efforts.
TikTok Canada is proud to support the following local organizations and non-profits this #GivingSzn: Anorexie et boulimie (ANEB) Québec, Canada Learning Code, CEE Centre for Young Black Professionals, Greater Vancouver Food Bank, ImagineNATIVE, Kids Help Phone, Made of Millions, MusiCounts, National Eating Disorder Information Centre, NIA Centre for the Arts, Toronto Zoo Wildlife Conservancy and Unison Fund.
Tune in and give back LIVE
To further inspire our community to celebrate the season of giving with us, we'll be hosting a series of LIVES from November 30 onwards, in celebration of the many ways you can give back and spread kindness.
The first TikTok LIVE Global Give Back takes place on November 30 at 2pm ET/11am PT and will be hosted on the @tiktokforgood account, TikTok's global social impact hub. Creators from around the world will use their time and talents to share how they give back, including @spencer2thewest who will show audiences how he creates a healthy, happy, and functional home environment that supports people with disabilities.
And from Dec. 1-15, join us on Wednesdays at 5pm ET/2pm PT for TikTok Takeovers as some of our top creators go LIVE on @TikTokCanada to raise funds for charities.
Whether you're donating your time or support, TikTok offers many ways to give back and spread joy. Use our suite of donation tools to support causes and charities you care about, make a difference in your community, or just use this opportunity to spread goodwill and do good. 'Tis the #GivingSzn, after all.