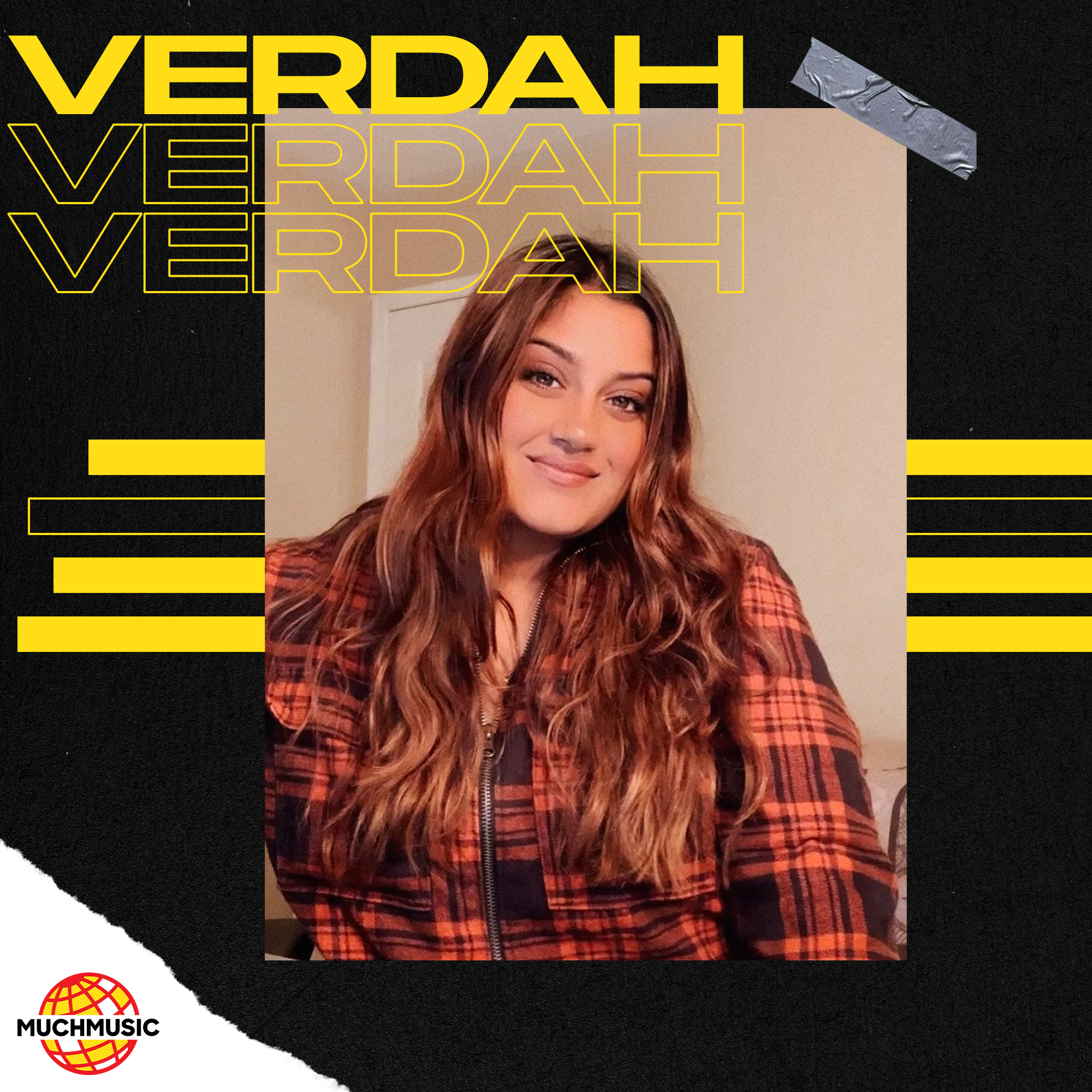 We're starting to wrap up our Creator Spotlight Series featuring the hilarious, delightful and talented VJs behind the @much account. This week we're featuring @justverdah. With a graphic design background, Verdah started designing album cover art during the pandemic due ot pent up creative energy and ideas. It quickly became a way for her to help local artists connect stronger visuals to their music, and she's starting to share her content on both her own and @much's account. Fun fact: Verdah dips her chicken strips in cola and says it's the best way to eat them; she will not be told otherwise. Check out our Newsroom to learn more about the other VJs!
How did you get started creating on TikTok, and what was the first TikTok video you shared/published?
I actually got a push from the VJs to start posting on TikTok, they're honestly the best friends you could ask for. I always had an account and would watch videos and interact but was always too nervous to post myself or my work. I see TikTok as this super powerful platform and it's honestly so creative and fun there, so my account is definitely leaning more towards design and creating in the music industry. I actually got started on TikTok with a video joking about DMs female graphic designers, which usually start with a "yo bro" or something along those lines. I think everyone assumes if your work looks a certain way then you're a man. It was kind of just a funny video and took 2 minutes to make but I guess it resonated with others too! I'll be doing more cover art breakdowns and how-to videos soon too.
What do you love most about TikTok?
Hands down the creativity I see on TikTok is incredible and what I love about the app. In so many different niches, from comedy, to food recipes, to creative spaces - the storytelling is insane and so captivating. It's cool to see how people's brains work.
What's on your For You Feed?
Haha, my FYP changes every week based on my interests. It's kind of insane. I was stuck on the berries and cream side of TikTok for a while and finally broke out of it - only to land in the "oh no, our table, it's broken" side. My feed consists of a lot of amazing creative people though like photographers, videographers, DJs (probably because I mostly follow my creator friends whose work I adore). Also, I get so many life hacks on on my FYP - which just makes me wonder what TikTok is trying to tell me...
How has the TikTok community inspired you?
TikTok's community is unmatched. One of my cover art videos did really well on the @much account and the comments were flooded with ideas for me to try, hyping up the work and general support. From that, I've been inspired to create and potentially teach how to create things on my personal account. I had a few people find me and DM me saying how they wanted to learn and asking questions about my process. I thought that was really cool - because you don't typically get taught this stuff anywhere, you have to figure it out on your own you know? So seeing interest in this has inspired me to create more and film behind the scene content more.
What is MuchMusic to you, and what does being a MuchMusic VJ mean to you?
This is a hard question, MuchMusic means so #much to me, haha get it? No? Anyways, I'd have to say it means community and inclusion. From the start it's been about fun and creative content, putting people on to music, and sharing moments from artists we all love. Being a part of that as a VJ is surreal and I'm honoured to be one of the six. The title within itself feels like a responsibility too, which is cool because it pushes and challenges us creatively on a daily basis. Speaking of "us", every single one of the VJs are some of the best people I've met in my life. They've shaped my mentality and inspired me and have pushed me so much. Such a cliché but we are seriously a little family, I wouldn't want to be going into this space with anyone else.
What kind of music do you like? Has TikTok introduced you to any new artists?
My music ranges so much, and what I listen to has a direct relation with what mood I'm in at the time. I listen to a lot of R&B and Rap, those would be my top two genres. I'm definitely a Snoh Aalegra and J.Cole/Nas type of vibe. I'm also being introduced to so many new artists, shout out to the VJs for putting me on different artists/genres. TikTok is such a great place to find new artists too! I actually find more artists from their parody music on there. Someone I came across and find hilarious is @yeahitsak I scroll his feed so often! He's so creative and smooth with his vocals.
What's the best concert/live performance you've been to?
Best concert would be Jorja Smith. The venue was a smaller one so it felt a lot more intimate. My best friend Shalini actually took me as a birthday present and it was hands down the sweetest experiences I had with her, I'll never forget it. We were in awe of her dress, her vocals and her energy was immaculate - the entire set was so perfect. As she began a song someone gave her a bouquet of flowers and I thought that was so sweet, he was tryna shoot his shot you know? Haha.
If there is one thing you hope to accomplish as a MuchMusic VJ, what is it?
One thing I'd love to accomplish as a VJ would be bringing awareness to the music community. I'm a designer who specializes within the music space and I can't begin to express how many jobs, how many stories and how many people are involved in getting out a single song let alone an album. I think it would be dope to get people to notice and appreciate artists but also the teams and behind the scene work that's done to push out music. Additionally one of my biggest goals at MuchMusic is to bring attention to the underground talent. There's so many local artists that have the potential to be big and I'd love to shine some spotlight on our talent. Supporting artists is all this has been about.