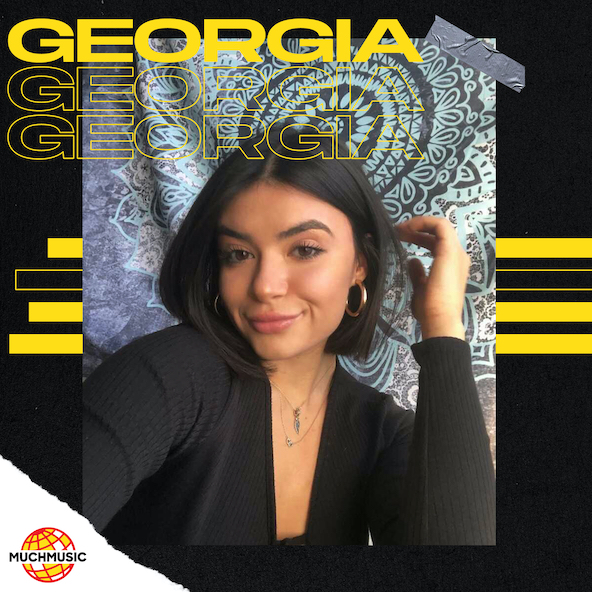 We're continuing our Creator Spotlight Series, helping you get to know the talented VJs behind the @much account. This week we're featuring @georgiaksays. Never afraid to crack a joke and show her quirky side, Georgia describes her carefree, creative style as "embracing the embarrassment." A fan of working out, staying active, being in nature, and going on spontaneous adventures, Georgia also loves music, saying the latter is a unifying topic in which everyone can positively unite in conversation."To me, MuchMusic represents fun and inclusivity. It's a place where people can come together to share their love for music, pop culture, and truly be the most authentic version of themselves." Check out Georgia's answers below, and head to our Newsroom to learn more about the other VJs!
How did you get started creating on TikTok, and what was the first TikTok video you shared/published?
Right before COVID, TikTok was on the rise and started getting more popular. It was all the rage. More and more of my friends started getting into it, so I figured why not download it and see what it's about. I started making dance videos, hopping on the trends and making my own quirky videos. During quarantine, I decided to make a video of me cutting my hair at home and it went viral. Ever since then, I kept making more videos.
What do you love most about TikTok?
I love the creative freedom. TikTok is used for such a WIDE variety of purposes. You can go there to watch videos for entertainment, tutorials, food recipes, virtually anything. I love that I don't have to take myself seriously on the app. I feel like I can just be myself, post things that I think are funny and share them with others. I also love just scrolling on the app and getting a good kick out of the content.
What's on your For You Feed?
Oh my... where do I even start? My FYF is filled with everything from funny comedy videos, to dances, spirituality and aesthetic travel. I'm laughing 24/7. I will get the most random videos that target my exact sense of humour.
How has the TikTok community inspired you?
Seeing such creative people on TikTok has definitely inspired me when making my own content. People think of amazing ideas and apply them to trends, and it's so crazy to see the impact TikTok creates around our culture/society today. When making my own videos, I always try to take inspiration from a few different ideas.
What is MuchMusic to you, and what does being a MuchMusic VJ mean to you?
To me, MuchMusic is the spot that merges together music, pop-culture and entertainment. Music is something everyone can relate to or connect with, and I think it's a safe space where people can engage in fun and lighthearted conversations. Being a MuchMusic VJ means listening to our audience's voices and catering to a new generation of music fans. It means being someone that people can share their opinions with. It also means being someone people can relate to. It's amazing to be able to carry on the work of such an iconic brand.
What kind of music do you like? Has TikTok introduced you to any new artists?
I love all kinds of music. I'll listen to Hip-Hop, Rap, Dance, EDM, Alternative, R&B, 80s music, etc. My favourite artist is Dua Lipa. Pretty much anything I can dance to is my type of music. TikTok has definitely introduced me to plenty of new artists. Not only that, but existing artists blew up and gained even more popularity since covid (such as Doja Cat, Megan Thee Stallion, Olivia Rodrigo).
What's the best concert/live performance you've been to?
I've only ever been to a few concerts. But out of those few, I would have to say Travis Scott's 'Astroworld' concert was the coolest one I've been to. His amusement park themed setup was really cool. He had a literal rollercoaster live in concert. It was more entertaining than I expected.
If there is one thing you hope to accomplish as a MuchMusic VJ, what is it?
I hope to make people laugh and get them excited to be a part of this new generation of music. Most importantly, I hope to make them proud to be Canadian! I encourage our audience to engage in our conversations and be part of the fun!