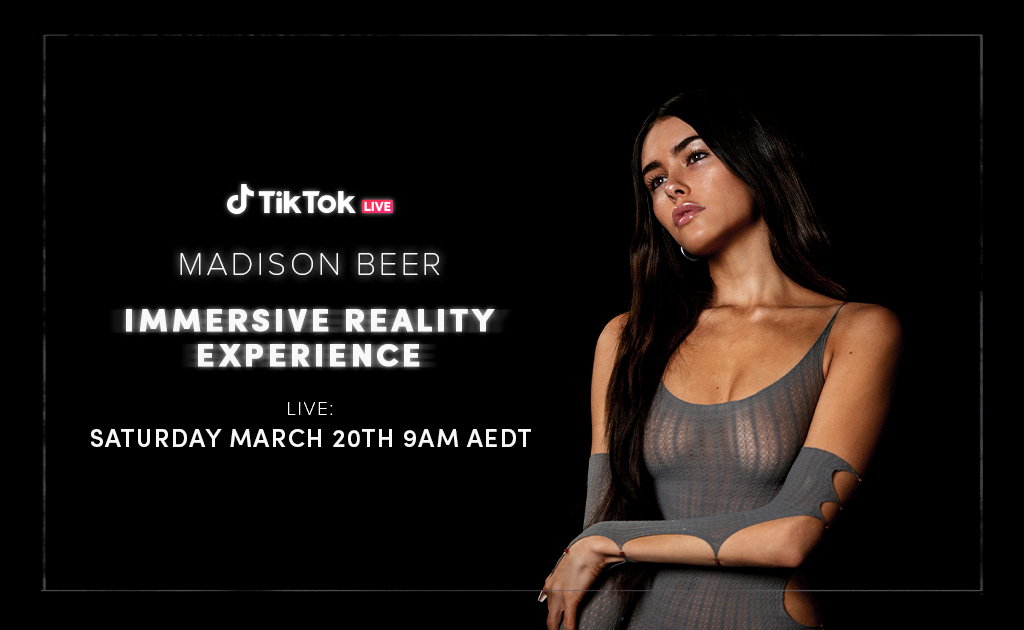 TikTok and Sony Music announce the Madison Beer Immersive Reality Concert Experience, a groundbreaking, effects-filled virtual concert LIVE on TikTok.
Airing March 19th on Madison Beer's TikTok account, @madisonbeer, on Saturday 20 March at 9am AEDT, the virtual concert features dazzling, effects-filled performances of songs from Madison's new album Life Support, performed by an ultra-realistic digital avatar of Madison that has to be seen to be believed.
Brought to you by Sony Music Entertainment, TikTok, and Verizon in partnership with Sony Immersive Music Studios, the Madison Beer Immersive Reality Concert Experience takes place in a full digital recreation of the Sony Hall concert venue in New York City. The experience is powered by cutting-edge innovations in real-time 3D creation technology and virtual production that highlight the incredible new opportunities for artists to push the boundaries of their imagination and creativity.
"Experimenting with virtual production technologies for this performance was like nothing I've ever done before," says Madison Beer. "Exploring new ways of bringing my music to fans was a really fulfilling experience, especially in a time where we can't physically be together to experience live music."
"Music fans have never seen a virtual concert like this," says Sylvia Rhone, Chairwoman and CEO, Epic Records. "Madison Beer is transforming the viewing experience with this unique and visually groundbreaking showcase of her innovative vision, and we are thrilled to be helping her share it with the world."
"At TikTok we are proud to drive the cultural conversation and support artists providing the kind of communal, interactive music moments that we've all sorely missed during the pandemic," says Corey Sheridan, Head of Music Content & Partnerships, TikTok US, "Madison Beer's virtual experience is as close to being at a concert as you can get from the safety of your own home."
With over 14 million followers, Madison Beer uses TikTok to connect with loyal fans and share new music. With over 14 million followers, Madison Beer is an active member of the TikTok community, amassing more than 1.5 billion views on her videos that engage with loyal fans who and share new music.
Expressing and inspiring a rollercoaster of emotions through spellbinding vocals over a broad-ranging sound-bed reflective of Madison's own diverse musical tastes, Life Support explores the atypical life that Madison has led since famously being discovered. The album, along with the Immersive Concert Experience, sees Madison taking creative control through writing her own songs, producing and creating her own visuals.
Join Madison on March 20 at 9am AEDT live on TikTok as we premiere this spectacular performance with special trivia, a behind the scenes interview with Madison, and more.