The LGBTQIA+ community is one of the strongest and most vibrant communities on TikTok, and we take great pride in spotlighting, celebrating and uplifting this amazing part of our community each and every day. After two fabulous years as a partner for the Sydney Gay & Lesbian Mardi Gras, this year we are stepping it up: we're excited to announce that TikTok is a Major Partner for both Sydney WorldPride and Sydney Gay & Lesbian Mardi Gras 2023!
For the first time EVER in the Southern Hemisphere, WorldPride will be taking over Sydney this February and March, turning the Emerald City rainbow! From 17 February to 5 March 2023 expect countless events, parties, concerts, exhibitions, thought-provoking conferences, and more, all laddering up to the festival's overarching theme - GATHER, DREAM, AMPLIFY.
This year, we're marching to the theme 'Pride In Full Colour', celebrating every side of pride, and we want to invite YOU to the party! Whether by tuning into our special livestreams, joining us in the #ForYourPride hub, or following our trailblazing Pride Ambassadors, there will be no shortage of content to bring Sydney WorldPride to you, no matter where you are. From Byron to Bunbury, London to Los Angeles, our global community will be coming together on TikTok, and you won't want to miss it!
Lee Hunter, General Manager, TikTok Australia and New Zealand, says, "We are proud that TikTok is an open and inclusive platform, and it's a privilege to be able to shine a light on the amazing creators across who are at the heart of the LGBTQIA+ community on TikTok. This partnership with Sydney WorldPride will allow us to take this incredible celebration to a global audience, who will be able to tune in to catch all the action on TikTok."
Sydney Gay and Lesbian Mardi Gras CEO, Albert Kruger, says, "As a hub for creativity and self-expression, we're proud to have partnered with TikTok Australia for the last two years. As we move into Sydney WorldPride, we're excited to see the colour and energy of TikTok come to life throughout the festival, bringing representation and visibility to audiences across the globe."
Kate Wickett, CEO, Sydney WorldPride continued, "We're absolutely thrilled to have TikTok join the Sydney WorldPride family as a Major Sponsor. Their relationship with Sydney Gay and Lesbian Mardi Gras over the past two years has been a productive and fun one and we can't wait to see what the ambassadors, creators and community deliver across the Festival period."
Introducing...TikTok's Sydney WorldPride Ambassadors
Who better to follow during Sydney WorldPride than our amazing, inimitable Pride Ambassadors! Hailing from all corners of the globe, our Pride Ambassadors will be keeping the good times rolling throughout Sydney WorldPride.
Sugar & Spice (@sugarandspice): Fresh off the set of RuPaul's Drag Race Season 15, TikTok superstars Sugar & Spice are heading down under to celebrate Sydney WorldPride. Since joining TikTok in 2018, Sugar & Spice have made a name for themselves with their epic transformation, styling and fashion videos. With over 7.7m followers, and nearly 170m likes, we can't wait to have these global drag sensations join us for Sydney WorldPride.
Sugar & Spice says, "The TikTok community is like a family, which is why we are excited to be teaming up with TikTok for Sydney WorldPride 2023! This will be our first ever visit to Australia, and we know it's going to be a once-in-a-lifetime party… we can't wait to meet you all in Sydney!".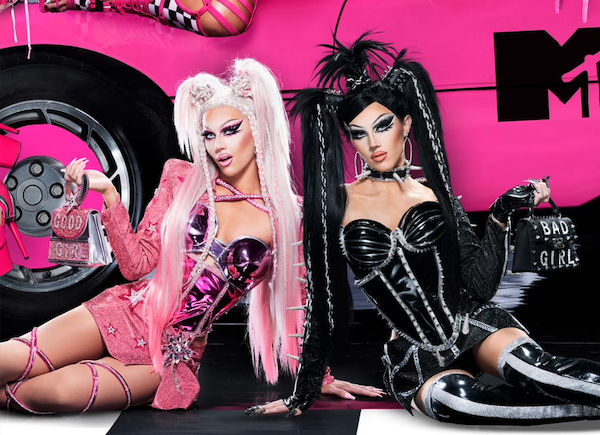 Where to catch us on TikTok!
The #ForYourPride Hub: From 10 February, Aussies will be able to get into the Pride spirit via the #ForYourPride Hub in-app. With a collection of the TikTok community's favourite #ForYourPride videos, alongside lists of local and international LGBTQIA+ creators to follow, and details for how to tune-in LIVE on TikTok from anywhere in the world, we're taking Sydney WorldPride to the global TikTok community!
Celebrate with us... LIVE!: Of course, we'll also be bringing you all Sydney WorldPride the action, LIVE on TikTok - from the Sydney WorldPride Opening Concert, to the iconic Mardi Gras parade, there are countless opportunities to tune in live, no matter where you are in Australia, or around the world.