By Ollie Wards, Director of Music, TikTok Australia & New Zealand
Music and sound are at the very heart of TikTok - they are the exciting parts of the TikTok experience that spark global trends, inspire endless creativity, and unify people around the world. We know that our community are massive music fans who love watching exclusive LIVE performances and behind-the-scenes videos from their favourite local acts and global superstars, as well as soundtracking their own videos with viral tracks. TikTok is also a place for artists to share their latest work, connect with new audiences all around the world - and for many local emerging artists, kickstart careers.
Whether it's Tones and I (@tonesandi) taking busking from the streets of Byron Bay to TikTok, and landing Dance Monkey as the most Shazamed song of all time, or Maroubra-based rapper Masked Wolf (@maskedwolfmusic) going viral on TikTok and becoming one of the most played artists on Spotify globally this year - TikTok has become a home for the discovery and celebration of music.
With the pandemic continuing to disrupt our live music industry over the past year, artists turned to TikTok to connect with fans from around the world. From previewing new music to behind the scenes videos and epic livestreamed performances, musicians have always provided the soundtrack to our community. Now, as things start to open up again across Australia, it's more important than ever to double down on our support and celebration of the incredible local talent on TikTok - the singers, bands, musicians, DJs and beyond.
In celebration of Ausmusic Month, throughout November we're showcasing the enormous talent of Aussie artists through a dedicated local music hub and programming line-up that will put a smile on your dial and bring back all of those live-music feels.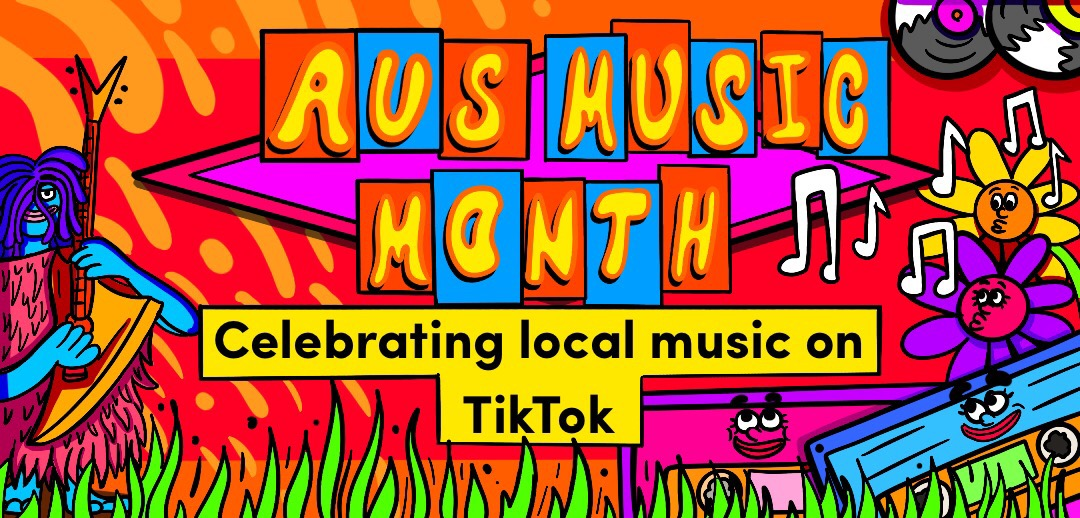 Kicking off on 1 November, our Ausmusic Month hub is part of our commitment to supporting the Australian music industry, driving discovery for local artists and connecting audiences with new music and genres. The hub will spotlight emerging and chart-topping artists to follow, promote a series of unmissable livestreamed music performances, showcase curated playlists of First Nations music and classic Australian tracks, and even feature a mesmerising creative effect - so you can immerse yourself and celebrate month-long with us. You can find our Ausmusic Month hub on the Discover page in the TikTok app from 1 November - 30 November.
🎶 Here's the lowdown on what's on 🎶
🎤 Livestreams with some of Australia's favourite artists
Our Ausmusic Month LIVE on TikTok line-up will include exclusive livestreams from a diverse set of artists, inviting our community to experience performances from some of Australia's most exciting acts. This includes the award-winning dance trio RÜFÜS DU SOL (@rufusdusol), chart-topping rock band DMA'S (@dmasmusic) and Melbournian busker-turned-recording artist Inoxia (@inoxiasounds). These talented homegrown artists will all be hosting epic livestreams, interacting with fans through Q&As and sharing the stories behind their songs.
For a chance to get up close and personal with these musical legends plus other amazing Australian performing artists, tune in on the artists' TikTok accounts:
🔥Sunday 7th November, 7.00pm AEDT - RÜFÜS DU SOL | TikTok @rufusdusol
LIVE from the iconic Red Rocks Amphitheatre in Denver, Colorado
🔥Thursday 4th November 5.00pm AEDT - H3rizon | TikTok @h3rizonmusic
🔥Thursday 11th November, 7.00pm AEDT - Inoxia | TikTok @inoxiasounds
Debuting her new single 'Cherry'
🔥Sunday 21st November, 7.00pm AEDT - DMA'S | TikTok @dmasmusic
🎵 #ausmusic hashtags for you to explore
Throughout November, our Ausmusic Month hub will feature a curated selection of videos under the hashtags #ausmusic to showcase trending local music content, #aussiethrowbacks for a collection of your favourite nostalgic tunes and forgotten classics, as well as #ausmusictshirtday to highlight artists and fans representing their favourite acts through wearing merch. For a chance for your video to be pinned in the hub, just create a fun TikTok with a killer Aussie sound using any of those hashtags.
🤳 Gettin' filtered

To help you really get amongst it all (and look the part) we have launched a one-of-a-kind filter in collaboration with singer-songwriter and TikTok star, Peach PRC (@peachprc). Just in time for the release of her latest single, Heavy, the filter taps into Peach's signature princess-in-pink look, giving you the opportunity to see through peach-coloured glasses and adopt her unforgettable style in your videos. Think dreamy, goddess vibe - complete with candy pink lips!
🤝 Backing our local music industry
In support of Ausmusic T-Shirt Day and in collaboration with Isol-Aid and the Australia Council for the Arts, TikTok will be raising awareness and funds for Support Act, Australia's only national charity for the music industry.
On Friday 19 November, we will be hosting a fundraising livestream event, where some of Australia's most exciting musicians will perform back-to-back. During the LIVE on TikTok shows members of our community can pledge their support to helping Support Act deliver crisis relief and mental health and wellbeing services to artists, crew and music workers who are doing it tough. We're always heartened by the selfless steps our community take to help each other, and our fundraising livestreams will be another way people on TikTok can make a positive impact on the lives of others.
Don't miss out on this super music line-up from 7-9pm AEDT on Friday 19 November and be sure to wear merch in support of your favourite local artists and use the hashtag #ausmusictshirtday. Head to the TikTok accounts of the artists below as they perform exclusively on TikTok:
🔥 Spacey Jane (@spaceyjane) - Perth's indie heroes lead the lineup to bring a booster (seat) to your #ausmusictshirtday.
🔥 Carla Wehbe (@carlawehbe) - Prolific artist whose songwriting, producing and multi-instrumental skills have seen her pop creations blow up on TikTok.
🔥 Ashwarya (@ashwaryamusic) - Melbourne's latest pop force, off the back of her debut album 'FLARE' is no stranger to an entertaining TikTok livestream.
🔥 Isaiah Firebrace (@isaiahfirebrace)- Just announced as a contestant for Australia's Eurovision spot, Isaiah is also the host of TikTok Trending on iHeartRadio and did we mention general pop icon?
Here is what some of these artists had to say:
"To celebrate our new album Surrender, we're broadcasting our live show from the iconic Red Rocks Amphitheatre on TikTok! It was our first show back after nearly two years, playing a handful of songs from our new album for the first time. It's our favourite venue in the world to play and we hope everyone back at home can check it out - very excited to announce our Australian tour dates soon too" - RÜFÜS DU SOL
"Ausmusic Month has never come at a more important time! Things are opening up and we need to remember and re-ignite the amazing scene and talent we have in Australia. We can't wait to perform for you on Tiktok - playing live is such an important facet of our lives and what we do and we couldn't be more excited. It's been a crazy 18 months for everyone so let's start making the right moves to bring it all back stronger than ever." - Johnny Took, DMA'S
"Ausmusic Month is so important to highlight the incredible talent in our local industry. So many amazing artists that deserve exposure and support! I'm so excited to release my new single "Heavy" which is a very personal song to me. It was one of the very first songs that I shared when I started my TikTok journey nearly two years ago now. I'm overwhelmed by the response so far and can't wait for everyone to hear the full and complete song." - Peach PRC