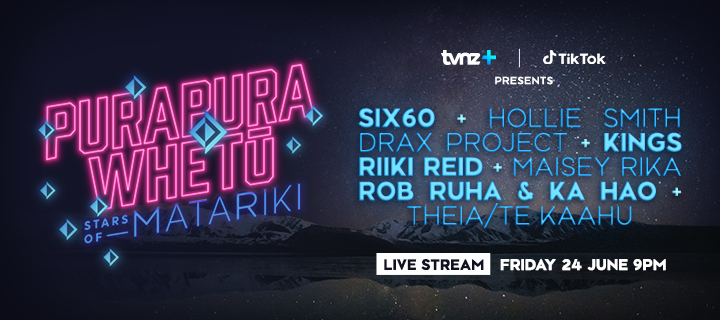 By Ollie Wards, Director of Music, TikTok Australia & New Zealand
For Matariki this year we are proud to be celebrating the diverse Māori culture and heritage with a spectacular music event in partnership with TVNZ. The Purapura Whetū - Stars of Matariki event will bring together the biggest and brightest stars of Aotearoa for one night only.
On Matariki, Friday 24 June from 9pm, we will be LIVE streaming performances from an array of stunning locations online at TVNZ+ and TVNZ's TikTok @tvnz.official. Hosted by the hilarious Sonny Ngatai (@sonnyngatai), TV personality Nicola Adams (@cwknix) and award-winning artist Kings (@kings_music_nz), we are inviting our community to experience performances by some of the most exciting acts in Aotearoa. The line-up includes international phenom Six60 (@Six60), soul-superstar Hollie Smith (@holliesmithnz), the sensational Drax Project (@draxproject) and more!
These artists, and many other emerging and established talent from Aotearoa, have been using TikTok to showcase their musical talents and their connection to te ao Māori. Now, they are bringing those elements together for this special Matariki event.
Celebrate a night of music and heritage with this stellar lineup of artists, including:
🎶 Six60 (@Six60) | The soul band made history this year with a stadium concert live stream event, a world first on the platform.
🎶 Hollie Smith (@holliesmithnz) | Singer and songwriter, Hollie is known for her beautiful waiata and will be taking to the TikTok stage for the first time.
🎶 Drax Project (@draxproject) | From buskers to pop sensations the Drax Project take their artistic style to the next level on TikTok with a recent videos reaching over 13M views.
🎶 Maisey Rika (@maiseyrika_music) | Proud Māori singer and composer Maisey has helped lead the way in showcasing her culture by releasing albums in both English and Māori for over 20 years.
🎶 Kings (@kings_music_nz) | The Samoan and Māori rapper shows not only his musical talent but his hilarious skits to his 208K followers on TikTok.
🎶 Theia & Te Kaahu (@princesstheia) | Known for her bold pop songs, Theia & Te Kaahu honours the craft of Māori storytelling.
🎶 Rob Ruha & Ka Hao (@robruhamusic) | A special performance from the musician, Rob will be sharing the stage with the Ka Hao youth choir.
🎶 RIIKI Reid (@riikireid) | Fresh face RIIKI is bringing her Māori, Samoan and Scottish culture to her Indie sound.