Author: Julie de Bailliencourt, Head of Product Policy, TikTok
Around the world, hundreds of millions of women are using TikTok every day to entertain, inspire, educate and be voices for change in their communities. From doctors and comedians, to music artists and scientists, incredible women power TikTok.
We know that for our community to thrive and feel free to express their creativity, safety is fundamental. Our Community Guidelines make it crystal clear that we do not tolerate sexism and other forms of hate directed at individuals or groups because of their sex or gender identity, and we remove any such content. As part of our efforts to continually improve safety for all our users, we work with organisations such as the Web Foundation to design new solutions to make digital spaces ever safer for women.
We also believe that education is a powerful antidote for hate. That's why to mark this year's 16 Days of Activism against Gender-based Violence, we are partnering with UN Women and Violence Against Women and Girls (VAWG) NGOs such as Gender Links, & the Tears Foundation in South Africa, Warif NG & Mirabel Centre in Nigeria, as well as Childline Kenya & LVCT Health in Kenya to start the conversation about gender-based violence and educate our TikTok community.
A new in-app information hub will be launched on TikTok starting from the International Day for the Elimination of Violence Against Women and Girls on 25 November and concluding on International Human Rights Day on 10 December.
Featuring content from worldwide experts & our local creators, the hub will give our community the opportunity to hear from survivors of gender-based violence, to learn about consent, and to better recognise harmful gender norms. We'll encourage our community to share how they intend to stand up for women and girls around the world with #EndViolenceAgainstWomen.
We will also be hosting a LIVE on the @genderlinks and @tiktok.africa TikTok accounts, to discuss issues pertaining to the solutions to helping fight violence against women & children. Please join us on Thursday, 9 December at 14:00 SAT to hear more about what we can all do to fight the violent scourge affecting women and children in Africa.
Promoting safety for sexual assault survivors on TikTok
At TikTok, we are focused on promoting an environment where community members feel safe and comfortable sharing their experiences, including difficult conversations such as those around sexual assault.
We recognise the important conversations happening on our platform about sexual violence, recovery, and advocacy, and we've been working with experts to further improve our understanding of sexual assault, trauma and how to foster a safe and supportive space for survivors.
Now, we're rolling out new sexual assault resources we've developed with guidance from experts for creators & survivors within our community with information, including details of local services and helplines, such as the Tears Foundation and Rape Crisis Cape Town Trust for South Africa.
As well as being easy to find on our Safety Centre, we'll direct our community to these resources through permanent public service announcements on certain hashtags, such as #ConsentMatters. While searches for words that violate our policies are already blocked, we will now also encourage members to access our Safety Centre resources and seek professional help from local organisations when they search for terms related to sexual assault.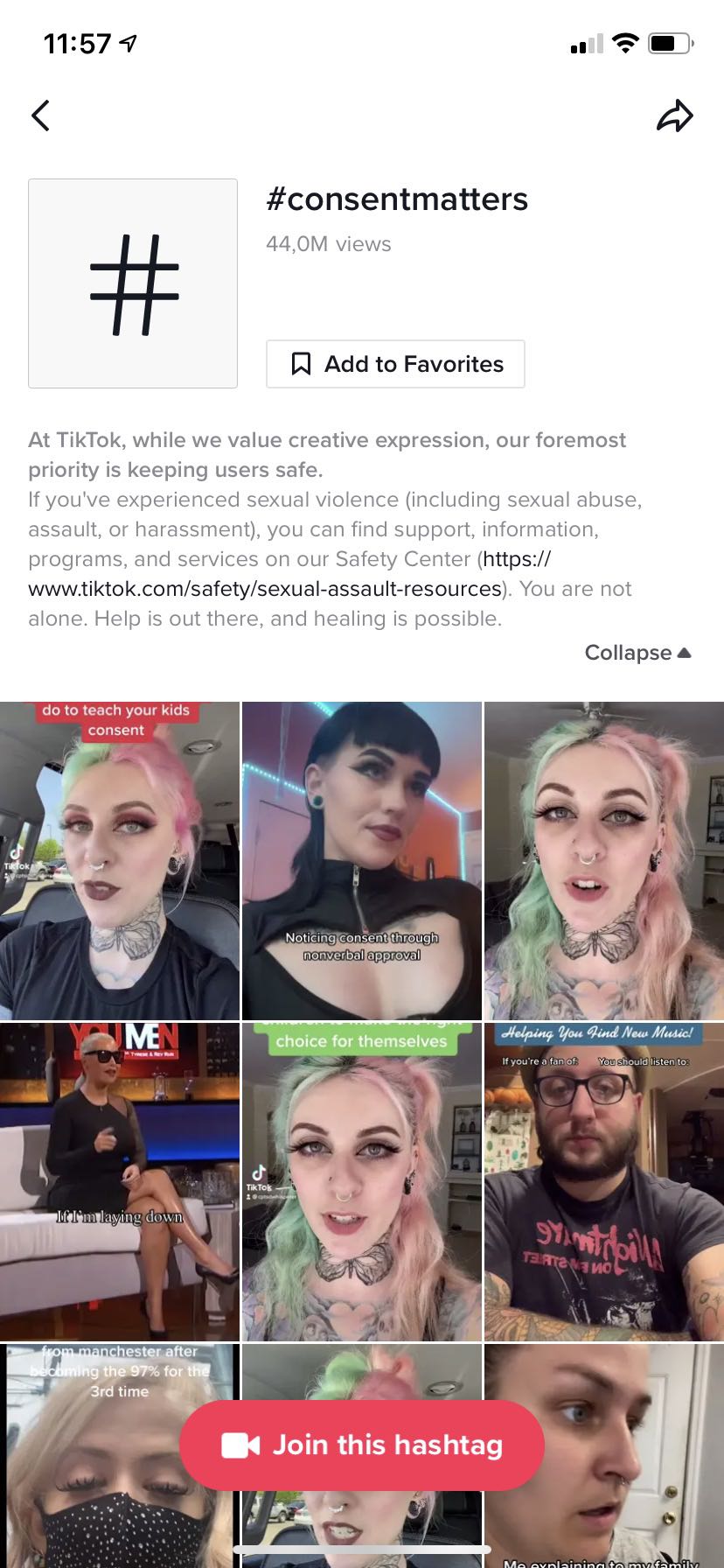 Eliminating violence against women and girls is a global necessity. We're proud to be partnering with UN Women and other VAWG NGOs to rally our community behind this mission, and we look forward to seeing the inspiring content from our creators in the coming weeks.
"Violence against women is an existing global crisis that thrives on other crises. Conflict, climate-related natural disasters, food insecurity and human rights violations all contribute to women and girls living with a sense of danger, even in their own homes, neighbourhoods or communities."
- Sima Bahous, Executive Director, UN Women
Want to find out more about how to keep safe on TikTok? Check out our in-app tools, including how to filter comments, delete or report multiple comments at once and block accounts.