The two Latin superstars partnered with TikTok for a Behind The Video LIVE stream for their 2-part "Pa Ti"/"Lonely" Music Video, and enlisted the help of Charli D'Amelio to kick off the #PaTiChallenge for Latinx Heritage Month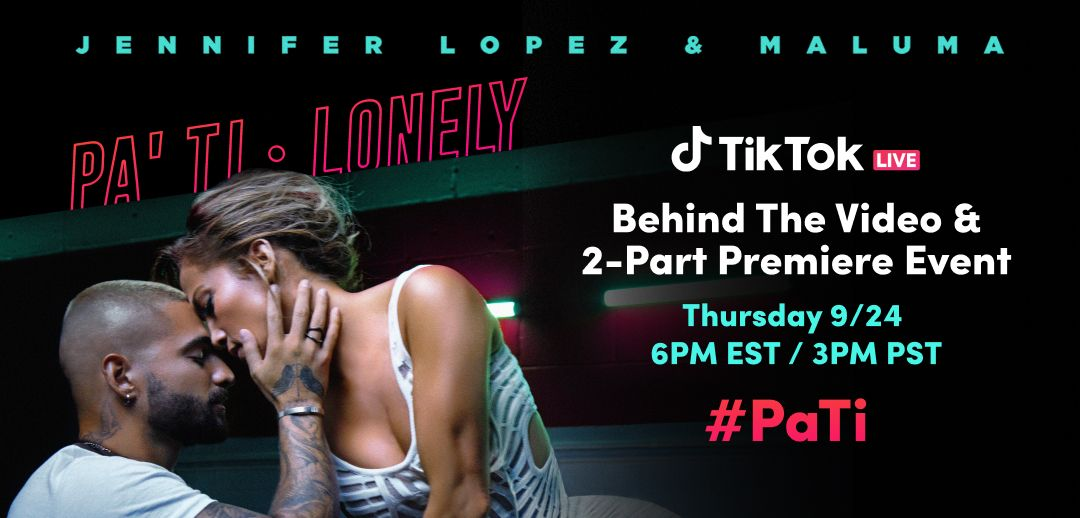 [UPDATE - September 30]: Fueled by TikTok and its passionate community, "Pa Ti/Lonely" is already a massive success. Last Thursday's LIVE stream drew 421k global unique viewers with 51k concurrent viewers at its peak. "Pa Ti" already inspired 32k video creations, and Charli's video kicking off the challenge has over 27 million views and 5 million likes! Meanwhile, videos tagged with #PaTiChallenge generated over 660 million views in its first 24 hours, and 1.4 billion views to date. The official music video racked up over 18 million views in its first week and reached #2 on YouTube's trending chart. Jennifer Lopez gained over 255k followers after the Behind-The-Video event, and earlier this week, she shared a cut of her favorite #PaTiChallenge entries. Is a Billboard Hot 100 debut on the horizon?
We at TikTok are proud to foster a community that's at the cutting edge of pop culture, creating viral trends, propelling songs up the charts, and minting new icons. What starts on TikTok as a brief moment of inspiration can snowball into a movement that changes the culture. Now, for the first time, we've teamed up with a major artist to launch an interconnected, multimedia story–starting on TikTok.
Today, we are extremely excited to reveal the full extent of our wide-ranging partnership with Jennifer Lopez as she shares her new two-part music video "Pa Ti/Lonely." Collaborating with Latin superstar Maluma, her duet partner in the new single, Lopez enlisted the TikTok community, including TikTok Breakout 10 creator Charli D'Amelio, to help make her new video release a can't miss event. Our new partnership with Lopez and Maluma arrives as we celebrate TikTok's #FamiliaLatina during Latinx Heritage Month.
Lopez kicked off the campaign on Monday, posting intriguing videos on her TikTok account teasing the collaboration with Maluma on the "Pa Ti/Lonely" music video. In a TikTok LIVE stream last night, hosted on Lopez's TikTok account, the two superstars offered fans an intimate behind-the-scenes look at the music video, detailing the nuts-and-bolts of making a major music video during COVID and packing in cameos and easter eggs for the fans. Drawing live viewers, the stream ended with a premiere of "Pa Ti/Lonely," which featured a cameo from Charli D'Amelio. TikTok users can join the fun by emulating Lopez and D'Amelio's moves in "Pa Ti" and tagging their videos with #PaTiChallenge.
Though this is our first official partnership with Lopez, she's a major presence on TikTok, where she's one of the most-followed celebrity accounts (11.1 million). After performing at Super Bowl LIV with Shakira, Lopez launched the #JLoTikTokChallenge with audio from her performance, inspiring hundreds of thousands of creations and generating over 357 million video views.