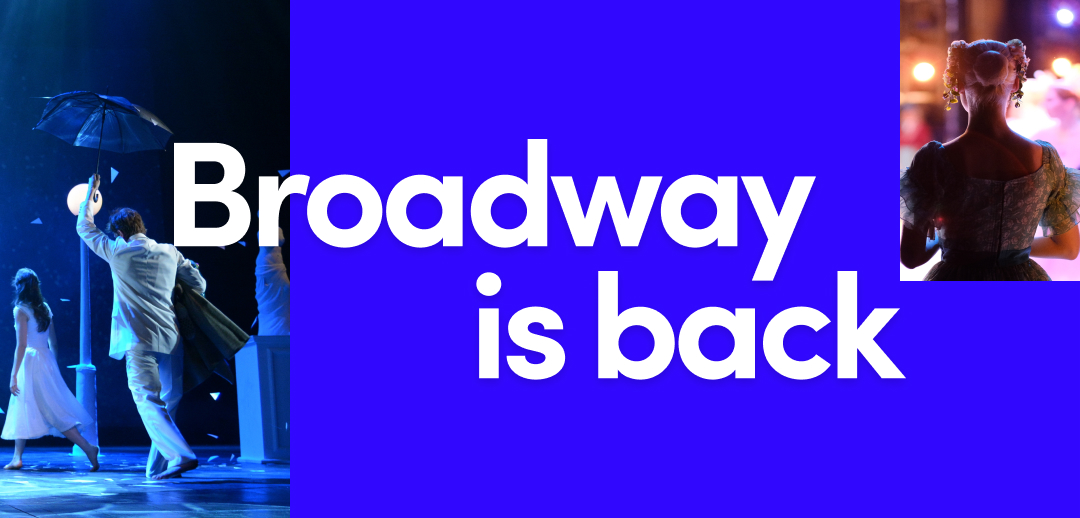 After over a year's absence, Broadway theater is finally returning, and it's returning on TikTok! To celebrate this Whole New World, TikTok is curating a slate of LIVE programming to celebrate all things musicals, theater, and Broadway. From the nicest Mean Girls to the Jersey Boys we can't help but sing along with, the Circle of Life has brought Broadway back to us all.
TikTok has become a home for musical theater lovers and performers alike with a community of fans, professionals, and aspirants sharing their talent and love of the music, spectacle and artistry of live theater. The platform provides a place to collaborate and connect, creating unique, new songs driven by the musical theater community themselves. With popular hashtags like #Broadway, #Musical, and #TheaterKid receiving 2.9B, 4.8B, and 396.4M views respectively and the success of original TikTok musicals like Ratatouille the Musical and the Grocery Store Musical, it's clear that TikTok has a proud, thriving creator community.
Throughout September and October, we'll join Broadway partners, artists, and creators to bring a slate of LIVE musical programming, boosting excitement around Broadway's big reopening. This includes special performances from Broadway casts, backstage tours showing off all the costumes, props, and the practice spaces for those who are curious about all the magic that happens behind the curtains, costume & makeup tutorials, and tips and tricks from theater professionals around theater superstitions, traditions, and lores. This LIVE programming offers a unique way for Broadway fans to learn from and connect with the performers who inspire them.
Broadway fans can also check out the #BroadwayIsBack hashtag to see a curated list of musical and theater content from TikTok's avid theater fans.
"We are thrilled to welcome audiences back to Broadway. But realizing that only 1,700 guests would get to experience our first performance in the theatre, we wanted to find a way for everyone to be part of this historic Broadway moment. Partnering with TikTok allows us to literally bring The Lion King into the hands of theatre lovers wherever they are to share in this once-in-a-lifetime evening." Angelo Desimini, Disney Theatrical Productions VP, Marketing, Publicity, Sales & Education
"TikTok has become a home for Broadway and musical theater lovers around the world, so we are excited to celebrate this milestone for the industry as the lights go back up on stages. With our partners, we are bringing the most innovative, entertaining, and creative content to the thriving musical theater community on platform. By partnering with major productions like The Lion King, Wicked, and Waitress, along with our community of creators and top Broadway stars, we want to bring Broadway entertainment to everyone and provide an inside look into the talent and magic of musical theater." Catherine Halaby, Entertainment Content Partnerships Lead, TikTok
Check out the schedule below and mark your calendars for fun content all month!
September 14th, 4PM PT: The Lion King will stream the production's opening number, Circle of Life on the @disneyonbroadway account, live from within Broadway's Minskoff Theater! Hosted by Broadway cast member Adrienne Walker (Nala), the LIVE will also feature a series of guests from across the cast and company. We've also partnered with The Actor's Fund to include a pre-show taking viewers behind the scenes to meet the people who bring the show to life.
September 22nd, 3:30PM PT: Tune in for a live performance from Sara Bareilles' hit musical adaptation of Waitress and a backstage tour of the Broadway set! The LIVE stream will be held on the @waitressmusical official TikTok account.
September 28th, 5PM PT: The Broadway production of Aladdin will take us inside the theatre for a peek backstage during intermission, culminating in a live performance of Friend Like Me streamed on @disneyonbroadway account.
October 5th, 3:30PM PT: Join Jessica Chastain and @makayladid as they take turns playing "Finish that Broadway Lyric" in a fun, engaging, 30-minute sing-off style showdown!
October 12th, 5PM PT: The cast of Wicked will take viewers behind the scenes of the three active productions of the show around the world, closing out with a live performance of Defying Gravity from the New York City Broadway show! Be sure to tune in to this finale LIVE stream, held on the @wicked_musical official TikTok account.