All donations to benefit The Actors Fund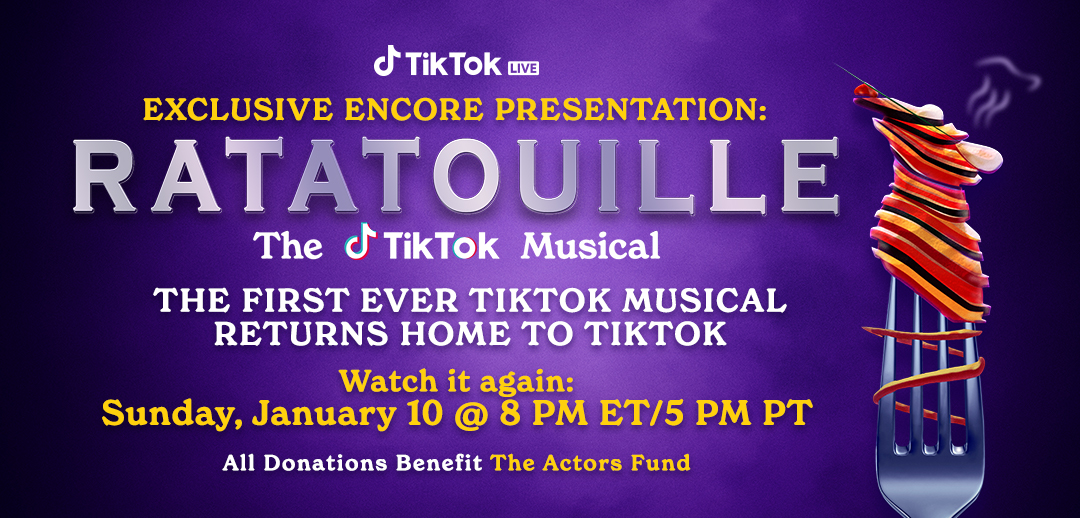 Theater creatives have long been collaborative leaders on TikTok, creating everything from videos about their art school experiences, to showcasing their talents and writing musicals. Over the last few months, however, this community made headlines as they collaborated on the construction of a musical based on Disney/Pixar's Ratatouille, and with the help of the Tony Award-winning theatrical production company Seaview, presented a full virtual performance to benefit The Actors Fund proving that anyone can cook up an amazing show. The one-of-a-kind virtual benefit garnered $1 million by its premiere on January 1, 2021 for The Actors Fund, the national human services organization for everyone in performing arts and entertainment.
This creative endeavor began with user @e_jaccs, who back in August, uploaded a love ballad dedicated to "Remy," the main character in Disney/Pixar's Ratatouille. The song gained new life when @danieljmertzlufft uploaded a new version of the initial video on October 19th. Notably, @danieljmertzlufft had previously created a musical on TikTok entitled "Grocery Store: A New Musical."
Over the next week, the video grew in popularity and became beloved throughout the TikTok community, eventually leading to the creation of an account entitled @ratatouillemusical, which made a video calling for community submissions to help bring the musical to life. This video prompted users to contribute their own ideas to the fictional musical, covering everything from additional numbers, to sets, and even dance routines. The musical theater community has collaborated on the project using #RatatouilleMusical, a tag that has gained 227.1 million views to date.
By mid-November, the popularity of the fictional musical had spread off-platform, gaining the attention of everyone from Patton Oswalt - the voice of Remy - and Brad Bird - the film's director, to Pixar and Disney, Playbill and Broadway World, who created pamphlets for the show, and even the New York Times.
It was here that what started as a community collaboration became a fully-fledged virtual Broadway show with the help Broadway veterans. It was picked up and developed in record time by artists, producers, and The Broadway Sinfonietta (a 20 piece all female identifying orchestra), with everyone working closely with the TikTok creators who helped launch this phenomenon.
The January 1st premiere of Ratatouille: The TikTok Musical was a virtual benefit performance for The Actors Fund that included 10 songs sourced from TikTok and featured musical stars including Wayne Brady, Adam Lambert, Andrew Barth Feldman, Ashley Park, André De Shields, Kevin Chamberlin, Mary Testa, Priscilla Lopez, and Tituss Burgess as Remy the rat.
Ratatouille: The TikTok Musical was adapted for this virtual benefit event by Michael Breslin and Patrick Foley, choreographed by Ellenore Scott, directed by Lucy Moss, and features music from Danny Bernstein (@dannykbernstein), Gabbi Bolt (@fettuccinefettuqueen), Kevin Chamberlin (@chamberlin_kevin), RJ Christian (@rjthecomposer), Nathan Fosbinder (@fozzyforman108), Emily Jacobsen (@e_jaccs), Sophia James (@sophiajamesmusic), Katie Johantgen (@katiejoyofosho), Daniel Mertzlufft (@danieljmertzlufft), Alec Powell (@phisherpryce), and Blake Rouse (@blakeyrouse).
The creative team also includes Daniel Mertzlufft (Music Supervisor, Arranger, Original Music & Lyrics, @DanielMertzlufft), Macy Schmidt (Orchestrator & Music Coordinator), David Bengali (Video Design and Production), Chris Routh (Set Design, @ShoeboxMusicals), Emily Marshall (Music Director & Coordinator), Jeffrey Gugliotti (Associate Choreographer), Tilly Grimes (Costume Consultant), Jessie Rosso (@JessieRosso) and Geoffrey Ko (Music Copying), Kate Leonard (Additional Lyrics), Michael J. Mortiz, Jr. (Audio Producer, Mixer, Master), Angie Teo (Audio Mixer), Cody Renard Richard (Stage Manager), Amy Jo Jackson (Dialect Coach), and Taylor Williams, CSA (Casting).
Jeremy O. Harris (@jeremyoharris), Michael Breslin, and Patrick Foley serve as Executive Producers.
There was even a virtual red carpet on Playbill.com hosted by Broadway stars Luka Kain and Kristolyn Lloyd featuring pre-show interviews from actors, musicians, and countless others that helped launch this historic theatrical event including Daniel Mertzlufft and many more. Each interview gave unique insight into how the musical was developed and how TikTok gave creators the ability to collaborate in a never-before-seen way during a global pandemic.
TikTok is excited to offer you one more chance to catch an encore presentation, in case you missed the premiere of this amazing show, or just need to see it again! Tune in to @ratatousicalmusical on TikTok LIVE this Sunday, January 10th at 8pm ET/5 pm PT. You'll be able to donate to The Actors Fund via an in-app donation sticker during the encore performance.
To get more information about The Actors Fund, please click HERE. http://actorsfund.org/remy