Organised by TikTok, in partnership with MCCY, MOE and NYC, the Youth for Good initiative seeks to empower youths to raise awareness on mental and cyber wellness and create a peer support ecosystem on TikTok
Youths will undergo an 8-week bespoke training programme by TikTok and local non-profit organisations to become mental and cyber wellness educational content creators
In support of Mental Health Awareness Week (10 - 16 May 2021), TikTok will host educational livestreams in partnership with 11 local non-profit organisations to break down barriers to seeking help among youth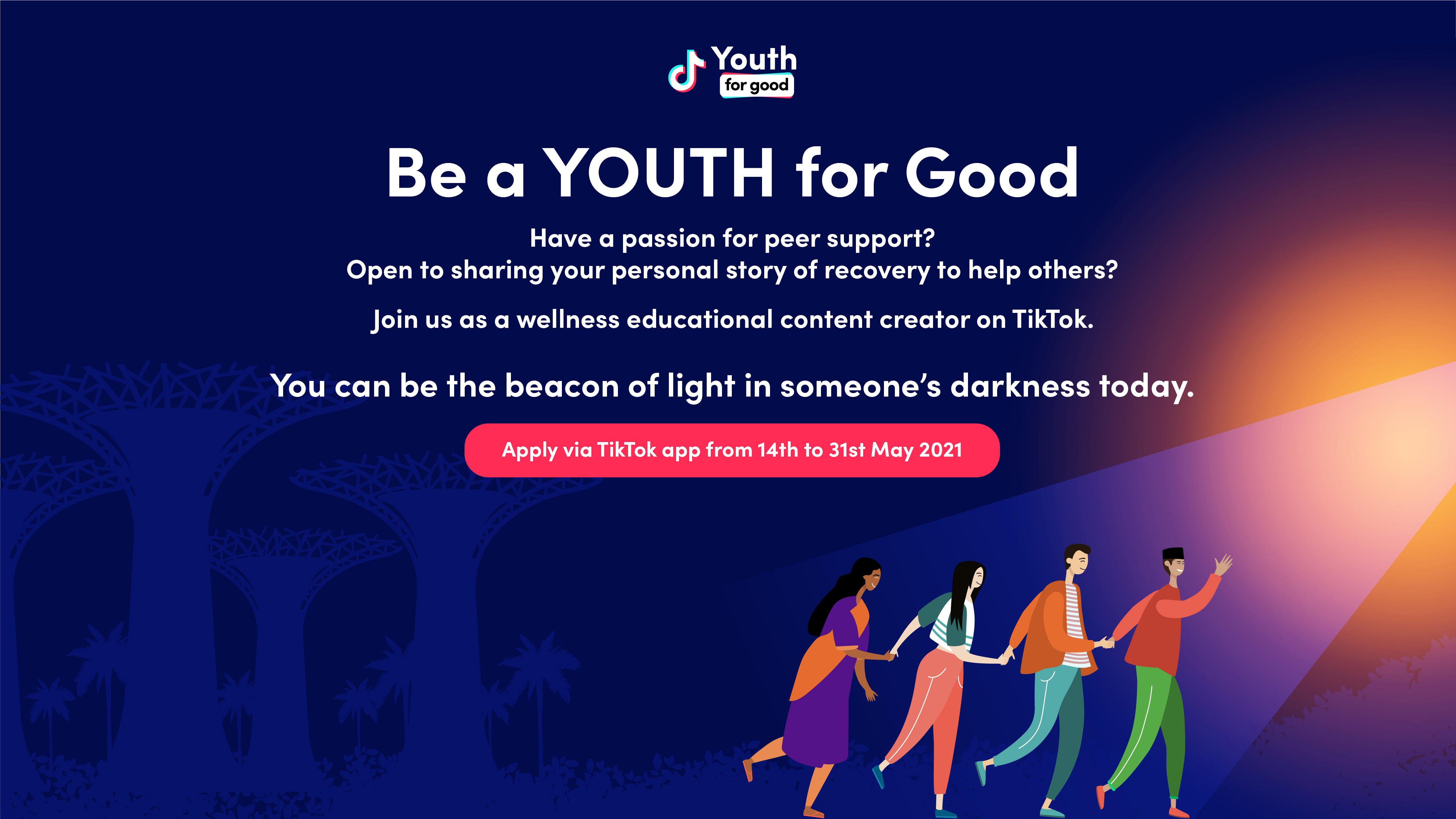 Singapore, 10 May 2021 – TikTok, the leading destination for short-form mobile video, has launched a nationwide call for Singaporean youths to participate in its Youth for Good initiative. In collaboration with the Ministry of Culture, Community and Youth (MCCY), Ministry of Education (MOE) and National Youth Council (NYC), this initiative will equip youths with tools, resources and the platform to raise greater awareness about the social issues that affect their peers today, starting with mental and cyber wellness.
From 14 to 31 May, Singaporean youths aged 19 to 34 years can apply via the TikTok app to become a wellness educational content creator. Participating youths will undergo an 8-week specialised training programme from 28 June to 22 August, where they will be empowered to not only leverage the various tools, features and trending challenges on TikTok to create relatable educational content, but also learn how to provide support and strength to their peers who may be struggling with mental health, experiencing bullying or feeling unsure of how to deal with traumatic experiences such as harassment. For any enquiries regarding the programme, youths can email youthforgood@tiktok.com.
Local non-profit organisations, including Campus PSY, Care Corner, CARE Singapore, Fei Yue Community Services, Samaritans of Singapore, Silver Ribbon (Singapore), and TOUCH Community Services, will join TikTok in this programme to guide youths with expert industry knowledge that they can creatively transform into short-form TikTok videos to educate their peers at scale, for example, stigmatising words to avoid; how to notice and respond to preliminary signs and symptoms of mental health issues in their peers.
"I strongly believe in the power of our youths to be a force for good. Through sharing their lived experiences, they can inspire and support the recovery of those experiencing mental health struggles. This is especially important in reaching out to fellow youths who may be 'silent vulnerables' and struggling on their own. Through TikTok's Youth for Good initiative and through the spirit of peer support, we can spark a ground-up movement to normalise conversations around mental health and cyber wellness. This can have a huge impact in schools, workplaces, the community and online spaces," said Ms. Sun Xueling, Minister of State for Education.
"We truly believe in the power of community on TikTok where youths can find comfort in shared experiences and break down the walls of stigma that may prevent them from opening up," said Ms. Teresa Tan, Head of Public Policy, Singapore and Policy Programmes, South East Asia at TikTok. "Through Youth for Good, we want to spark hope and draw the collective strength of our Singaporean youths to be the beacon of light in someone's darkness. Together with our government and non-profit partners, we encourage youths with deep passion for mental and cyber wellness and willingness to share their personal lived experiences to join us as a Youth for Good and boldly share their stories of recovery with others who may be struggling to see the light at the end of the tunnel."
In celebration of global Mental Health Awareness Week 2021 from 10 to 16 May, TikTok has also launched its #mentalhealthawareness educational campaign to encourage the TikTok community to share inspiring short-form video stories about their personal mental health journeys, as well as offer wellbeing support and messages of positivity to help one another.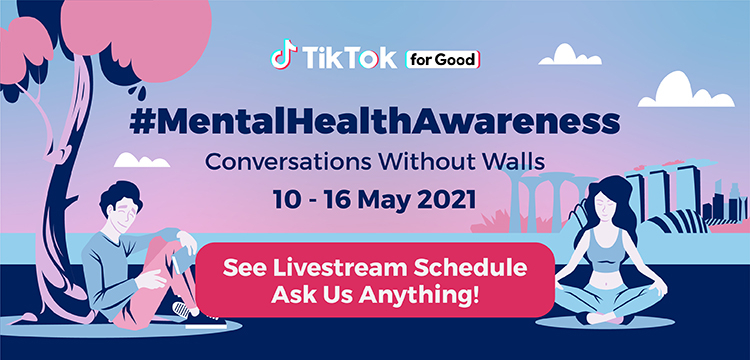 Starting today, 11 local non-profit organisations will go live on TikTok to address youths' concerns towards help-seeking, which include confidentiality, cost, accessibility, permanent record, among others (Please see Appendix for livestream schedule). Since last year, as part of its TikTok for Good efforts to create a safe online space for youths, TikTok has been partnering with over 15 local non-profit organisations to create relatable educational TikTok videos on youth mental wellbeing and cyber wellness, which has helped encourage vulnerable, at-risk users to reach out and seek help from these non-profit organisations.
The week-long series of #mentalhealthawareness conversations will culminate in a finale livestream 'Conversations Without Walls' panel on Friday, 14 May, 8-9pm SGT, graced by Ms. Sun Xueling, who will share about the government's ongoing efforts to create a peer support culture for students and strengthen mental health education and support in schools and Institutes of Higher Learning. Hosted by TikTok creator and Singapore Management University student Mr Ian Jeevan, Ms. Sun will also be joined by panellists Mr Jamin Tan, Head of Regional Product Policy, Trust & Safety, TikTok APAC; Ms Andrea Chan, Assistant Director of TOUCH Mental Wellness, a service of TOUCH Community Services and Ms Yanni Ruth, TikTok creator and mental health advocate.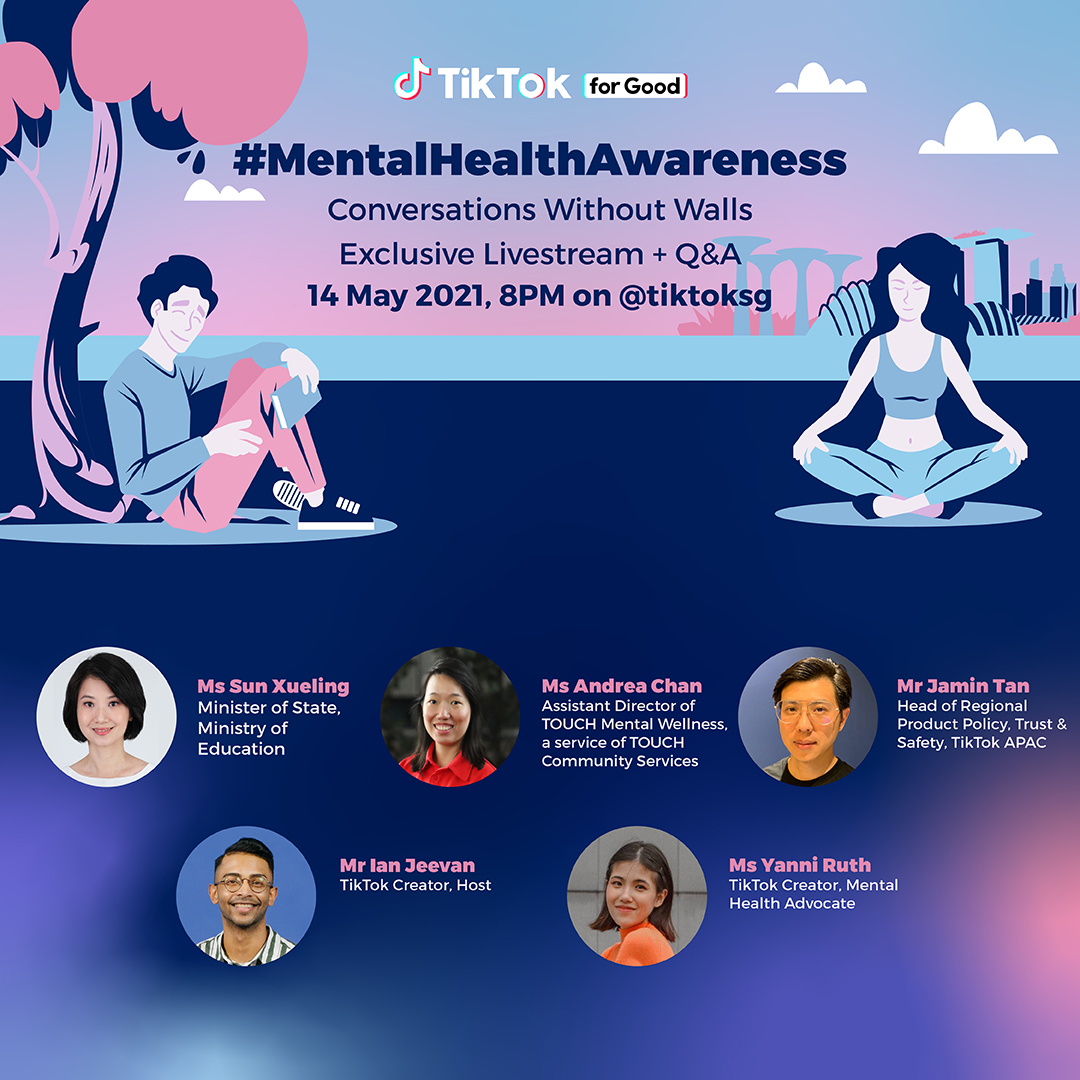 "Since last year, we have learnt to use TikTok as an additional platform of outreach to engage more youths on issues relating to mental wellbeing and cyber wellness. The platform has also allowed us to reach out to those who may be struggling with mental health issues by letting them know that they are not alone. We are heartened that the educational videos we have created have encouraged vulnerable youths to take the initiative in calling our TOUCHline for help. Through the Youth for Good initiative, we hope to see more passionate youths join the efforts of the growing non-profit community on TikTok to further amplify the importance of mental health awareness," shared Ms Andrea Chan, Assistant Director of TOUCH Mental Wellness, a service of TOUCH Community Services.
TikTok will continue its social impact efforts to boost youth mental wellbeing and cyber wellness education in Singapore. Continuing from the Youth for Good initiative and its partnerships with non-profit organisations, TikTok calls out to more counsellors, therapists, psychologists and psychiatrists to join the growing mental health support ecosystem on TikTok and create a safe online space where people experiencing distress and trauma can share their personal struggles and recovery journeys freely, find communities of support and break through the walls of social stigma.###
About TikTok
TikTok is the leading destination for short-form mobile video. Our mission is to inspire creativity and bring joy. TikTok has global offices including Los Angeles, Mountain View, New York, London, Paris, Berlin, Dubai, Mumbai, Singapore, Jakarta, Seoul, and Tokyo. www.tiktok.com.