EURO 2020 has officially kicked off on TikTok, with national teams, players, and fans flocking onto the platform to showcase tips and tricks as well as relive all the memorable moments of the games. With football arguably being the most popular spectator sport in Singapore, these new features on TikTok promise to usher in a special season for passionate local fans, allowing them to feel connected to the global football community.
Within the last two years, TikTok has become a vibrant hub for sports content, with football-related videos taking the platform by storm. Since 2020, the daily consumption of sports hashtags has quadrupled to 1.5 billion video views daily, with football content amassing over 185 billion video views* to date. These include videos created by some of the most beloved footballers like Poland captain Robert Lewandowski as well as top England striker Phil Foden – who share nearly 5 million followers between them.
TikTok has become the place where people find their tribe and celebrate a shared love for their favourite sports – a phenomenon that has gone beyond just football. Extreme sports like Parkour (5.8 billion video views), UFC (5.2 billion video views) and MMA (4.8 billion video views), for instance, have also become hugely popular on TikTok as users continue to watch and share moments from these adrenaline-pumping sports.
As the world now gets ready to enjoy UEFA EURO 2020, here's how you can stay on top of all the latest trends, get in on the action and create your very own TikTok masterpieces alongside some of the world's best football players and teams – who, like England's Raheem Sterling's #keeptothebeat, have already began showing us their TikTok skills.
LIVE events you won't want to miss!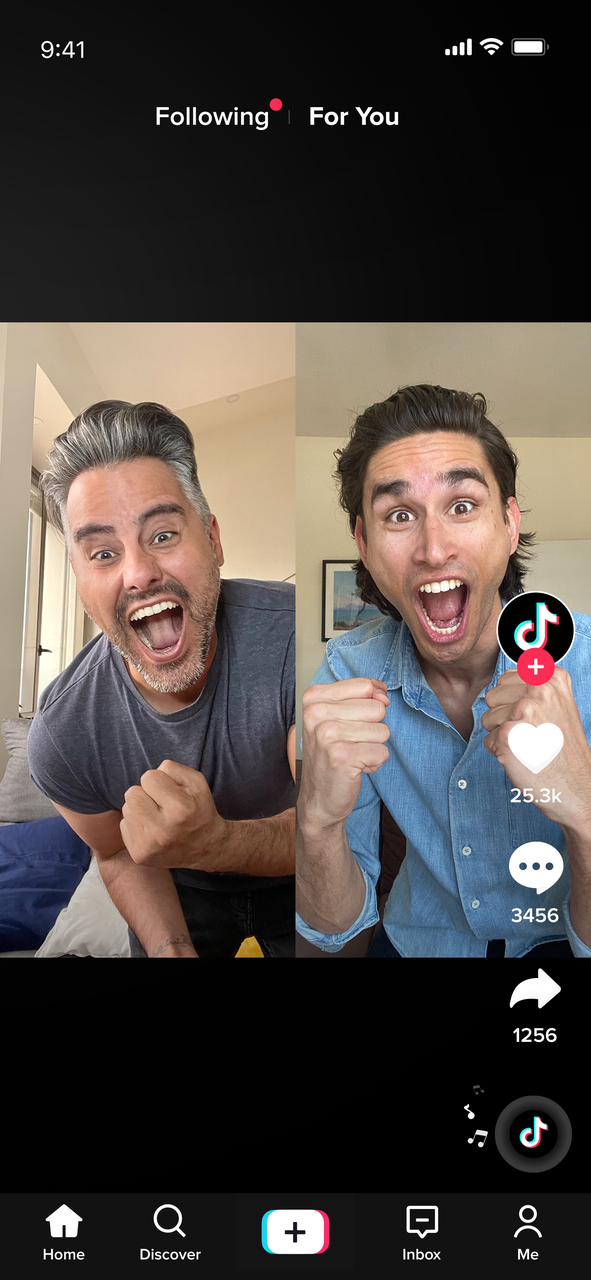 TikTok LIVE is where fans can watch the action as it happens. From the eyes of football legends to the UEFA volunteers, EURO 2020 LIVE events will take football fans behind the scenes and give them unrivalled access to all the moments that make the tournament come to life.
Kicking off in Rome, prepare to follow EURO 2020 fans every step of the way from the moment they arrive at the stadium. As the tournament progresses, you can expect to see incredible LIVE match-ups between TikTok creators and legendary UEFA ambassadors. There'll also be a chance for fans to catch a glimpse of the inner-workings of the stadia.
Be sure to also check out the TikTok UEFA EURO 2020 LIVE with Ed Sheeran on Friday, 25th June 2021, where the singer will be performing a selection of his best known hits as well as the very first performance of his forthcoming single for fans in Singapore and across the world. This virtual concert will be staged at Portman Road, Ipswich Town, the home ground of Ed's beloved Ipswich Town Football Club, and will be streamed exclusively on Ed's TikTok channel starting from 4am SGT (9pm BST) – a late-night treat for passionate local fans turning in to catch the latest UEFA EURO 2020 action. The show will also be available for viewing on 26th June (3pm SGT), 27th June (11am SGT) and 10th July (4am SGT) for global audiences who missed the first performance.
Find everything you need in one place with the new EURO 2020 Hub
Find everything you need in the new EUROs Hub – whether it's trending content, popular football creators, daily match schedules, results or the ongoing LIVEs with some of your favourite stars.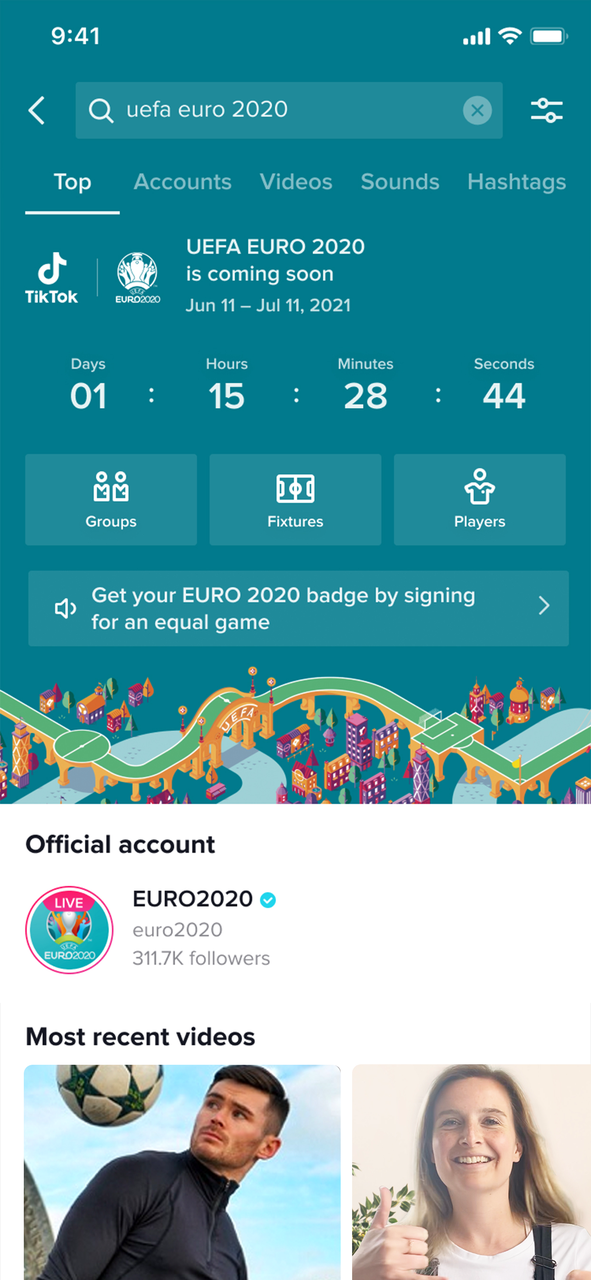 The EUROs Hub can be found on TikTok's discovery page or simply search 'EURO 2020' to get started.
Create your own unforgettable match-moments with these new effects!
Keep reading to explore all the new features joining the TikTok line-up, just in time for this year's sports season. These effects and features will enable football fans on TikTok to get creative and show their support for the players and teams they love.
Virtual Trophy Tour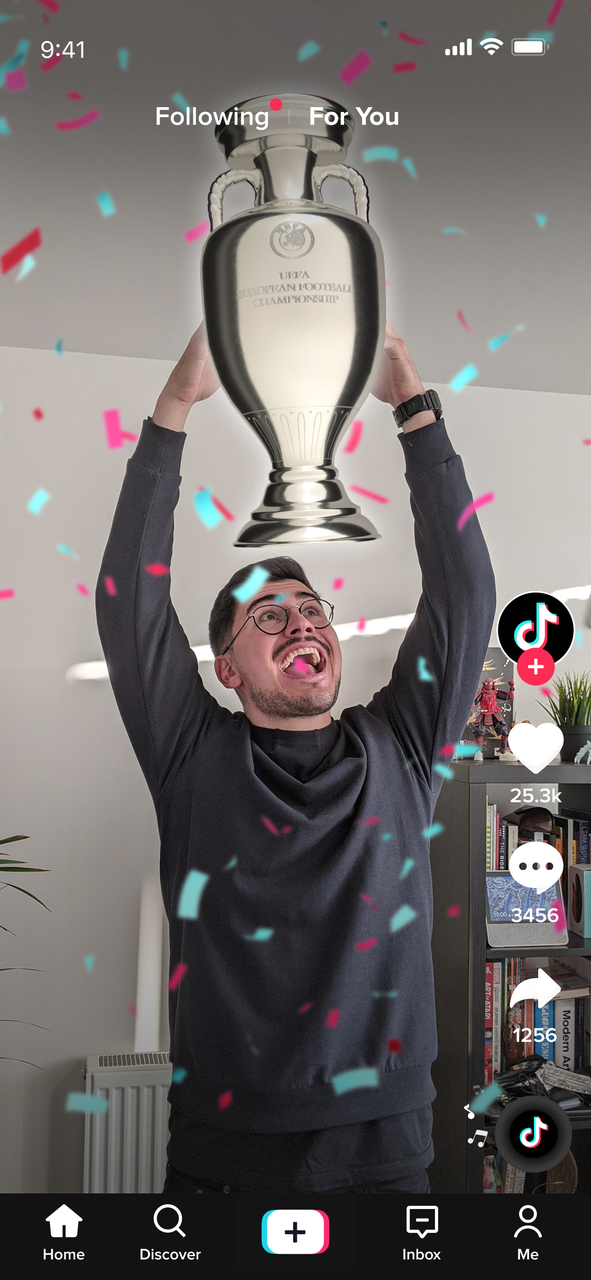 The virtual trophy tour feature has allowed TikTok users from across the world to snap a video of themselves lifting the Euros trophy as it travels through different cities across Europe. Fans have already begun using this new AR effect – so don't miss out on your chance to join in the fun.
Place the Goal
Fancy yourself as a top goal scorer? With TikTok's new goal feature, you can give your favourite strikers a run for their money. Creators will be able to use the effect to place a goal on their screen and flick an animated football straight into the back of a net.
Virtual Try-on
Wear your colours with pride this summer with this new feature. Users can select fan clothing and face paint from their favourite teams to be virtually applied to their faces and bodies. Those with split allegiances can even mix and match different colours!
Firework Scores
Set the sky ablaze with football-themed fireworks on your videos! Users will be able to celebrate victories by simply keying in the match results or their favourite team, before watching these names come to life as part of an impressive virtual firework display.
Make it a Football Team
With this new feature, users can turn anything they want into their very own football team. Simple, everyday objects – like car keys, candles, stationary and snacks – can transform into keepers, forwards, midfielders and wingbacks.
Everything can be a ball
Why stop at just a team? Users will also be able to scan any object and watch it appear as a ball on their screen. This 'ball' can be used for kicks, keepie uppies, and even for scoring goals. A powerful shot can even set the 'ball' ablaze!
VAR gesture
Regardless of your allegiance, VARs can make us all emotional. By using hand gestures, creators will be able to trigger a new video transition effect, wherein a vertical rectangle will appear on the screen, before gradually growing to fill the whole space. Users can then place a second video inside that rectangle, and watch the first video smoothly transition into the second. Now you can VAR anything!
* Methodology: based on global figures from internal TikTok research from June 2020 to June 2021