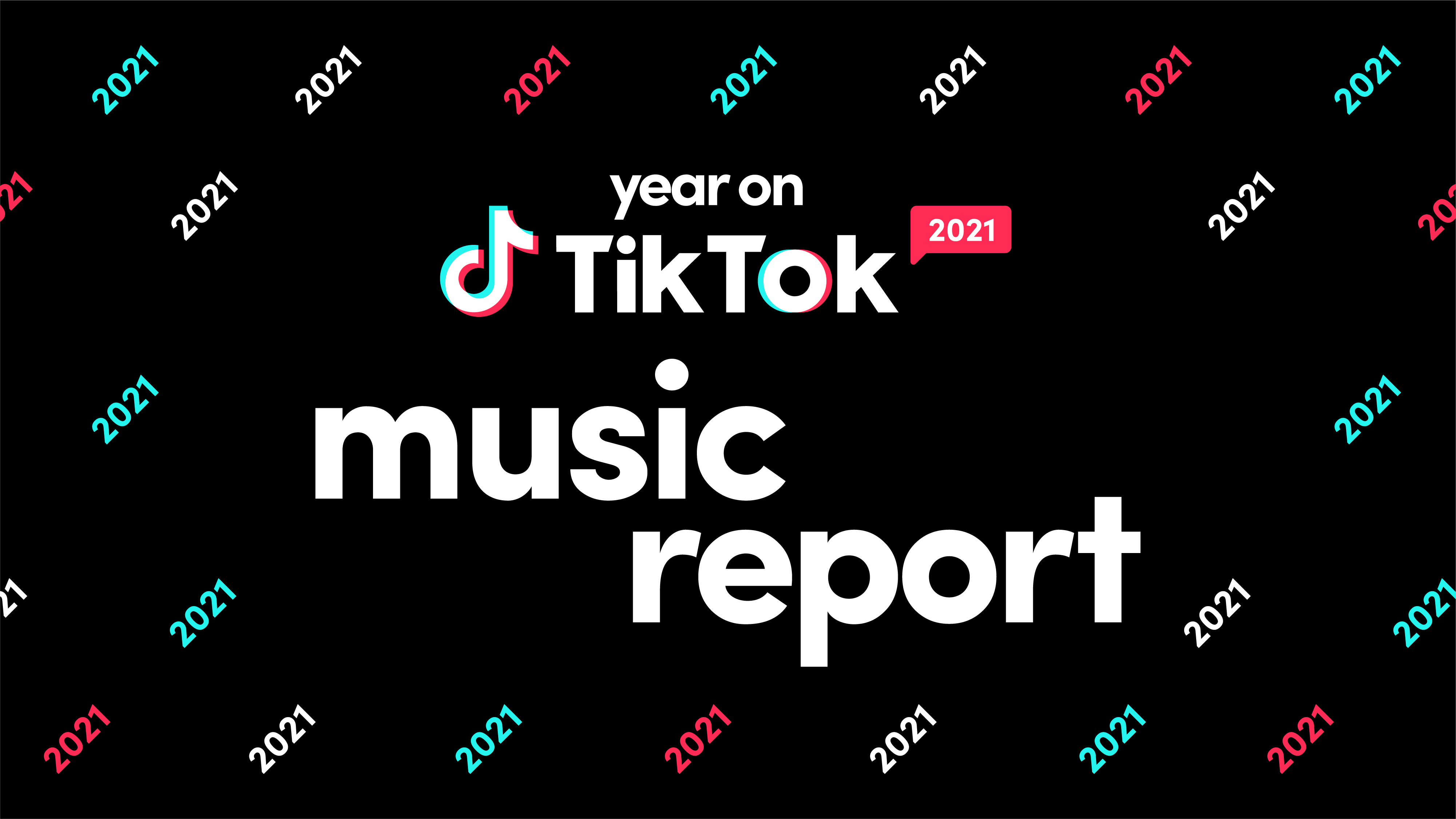 Welcome to our Year on TikTok 2021 - Music Report. It's been another big year for music on our platform and for our community and we're excited to share with you the tracks, the artists and the moments that made 2021-of-a-kind. You've already seen the most popular global track by creations and the favourites from Malaysia but now it's time to look a little closer at what happened in the last 12 months.
We started the year by welcoming the global icon David Bowie to TikTok and we never really looked back. From Abba to Ed, J Balvin to Justin Bieber, BTS+Coldplay and The Beatles too, music has been at the heart of the trends, your video creations and connected our community like never before.
We've seen established stars such as Siti Nurhaliza to new up-and-coming talent Fatia delight our community, inspire creativity and truly bring joy in all its forms.
Cheah Sheau Mei, Music Marketing Lead, South East Asia said, "2021 has been a landmark year for TikTok, our artists and partners across the world's music industry. It was a year when our artist community and sounds became even bigger and more diverse, and when fans discovered and re-discovered incredible music, both new and old. Thank you to all the artists and industry partners who have been part of our journey and the community who have used such great music in their video creations. The creativity and inspiration of our creator community and those that enjoy their content, never ceases to amaze us; we're excited to see what we can do together in 2022."
Around the world
Building on last week's Year on TikTok 2021 report, we wanted to celebrate the artists, tracks and genres that were the soundtrack to 2021.
The music on TikTok has connected the world this year in ways we've never seen before. One of our first and biggest trends was the reviving the tradition of the Sea Shanty, which began to make waves around the world this February. Scottish singer Nathan Evans, won the community's hearts and minds with rousing acapella-and-hand-percussion renditions of shanties like "The Scotsman" and "The Wellerman." The latter became a huge TIkTok hit, with users of all vocal ranges using TikTok's duet function to add their own harmonies. The #SeaShanty community is a niche, but a sizable and growing one–the hashtag has over 6.3 billion video views, and "The Wellerman" climbed the charts the world over.
Here in Malaysia, Malaysians were in a festive mood all year around as Iman Troye's 'Pejam Celik Hari Raya' had us grooving to the familiar beats of this iconic Raya song.
As we ended the year, it was the music of Africa that was taking TikTok by storm. Nigerian artist CKay's hit 'Love Nawantiti' and Somalia's Nimco Happy with her track 'I love you more than my life' really connected with our community and not just on the African continent. Bringing artists and their music together with fans all around the world is something truly magical about TikTok.
We welcomed some thousands of established music artists to TikTok as well these last 12 months: from Led Zeppelin to Rod Stewart, the late great Amy Winehouse to the wonderful Abba and their first new music in 40 years. Hit after hit, story after story, the world has discovered, rediscovered and loved the music on TikTok in 2021. Here's what was top of the pops around the world for our community's video creations: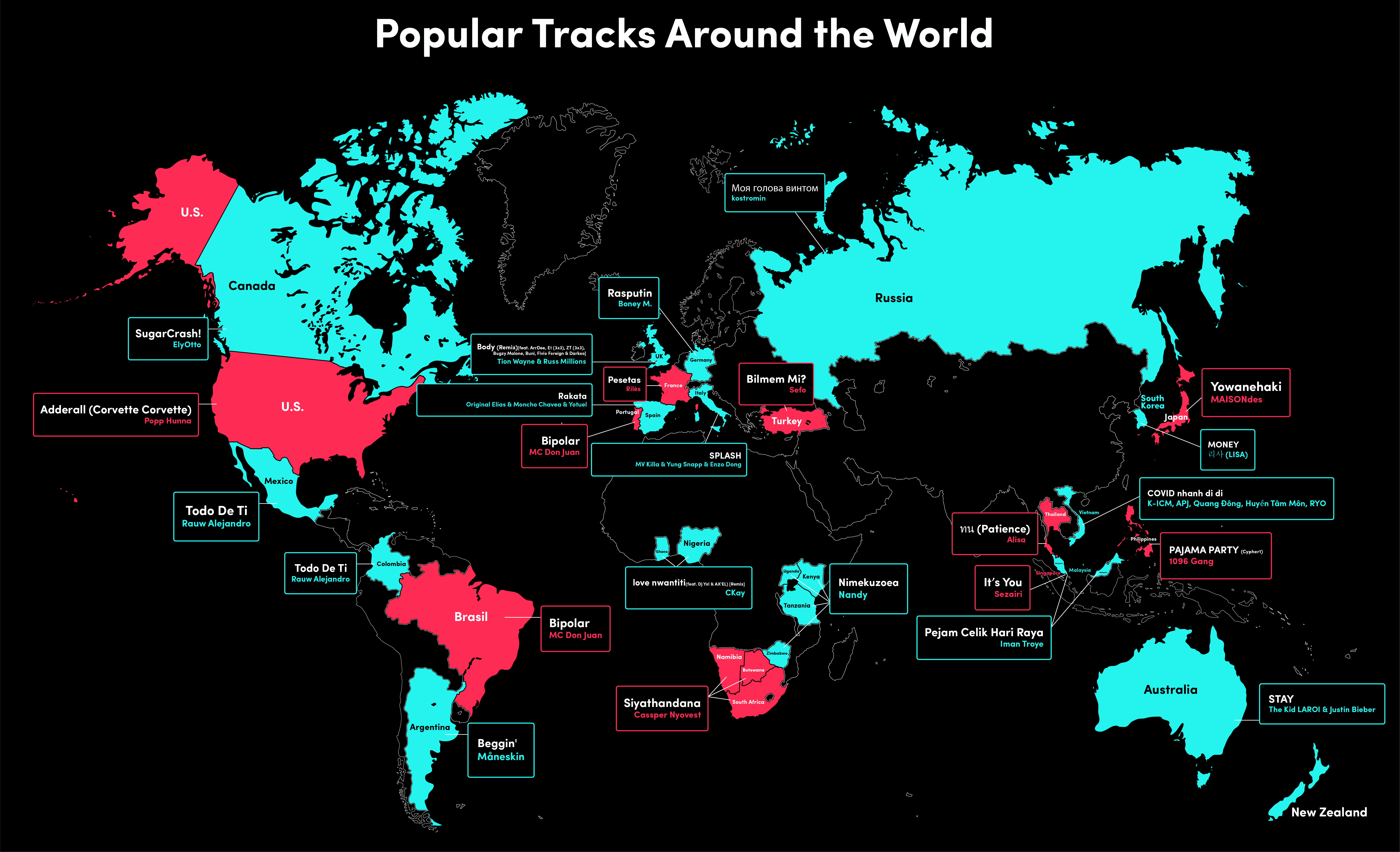 Global Top Tracks
TikTok's list of top songs for 2021 features a mix of megahits from unlikely sources strewn across the globe. Streaking across For You pages powered by irresistible dance challenges and memes, U.S. hip-hop takes up much of the global list, but the community's diverse tastes propelled pop songs from Australia, hyperpop from Canada, and ragged rock from Italy into the stratosphere.
Malaysia's very own Yuna also saw her almost decade-old hit "Lullabies" come back in full force and win over fans, new and old alike, with over 4.5 million video creations.
Here are the year's most popular songs, along with their stories:
Masked Wolf - "Astronaut In The Ocean" - Originally released in 2019 by a then-unknown rapper from Sydney, Australia, "Astronaut In The Ocean" became one of the year's biggest sleeper successes, its existential angst soundtracking millions of TikTok videos and racking up billions of views en route to a Top 10 Billboard placement.
Måneskin - "Beggin" - Capturing the hearts of a continent after winning Eurovision, Italian rock band Måneskin earned a surprise TikTok smash with their cover of Frankie Valli's 1967 hit.
Popp Hunna - "Adderall (Corvette Corvette) - A dance challenge propelled Popp Hunna's fast-paced heater to trending status for months on end, as the song launched from the streets of Philadelphia to far corners of the globe.
ElyOtto - "SugarCrash!" - Expressing conflicting emotions with saccharine synths and abrasive auto-tune, "SugarCrash!" turned Canadian 17-year-old ElyOtto into a household name–his song reflects the TikTok community's deep love for hyperpop.
The Kid Laroi & Justin Bieber - "STAY" - The Kid Laroi was highlighted by TikTok as an Emerging Artist after his success on the platform in 2020 and he more than made good on his promise in 2021. Laroi revealed "STAY" (partially penned by TikTok-beloved Charlie Puth) as a snippet on TikTok months before its official release–building enough momentum to earn a featured spot from Bieber and eventually topping the Billboard Hot 100 for seven non-consecutive weeks (and 11 weeks topping the charts in his homeland of Australia).
Oliver Tree - "Life Goes On" - One of the year's fastest-growing and most effortlessly shareable stars on TikTok scored a hit with this vibey and infectious pop jam.
Erica Banks - "Buss It" - TikTok loves Texas rap–Erica Banks put Dallas on the map with her sultry, Nelly-sampling slapper.
YungManny - "Clap For Em" ft. Flo Milli & Sada Baby - Two breakout TikTok heroes from 2020 helped a buzzing Maryland teenager raise his profile when they hopped on "Clap For Em."
Megan Thee Stallion - "Cognac Queen" - Once again the queen of all she surveys, it was clear that Thee Stallion wouldn't be denied a spot on this list.
Cardi B - "Up" - Megan's "WAP" duet partner struck TikTok gold with her only solo single of 2021–don't be surprised if she places a song even higher on 2022's list.
Yuna - "Lullabies" - Though released in 2012 on her first international album, Yuna's Lullabies saw a reemergence and steady growth in popularity throughout the years.
dhruv - "Double Take" - Another older song to see success in 2021 is this 2019 sleeper hit by Dhruv, who draws from his roots and upbringing in Singapore, India and the UK to take over the international charts.
And here is the full TikTok's Global Top 20 tracks for 2021: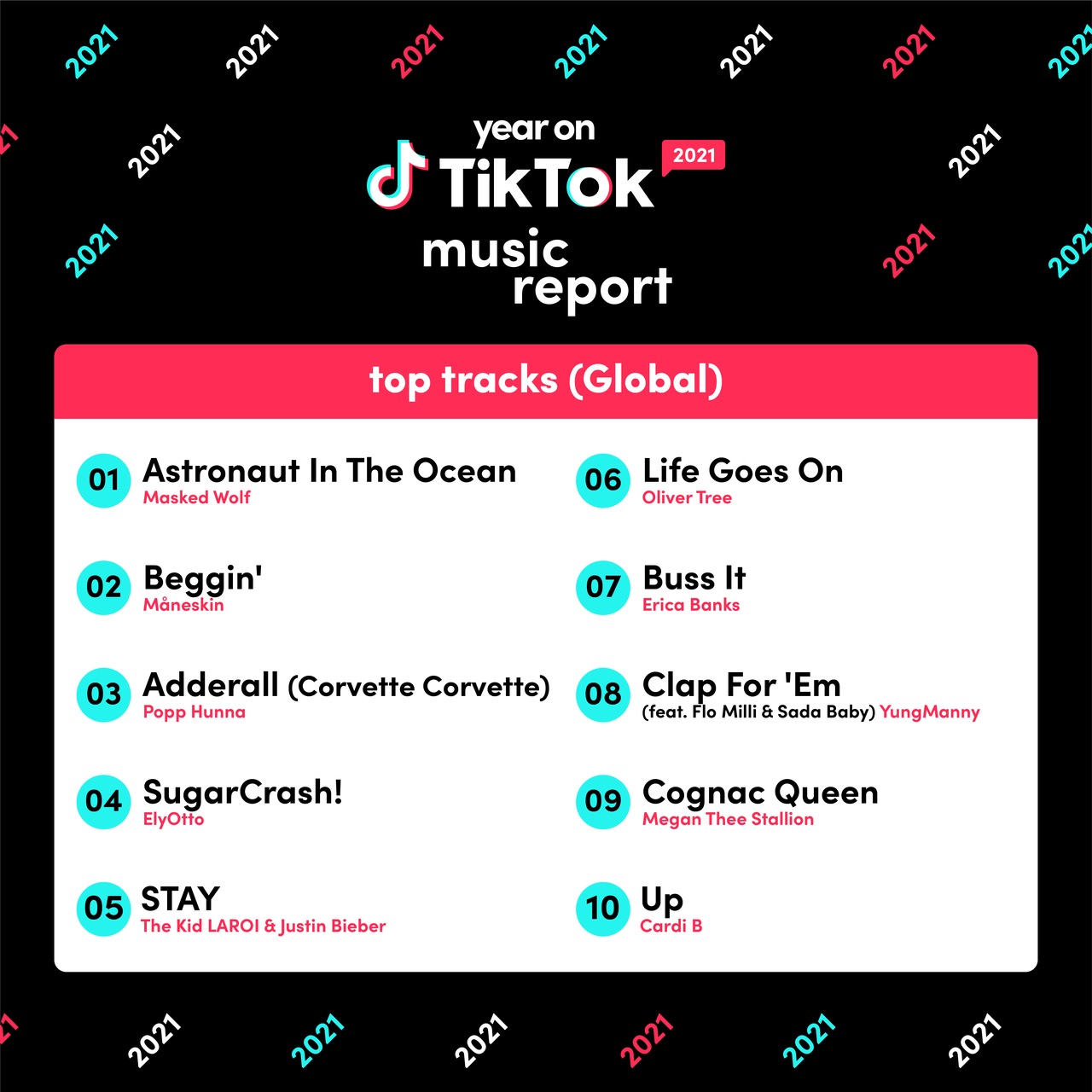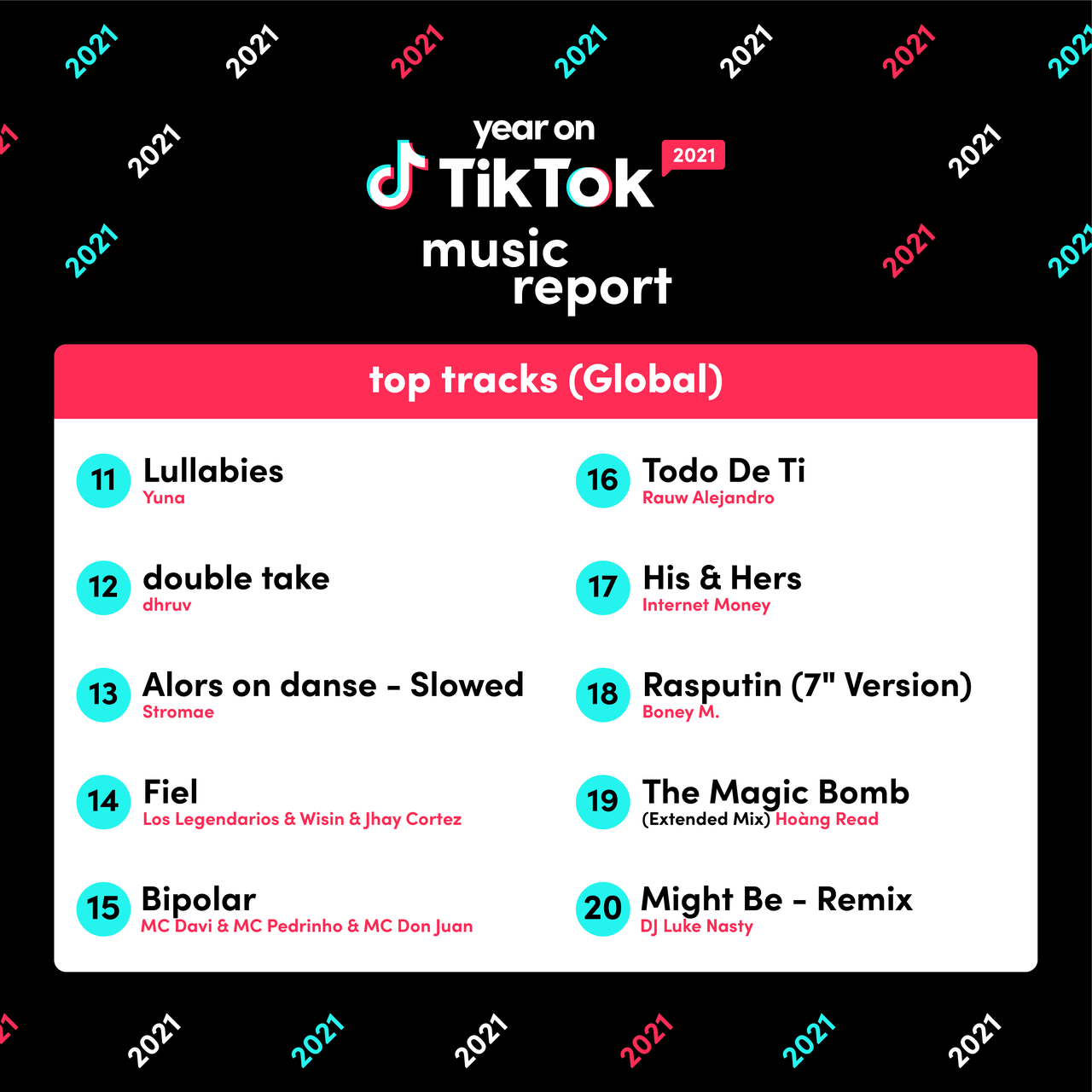 For more of the latest trends and content, check out the rest of Year on TikTok 2021 here.