Connect virtually and go LIVE with new expanded features on TikTok!
There's something magical about watching a musician perform live, hearing a Q&A from a new author, or meeting an actor at the stage door following a show. Those experiences have shaped much of the way TikTok entertained today, and with the expansion of the suite of features under TikTok LIVE, TikTok wants to give people the tools to bring that same level of connection to a worldwide audience and allow creators and viewers to interact in real-time.
"Livestreaming has become an integral way for creators and viewers to connect authentically, and over the past year the number of people going LIVE and watching LIVE has doubled. We greatly value the stories from our community about their experiences and want to empower creators with unique and innovative tools that inspire content creation, foster connections with audiences and encourage exploration. The excitement and engagement from the TikTok community is why TikTok continue to invest in new features to aid in safely discovering, creating, and consuming LIVE videos," said Darren Quek, Strategy Content Manager, TikTok Malaysia.
TikTok LIVE has brought together a global community with recent experiences such as an innovative concert experience with The Weeknd, an around-the-world museum tour to explore art and culture, and the recent TikTok Music Night Asia #UrbanBeats featuring Malaysia artists Yonnyboii, Zynakal, ASYRAF NASIR, and Bunga Isme.
LIVE Events
Recently launched in select markets, LIVE Events is a new tool that lets creators schedule, manage and promote LIVE videos. While viewers can easily discover, register, get notifications and receive a reminder when the LIVE is about to start, LIVE Events is a great way for creators and fans to easily connect ahead of an upcoming LIVE stream. From musicians and artists to non-profits and museums, the possibilities for LIVE Events are endless.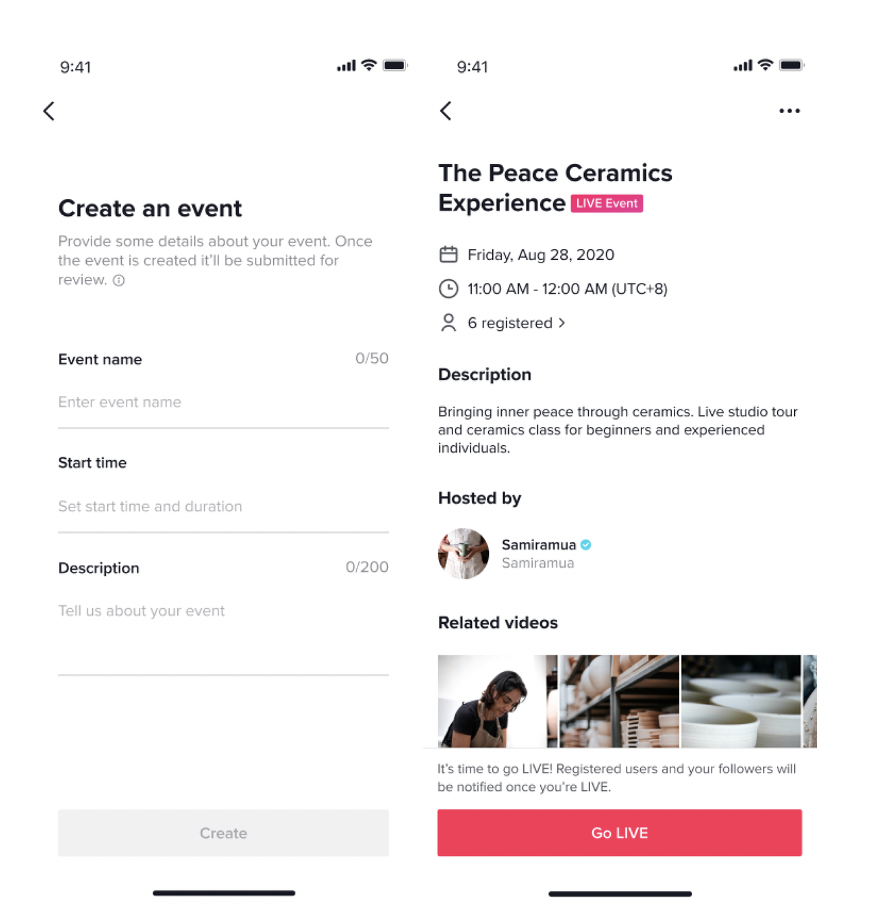 Picture-in-Picture
You won't want to miss any of the excitement from a real-time LIVE stream – but what happens if you are in the middle of watching a Q&A or performance and the group chat is blowing up? Instead of missing a second of the stream, TikTok users can seamlessly continue watching LIVE videos across their device with Picture-in-Picture on iOS and Android.
Go LIVE Together
The world is full of dynamic duos: Charli and Dixie, Gayle and Oprah, Beyonce and Jay Z – the list goes on – and your next favorite duo might come from a LIVE video. Go LIVE Together gives people the ability to easily go LIVE through Go LIVE Together. This means more chances for LOL inducing interactions, twice as many behind the scenes reveals, and more ways to connect with top creators.
LIVE Q&A
With LIVE Q&A hosts are able to easily engage with and respond to viewer's questions in realtime. The LIVE Q&A suite of tools helps hosts more easily select, showcase, and answer questions from fans while LIVE. This leads to more entertaining experiences and deeper connections for everyone tuned in to the stream.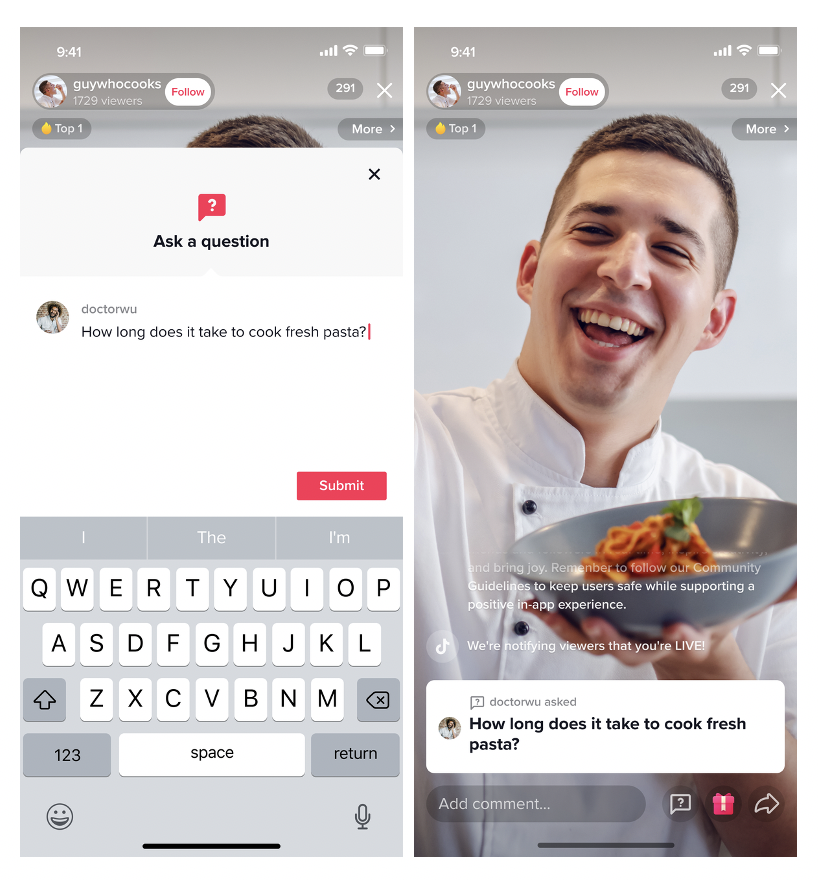 Top LIVEs
Discovery is at the heart of the TikTok experience. Rolling out soon, people will be able to more easily find and tune into LIVE videos conveniently from the For You and Following pages. Some of the top LIVE categories include Chat (Q&A), Gaming, Talents, Fashion, and Daily Life, and with updated access points to the LIVE page, Top and Recommended LIVE videos will soon be closer than ever.
Help for Hosts
To help hosts focus on entertaining and engaging the community, they can now, ahead of a livestream, assign a person they trust to help them manage their streams by tapping Settings on the right side of the livestream launch screen. During the LIVE, both the host and the person helping can mute and block users to help keep the stream welcoming and civil.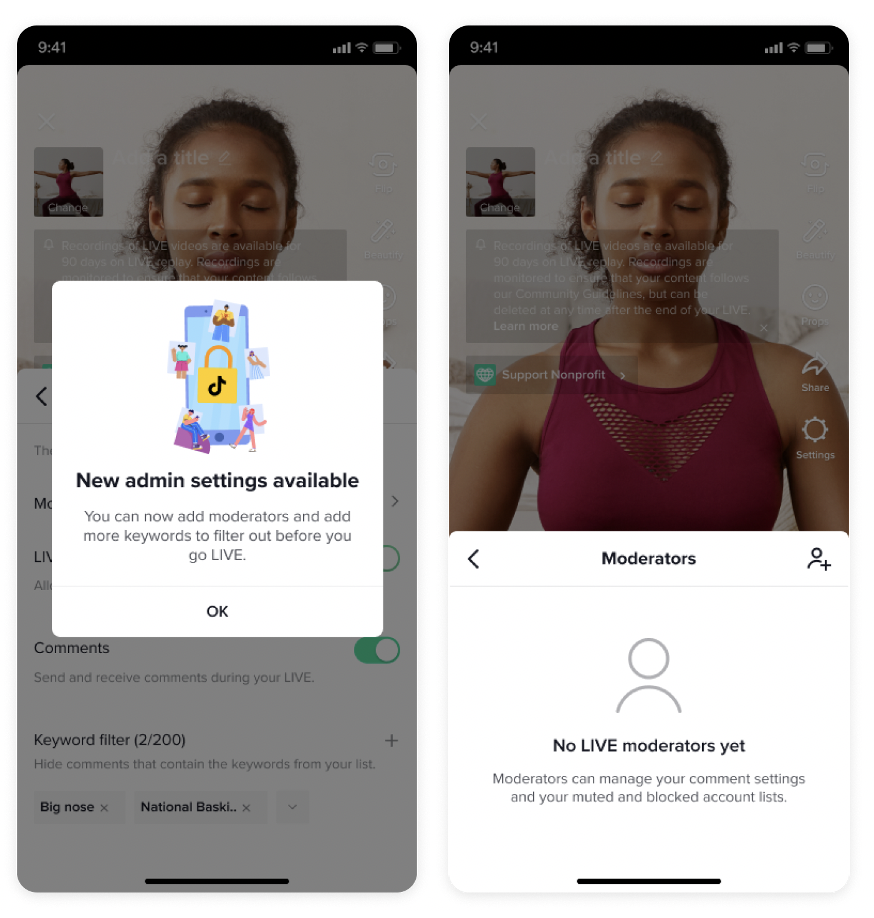 Keyword Filters
As LIVE provides creators the opportunity to share more of themselves with the TikTok community, our goal is to help people feel comfortable doing so, which means taking a hard stance against bullying or hateful comments. TikTok is mindful that some comments or words may seem innocuous to some but are hurtful to others. To protect against this, in the settings tab of the LIVE launch screen, hosts can turn off comments or add up to 200 terms into the keyword filter to limit those comments in the chat. Words can be added to the list throughout the livestream by hosts and the person helping them.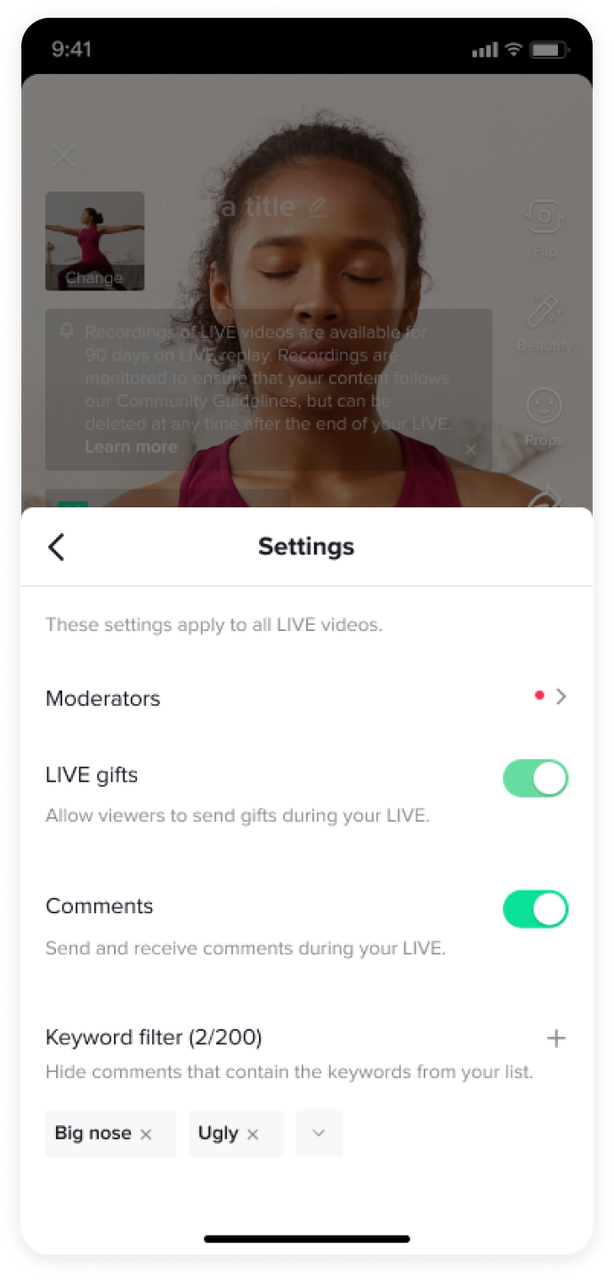 Consider Before You Comment
Once a livestream starts, TikTok want creators to be able to focus on entertaining their viewers. Because negative or abusive comments undermine the passion and energy creators put into their livestreams, viewers will now be prompted to reconsider the impact of their words before posting a potentially unkind or harmful comment.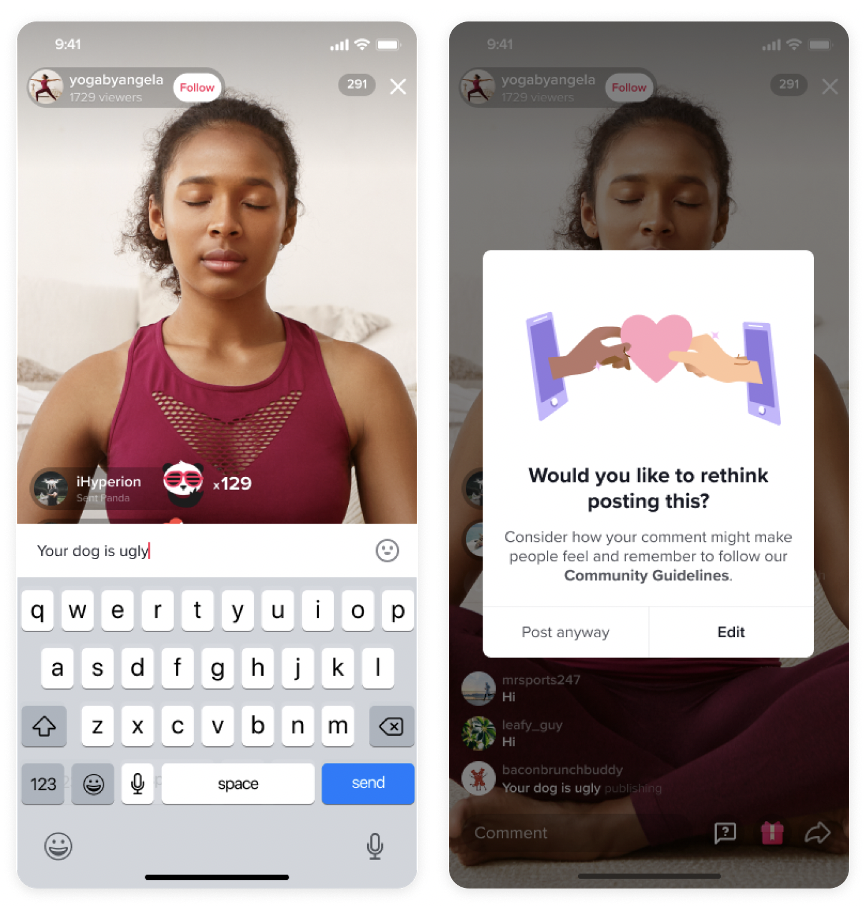 In the coming weeks, TikTok will also introduce a way for hosts and the person helping manage their LIVE to temporarily mute viewers or delete unkind or harmful comments as TikTok strives to maintain a supportive and authentic community environment. This is also why TikTok will have additional safeguards and policies for LIVE, including requiring accounts to be 18 or older to host a livestream. TikTok also prohibit gift-baiting (the solicitation of gifts or engagement) as well as fraudulent behavior or scams. Further, if TikTok identifies an account that impersonates or misleads our community about their identity, TikTok will remove the account from our platform.
TikTok is committed to maintaining the joyful, supportive, and inspiring community that exists on TikTok while building new relationships with more creators, artists, brands, and viewers through products like TikTok LIVE. Whether on the For You Page (FYP), scrolling through the Discover Page, or watching a TikTok LIVE, TikTok is excited about the possibilities of expanding the platform to an ecosystem at the center of entertainment, the creator economy, and technology.