TikTok will be shining a light on women's rugby during the 2023 TikTok Women's Six Nations, as the platform's title sponsorship of the Championships enters its second year.
Building on the partnership's success in 2022, TikTok will once again take rugby fans behind-the-scenes of Europe's showpiece rugby tournament, helping the women's game reach new audiences within TikTok's community of 150 million monthly users across Europe. 2022 was a significant year for women's rugby as TikTok became the tournament's first-ever title partner. Last year's Championships smashed all attendance records for women's matches with a 69% increase in stadium support, while unprecedented TV audiences watched in 137 countries thanks to significantly ramped up broadcast coverage. There were more than 100 million video views on the @TikTokW6N TikTok channel and 110,000 new followers.
TikTok's official #SixNationsRugby Search Hub will house a wealth of rugby content in-app throughout the TikTok Women's Six Nations, surfacing the best match highlights, training ground footage, fan reactions, creator content and more. The global TikTok community can also get involved by taking part in bespoke challenges, including using exclusive archive footage to create their own videos using the Split Screen and Duet tools on the platform.
Creators also played a major role in bringing the TikTok Women's Six Nations to new audiences within the TikTok community, from Jemma Norton (@theproplife)'s behind-the-scenes content, to Amy Humphries (@rugbywithamy)'s rugby hacks and relatable sketches.
Rich Waterworth, General Manager, Operations Europe, said: "As the first title partner of the Women's Six Nations, we are incredibly proud of our continued partnership with the competition. It has been fantastic to watch the growth of the women's rugby community on TikTok over the past year, with the #womensrugby hashtag now standing at more than 400M views. Our creators have played a key role in building this community, spotlighting all aspects of the game and sharing their rugby journeys in an authentic and inspiring way. This year we want to continue playing our part in raising the profile of the women's game and making it even more visible to a global audience."
TikTok's Swipe Out Hate campaign also returns for the TikTok Women's Six Nations, with the aim of protecting rugby fans on TikTok from those who spread hate and division. To elevate Swipe Out Hate even further, Union captains will front the campaign alongside TikTok creators for the first time, explaining what respect and sportsmanship means to them and sharing how people can report hateful content. The campaign will also appear on billboards around the stadiums and in print and online. Read more in our Community Guidelines.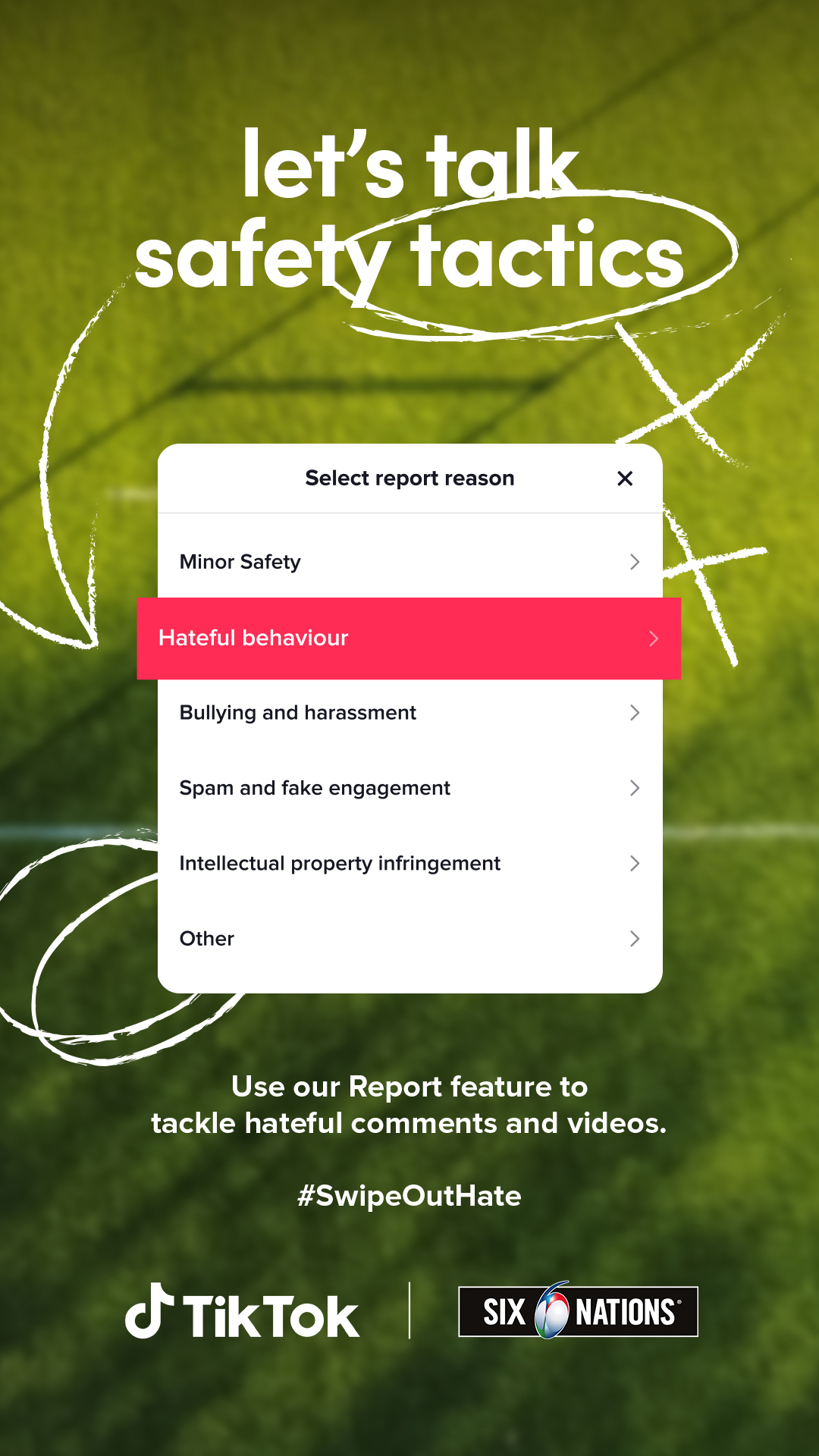 The 2023 TikTok Women's Six Nations kicks off on 25 March when England start their title defence against Scotland, as Italy take on France and Wales play Ireland. Follow @womenssixnations for all the action.
Creators to follow