Start of a new chapter as TikTok Shop UK partners with HarperCollins UK, WHSmith, Bloomsbury and Bookshop.org to launch new Books category
TikTok is excited to announce a partnership with publishing house Harper Collins and retailers WHSmith and Bookshop.org, which have become TikTok Shop UK merchants, as part of the new product category launch of Books on TikTok Shop UK.
The move enables book lovers to buy a range of titles from both brands, alongside online retailer Bookshop.org and educational publisher CGP Books, all without leaving the TikTok app. The partnership will also tap into Bookshop.org's network, of large, established publishers like Bloomsbury Books, and independent bookstores. Booksellers, such as Ibadah London and Lowplex Books, will also reach new audiences through TikTok Shop.
These new tie ups build on the success of #BookTok, TikTok's thriving reading and literary community which has fast become one of the most popular hashtags on the platform, reaching over 88 billion views to date. #BookTok has consistently driven off-platform sales for publishers and titles such as The Song of Achilles by Madeline Miller, while propelling emerging authors into to the mainstream. Now, in addition to sharing book reviews and finding the latest 'must-reads' from BookTok creators, the TikTok community can purchase new releases, old classics and cult favourites directly via TikTok Shop, making TikTok a one-stop destination for all things books.
As part of the launch, TikTok will work with a number of creators including Laurens Little Library (@laurens.little.library) and A.P Beswick (@a.p_beswick_author), to grow the BookTok community further and encourage more people to find a place for reading in their daily lives.
This follows a number of activations and partnerships for TikTok's growing community of book lovers. TikTok recently announced an exclusive new partnership with Hay Festival, to help bring the world's leading arts and literary festival to new and diverse audiences. TikTok has also worked with household names such as Jamie Oliver (@JamieOliver) and Gordon Ramsay (@GordonRamsayOfficial), and much-loved creators like The Folding Lady (@thefoldinglady), to help engage the BookTok community and sell their new releases via TikTok Shop.
TikTok Shop Senior Director of eCommerce Patrick Nommensen, said: "It has been incredible to witness the BookTok community sharing its passion for reading, and reshaping the publishing world in the process.
"With these new partnerships, we're delighted to be making it even easier for book lovers to buy the latest BookTok recommendations without ever leaving the TikTok platform, whilst also providing new avenues for publishers both large and small to reach their audiences. We look forward to welcoming more merchants on to TikTok Shop UK in the future, as our platform continues to evolve as the ultimate destination for books and literature."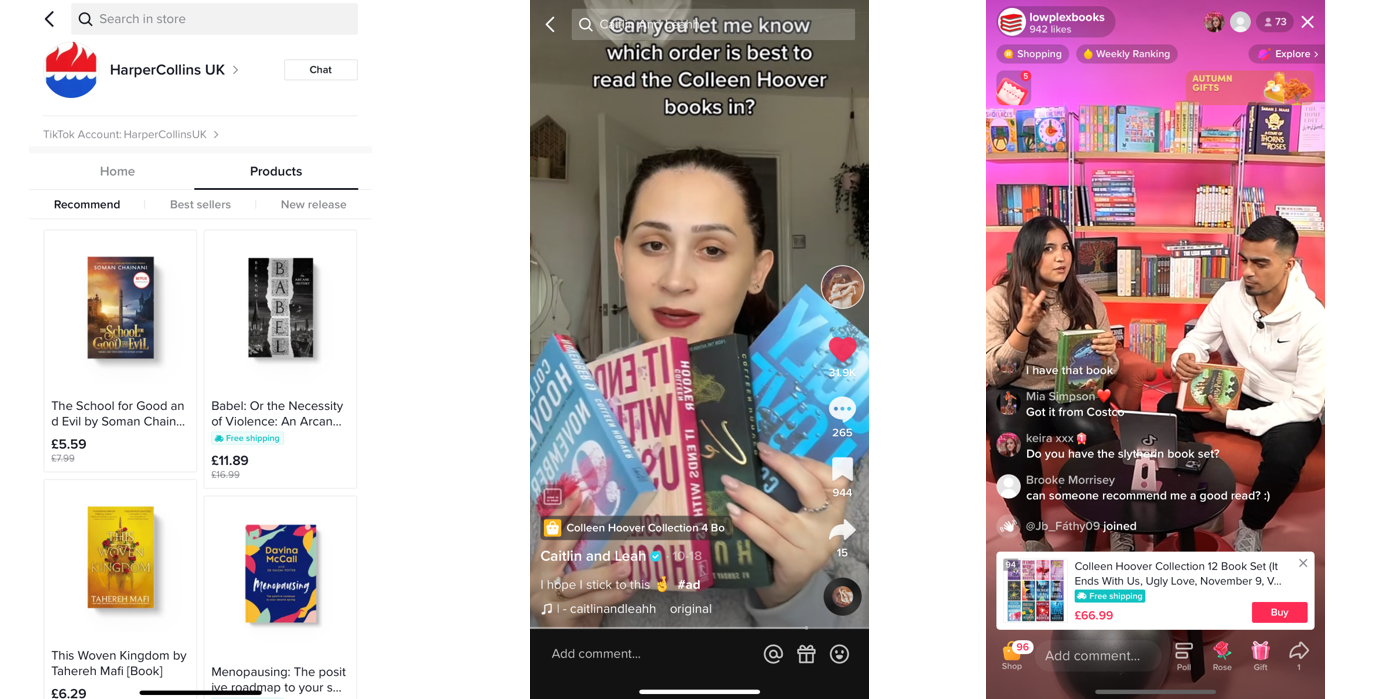 Jo Surman, Group Digital and Technology Director, HarperCollins UK, said "At HarperCollins UK, we are constantly striving to reach new readers and tell our authors stories on as many platforms as possible, so we've really enjoyed the last year working with TikTok and our authors to create content, engaging with the thriving TikTok community. Now being able to offer them the chance to buy our books - from Holly Jackson's 'A Good Girl's Guide to Murder' to Alice Oseman's 'Nick and Charlie' - directly from within the platform was the natural next step and we are excited about the possibilities".
Milly Mitchell, Head of Marketing at WH Smith, said: "WHSmith is delighted to launch a partnership with TikTok Shop as part of its ambition to deliver an omnichannel solution for all customers, making it easy for everyone to access our range across every channel. The partnership also presents a new and exciting opportunity for WHSmith to engage and develop a meaningful relationship with TikTok's community audiences and BookTok creators and to service all their reading needs through the provision of current and relevant book ranges."
Nicole Vanderbilt, Managing Director at Bookshop.org, said: "Bookshop.org's mission is to support independent bookshops and to help them get a greater share of the growing online book market. We're pleased to be partnering with TikTok Shop – not only to give BookTokers and their communities another way to buy from their local independent through Bookshop.org, but also to help booksellers enhance their own BookTok skills."
Brigid Nelson - Sales Director, UK Sales, Bloomsbury, said: "Bloomsbury is delighted to support TikTok in their launch of the books category on TikTok Shop. We've seen first-hand the phenomenal, unstoppable effect of BookTok on sales, and it's even more exciting to see this relationship evolve in a way that makes it easy for readers to buy within the app. On the back of the endless wave of love (and tears) for Madeline Miller's The Song of Achilles, we're championing independent bookshops by encouraging BookTokkers to purchase the gift edition from Bookshop.org's TikTok Shop."
Leila Miller, Commercial Director, CGP Books, said: "As the UK's No.1 Educational Publisher, we're excited to be working with TikTok. The platform is proving to be a great fit for our brand and we're looking forward to establishing a new sales channel for our bestselling titles on TikTok Shop."
Rashid Thadha, CEO, Lowplex Books, said "TikTok Shop gives us smaller book companies the opportunity to belong to a much wider community known as "BookTok" which allows us to communicate and share our products in a way that lets us be as creative as we like. This allows us to grow at a pace like never before due to the sheer size of the customer base within the TikTok BookTok community. This gives us uncapped opportunities."
Mariam Manawer, Founder, Ibadah London, said: "TikTok Shop has been great for a small business such as ours. As it has allowed us to showcase our products to a whole new audience worldwide. The support and advice has been very welcoming and forthright and we look forward to growing our product range and reach within TikTok Shop".
A.P Beswick, Indie Author, said: "Opening my TikTok 'book shop' as an indie author has helped me to build a great relationship with my readers. People can buy my books directly from me after watching one of my videos. My platform has grown consistently through the year and so has my audience. TikTok and TikTok shop is genuinely changing my life, as well as the self-publishing landscape".