Who is your hero? Your neighbour, colleague or just someone in your community?
Your hero could be anyone special to you.
😇
This year, we have seen exceptional people in our everyday lives. From frontline workers, NHS doctors, nurses and hospital staff to bus drivers, rubbish collectors, posties, supermarket workers and teachers... There have been heroes all around us.​
Whoever your hero is, wherever they may be, we want to celebrate them.
That's why we've teamed up with Ant & Dec's Saturday Night Takeaway to bring you "Happiest Minute Heros". Each time Ant & Dec tell you about their Happiest Minute of the Week, they'll be celebrating a special Happiest Minute Hero from TikTok.
We're calling on you to shout-out the hero in your life by creating a TikTok that shows us why this person is so special to you.
From juggling to song-writing, or even your best PJ & Duncan impression, we want you to get creative!
We'll judge the most inspiring, heartwarming, and down right hilarious entries which will make up our minute-long video celebrating these amazing people. Your extraordinary, everyday heroes.
The best entries will be shown to the nation on Ant & Dec's Saturday Night Takeaway, and you never know... There may be more surprises in store for you and your hero.
Get involved by making your TikTok video, using #HappiestMinuteHeroes and submitting your entry to ITV.com/heroes
For you, for them, for all of us (because after this year, boy do we need it!)
You can find more information over on @itvtakeaway or at itv.com/heroes. Happy creating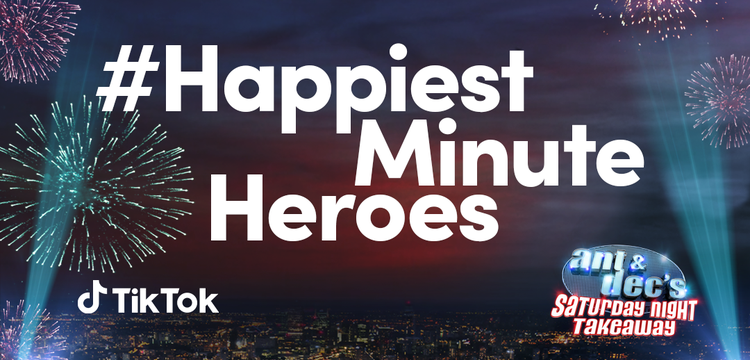 18+ and UK residents. ITV T&Cs apply.
New to TikTok and keen to celebrate your Happiest Minute Hero? Getting involved couldn't be easier, simply download the app for free via the Apple App Store, Google Play or Amazon.