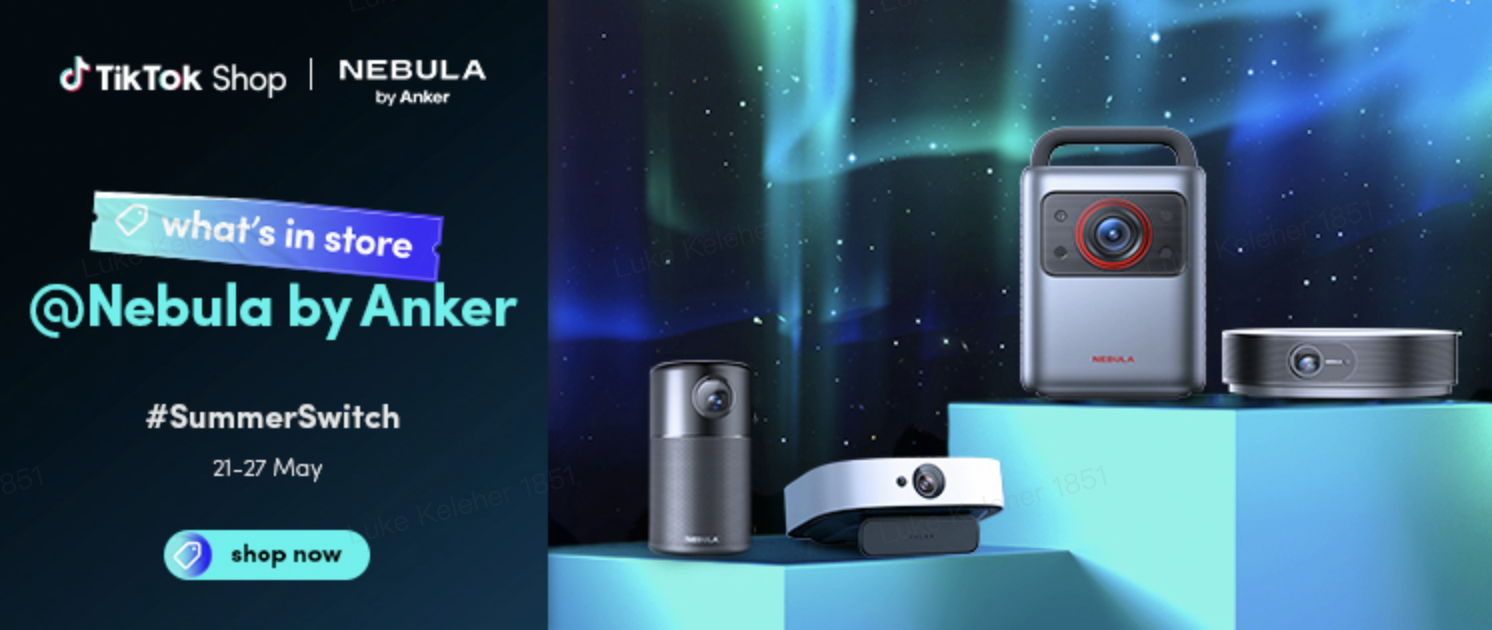 At TikTok Shop, we're celebrating a summer of entertainment with the #SummerSwitch campaign in partnership with Anker, featuring LIVE shopping events, challenges, and a great roster of creators showing us how they're keeping the party going this season with Anker. Our community can get involved in our Hashtag Challenge, #SummerSwitch, by creating content to show how they "switch on summer" using Anker's products, either by turning on a projector to bring summer home, or turning up the volume to celebrate summer with music.
TikTok is the home of entertainment, with so much inspiration from our community to create incredible experiences and make memories. Let your imagination run wild with Anker's Nebula projector and create your very own backyard cinema, family movie night or have your own Grease moment with a DIY Drive-in. Anker has all of the gear to set up for a summer fully-loaded with entertainment.
Founded in 2011, Anker has fast established itself as an innovator in charging solutions, and is bringing the same spirit to a number of exciting spaces including audio, entertainment and all the gear you need to propel your home into the future.
Its Nebula projector boasts built-in speakers, Dolby sound and Android TV 10 streaming capability, so it's no wonder that it's already scooped up a ton of awards. The Cosmos Laser 4K has 4K UHD quality and 2,400 ISO Lumens, which is so bright you can watch with the lights on - perfect for entertaining all Summer.
From the 21st to the 27th of May, we're teaming up with some of our top TikTok Shop UK creators to take you through all the awesome features, showcase trending products and give their take on how Nebula is helping to switch up their home entertainment this summer.
Take a look below for a sneak peak at some of the LIVE events you won't want to miss:
May 21st
@lopwert - 12:00 - 14:00
@ankeruk 14:00 - 22:00
@richardsalesofficial - 12:00 - 14:00
@daveanica - 16:00 - 18:00
@danz_world - 18:00 - 21:00
May 22nd
@heytechman - 15:00 - 17:00
@mycozyhomeinuk - 15:00 - 17:00
@turkish_tam - 18:00 - 20:00
@danspraggofficial - 18:00 - 20:00
@richardsalesofficial - 19:00 - 21:00
May 26th
@ankeruk - 17:00 - 21:00
Don't forget - you can follow the campaign and keep up with the action by following @ankeruk and @seenebula
Want to join our next campaign and start selling on TikTok? Get started on TikTok Shop UK right here: https://shop.tiktok.com/merchant/en