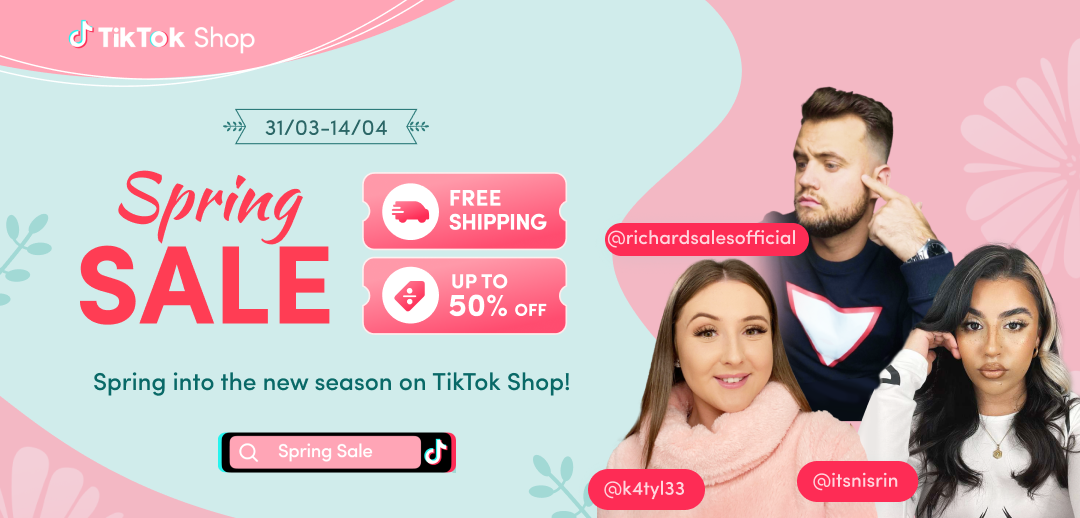 Pack up your jumpers, winter skincare and fluffy blankets, Spring has officially arrived in the UK and that means one thing: it's time to transition your wardrobe, beauty routine and home decor from winter to spring!
From the 5th till the 14th of April, TikTok Shop UK invites its community to discover and shop all of the Spring new trends and products with its Spring Sale campaign with discounts up to 50%! Whether you are looking for your new beauty essentials, must have fashion items, easy upgrades for your living space or latest tech for your upcoming weekend trips, you will be able to shop them on TikTok, directly through in-feed videos and LIVE shopping of your favourite brands and creators!
Throughout the week, there will be more than 80 shoppable LIVEs and multiple shoppable videos. The TikTok community will be able to find them by simply searching for "Spring Sale" or #hellospring. Discover a little teaser of what's to come:
5-6th April - Fashion & accessories: from quirky, independent local brands such as Tomm Jewelery or That Type Boutique to retailers such as In The Style, ISAWITFIRST or Public Desire who will offer TikTok exclusive SS22 styles with sister company Kaiia The Label, tune in to shop the hottest trends, occasion wear and latest drops!
7-8th April - Spring Essentials: From unpacking the hottest products in the electronics world with tech expert @tech_on _trend, to getting hold of some Pokemon cards with @pokemonclub_0, discovering how to get curls of dreams with @eternalmusehair and shopping @mydailymakeup spring beauty routine, there will something for everyone.
9-10th April - Home and Living, Food: from small projects with big impact for the home, easy upgrades to your living space to Easter gift ideas and long weekend food inspiration, discover and shop all your must haves!
11-12th April - Beauty: discover how to transition your skincare routine and shop the biggest makeup trends and new essentials with creators @k4tyl33, @eloisefouladgar, @yazhadfiled, @hollyb_fitness from brands such as @lookfantastic or L'Oréal
12-13th April- Tech: tune in to watch the unboxing, product testing and demonstrations of top tech products, games and smart home gadgets with @xiaomiuk and @ebuyerofficial .
Want to start selling on TikTok and join our next campaign? Get started on TikTok Shop here: https://shop.tiktok.com/merchant/en