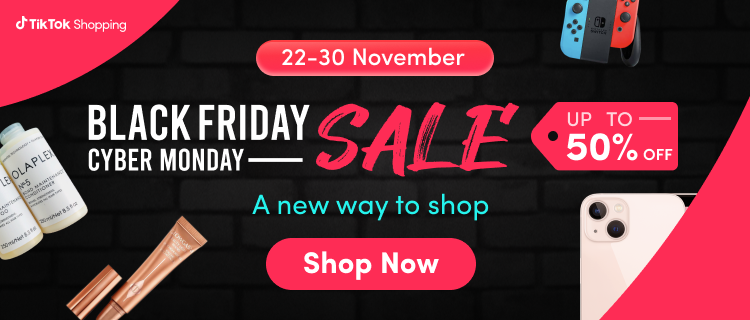 Did you know you can shop on TikTok? Well now you can, and you're invited to an incredible Black Friday event in the UK on TikTok, running from 22-30 November.
From hashtags like #AsSeenOnTikTok to #TikTokMadeMeBuyIt, TikTok has fast become a destination for people discovering the biggest trending beauty and tech products.
But it's no longer just about discovery. Brimming with new #beautyhacks, creative #makeuptransformations and honest #techreviews, there's no better place to 'try before you buy' thanks to our creative community of over 1 billion people around the world. And just one week from today, we're excited to be hosting an incredible shopping experience for our community.
In the UK only, on each day from Thursday 25 until Tuesday 30 November, there will be a number of LIVE shopping events on TikTok for our community to take part in and bag some special offers on some incredible products.
We have a jam-packed schedule of shopping LIVEs featuring your favourite creators and brands, coming together for entertaining shopping experiences like you've never seen before. Our community should keep an eye out for extra special events and offers on Thursday 25, Saturday 27 and Monday 29 November especially!
With a dedicated 'Black Friday' home in TikTok UK's Discover page from 22-30 November, you can also check out some special 'Holiday Gift' guides in app, as well as take part in the 'Lucky Draw' for special prizes during the period.
Check out what's in store this Black Friday
From cult-classic beauty retailers and brands such as LOOKFANTASTIC, Charlotte Tilbury, Elemis, M.A.C. and L'Oréal to the coolest tech products like the iPhone 13, PS5 and Nintendo Switch, our community will be able to shop the hottest products with discounts of up to 50% off exclusively on TikTok.
By combining the creative, entertaining content TikTok is known for with the biggest names like Charlotte Tilbury, Montana Brown, Charlotte Crosby and TikTok creators Mcloughlin Girls and Arkitechnology, we will be creating a new kind of shopping experience that brings together all your favourite parts of discovering and buying new products, with a TikTok twist.
There will be incredible discounts off trending products on TikTok across Black Friday from retailers including:
LOOKFANTASTIC (@lookfantastic)
Charlotte Tilbury (@ctilburymakeup)
Justmylook (@justmylook)
Maplin (@maplin)
LIVEWIRE (@efones.com)
Ebuyer (@ebuyerofficial)
Unineed (@unineed)
Xiaomi (@xiaomi.official)
The.Beauty.Channel (@the.beauty.channel)
Featuring products from brands including:
Nintendo
Sony
Razer
Kaiser Baas
Xiaomi
Samsung
L'Oréal
YSL
OLAPLEX
Lancôme
Estée Lauder
Bobbi Brown Cosmetics
Elemis
NARS Cosmetics
NYX Professional Makeup
M.A.C. Cosmetics
Plus, shoppers can also bag themselves free shipping by tuning into and shopping from the series of exclusive LIVE shopping events. And, don't forget to show us your very own Black Friday haul, using the hashtag #AsSeenOnTikTok!
How to shop on TikTok
Our community can access these special Black Fiday LIVEs either through their For You feed as they scroll on TikTok, in the Discover page, by using the search box to look for 'Black Friday Sale' or the #AsSeenOnTikTok Hashtag Challenge.
Black Friday shopping days are on 25-30 November, with products being sold by retailers and brands directly on TikTok. When you see a Black Friday LIVE, you can click on the Product Link in the bottom left corner of the LIVE to see more about that product and options to buy. You can also click on the host page's Profile to access the Shop tab directly in their account and browse all products for sale.
You must be over 18 and have a valid credit or debit card to purchase products on TikTok. Click on the products you wish to buy to add them to your basket. Enter your shipping details, followed by payment information using either a credit/debit card or Apple Pay. With free shipping on products purchased during the Black Friday LIVEs, you'll get your purchases from the seller right away.
New to TikTok and want to explore more trending products? Getting involved couldn't be easier, simply download the app for free via the Apple App Store, Google Play or Amazon.