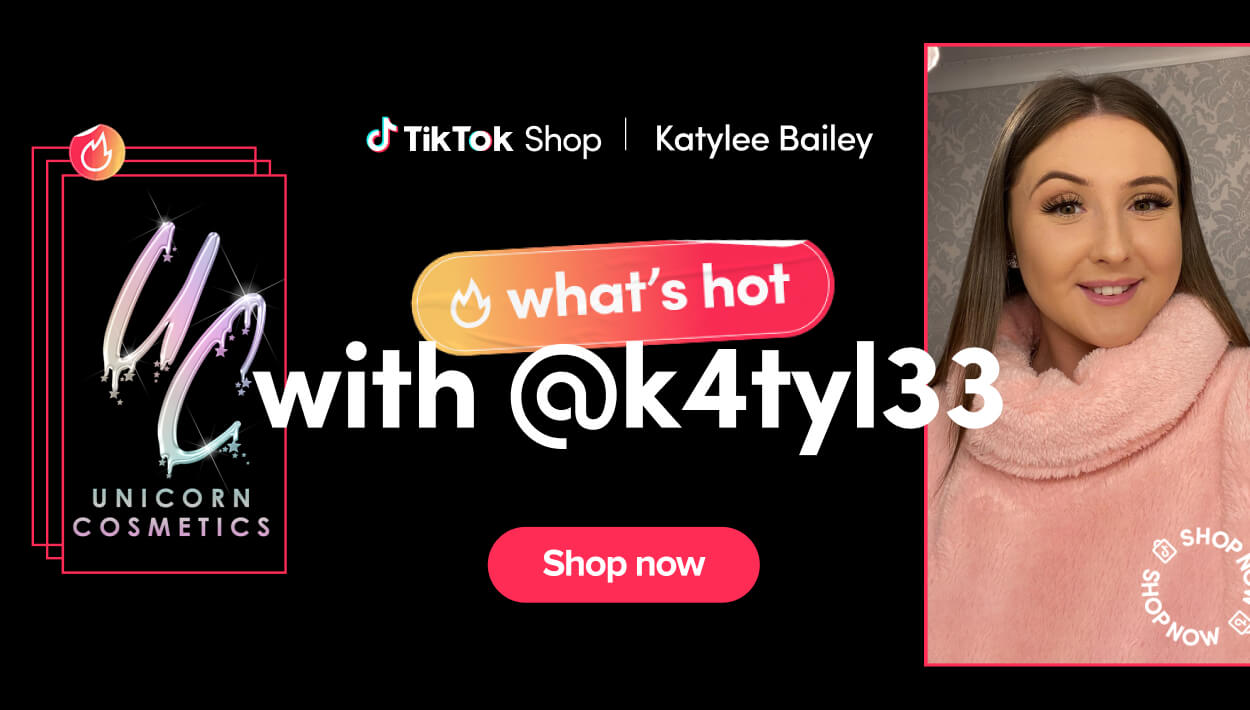 Top TikTok creator Katylee (@k4tyl33) is set to mark a TikTok Shop UK first, hosting not one, but two livestreams. 'What's Hot with Katylee' will be a showcase of her favourite products, with TikTok Shop UK offering amazing discounts across a range of brands in the beauty, fashion and home & living categories, with limited edition bundles from Unicorn Cosmetics and Glossybox exclusively only available on TikTok Shop UK.
'What's Hot' promotes TikTok Shop UK's top creators in a special showcase and creates new and fun ways to buy your favourite products through livestream, hosting incredible giveaways and special guests.
On Friday 29th April & Wednesday 4th May, Katylee will host two special 5 hour TikTok LIVEs at 3pm GMT with a host of special guests including @autumnxjean and more. As part of the LIVE events, Katylee will reveal exclusive giveaways of some of TikTok Shop's most popular products worth up to £130, with viewers who comment and purchase being in with a chance of winning Nike Air Force 1's, Unicorn Cosmetics x Katylee bundles, Glossybox x Katylee limited bundles and more - you don't want to miss out on this.
As well as her exclusive bundles, Katylee will be showcasing her merchandise during the LIVE, which marks an exclusive, being the first time her line will be available on TikTok Shop UK.
Throughout the livestream, be sure to keep an eye out for the Shopping Bag icon on screen. Viewers will be able to tap to see pinned products or browse KatyLee's Shop on her TikTok profile, before selecting any products they wish to purchase all within the TikTok app.
During the LIVEs, our community will be able to shop for some of the most-wanted, trendiest products in the UK with exclusive discounts and offers on selected products. From Olaplex, Nike, Apple, Paco Rabanne, Alexander McQueen, and Yves Saint Laurent.
Can't make it? We have many more What's Hot LIVE's coming to you over the next few months, so keep your eyes peeled.
New to TikTok and want to get ready for the shoppable LIVEs? Simply download the app for free via the Apple App Store, Google Play or Amazon.