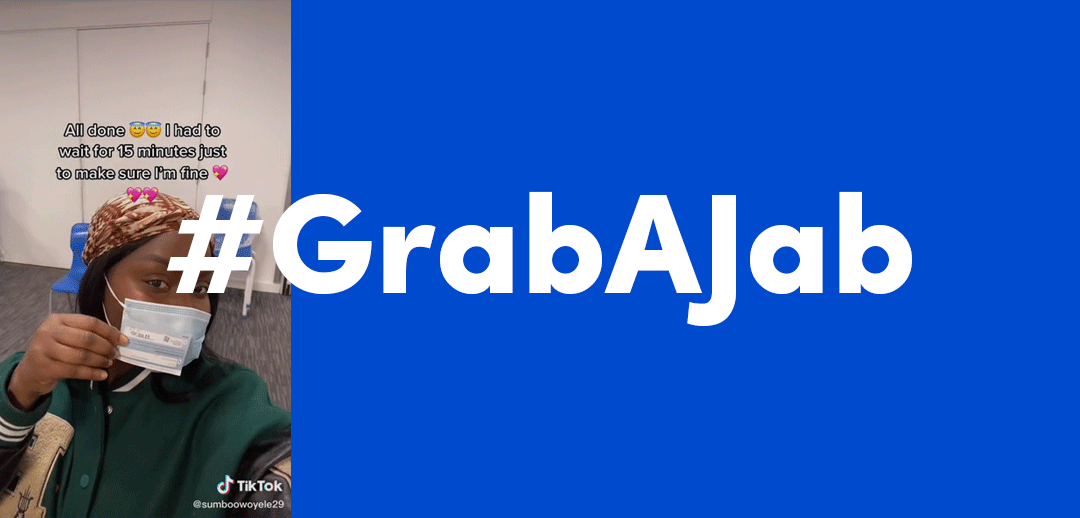 Throughout the pandemic, we've been inspired by monumental efforts undertaken to keep us all safe. This year, that has included the incredible speed and scale of the UK's vaccine rollout.
At TikTok, we know people come to our platform to be informed as well as entertained, and we want to ensure that we play our part in helping our community make informed decisions about the vaccine.
To spread the word, we've given our community the opportunity to add the NHS 'I've had my COVID vaccine' stickers for users to share on their content. We've also been working with Team Halo – a group of global scientists using the platform - to provide the latest information on vaccines with entertaining and shareable videos.
Alongside this, we're proud to work with a number of trusted public health organisations and experts on information and resources to bring reliable information to our community. Our in-app coronavirus resource hub is regularly updated with new information and guidance about vaccines and COVID-19 from the WHO and the British Red Cross.
Helping Young Londoners #grabajab
We're taking that in-app support into the real world as well. On Saturday 2 October, we're hosting a pop up event at a London NHS vaccination centre where young Londoners can #grabajab and also meet two of our amazing medical creators, Dr Karan Raj and Dr Emeka Orkorocha.
People will be able to get their jab at the Westfield Stratford vaccination centre and then head over to meet Dr Karan and Dr Emeka, chat to them about the vaccine and walk away with some TikTok merchandise.
There will also be an opportunity for eligible people who have received their jab to speak to NHS health professionals about the vaccine to resolve any concerns they may have, including around vaccine side effects.
And for those not getting jabbed on the day, they can join in on all the action via two TikTok LIVE events between 1pm and 2pm, where the TikTok doctors will answer questions about the COVID vaccine live from the centre.
Support for the initiative
Health and Social Care Secretary Sajid Javid said: "This is a fantastic initiative and I urge young people across the capital and the UK to get the jab, keeping themselves, their families and loved ones safe.
"The vaccines are building a wall of defence - saving over 123,000 lives, preventing 24 million infections and helping us all to return to the things we love.
"A huge thanks to TikTok for their support, and to Dr Karan, Dr Emeka and all the healthcare staff who taken part in this initiative and will be attending this pop-up event to encourage even more people to get vital protection against this virus."
The Mayor of London, Sadiq Khan: "The scale of London's vaccine delivery has been an incredible achievement and every day we are seeing how vital it is in preventing serious illness and protecting our health service. We want Londoners to have the best possible protection and will continue to work closely together to find innovative ways to reach young Londoners. I continue to urge everyone to book their appointment to get vaccinated or go to any of the many walk-in clinics as soon as possible to help protect yourself and others."
Vaccines Minister, Maggie Throup: "With the phenomenal progress of the vaccine rollout, the hard work from NHS staff and initiatives such as this, it's never been easier to get your vaccine. Thank you to TikTok for supporting the vaccine effort. I urge everyone to get the jab at the earliest opportunity."
Medical Director for the NHS in London, Dr Vin Diwakar said: "It is fantastic that over 1.2 million young Londoners have had the vaccine – that's enough to fill Wembley stadium 13 times – but it is vital that everyone who should be vaccinated gets vaccinated to protect themselves from the harm coronavirus can cause as well as reduce transmission to more vulnerable friends and family. The vaccine is effective, and I would urge anyone eligible, especially those 16- and 17-year olds who have just started in education or training, to get their life-saving jab."
Further information